DuraTrax Vendetta Review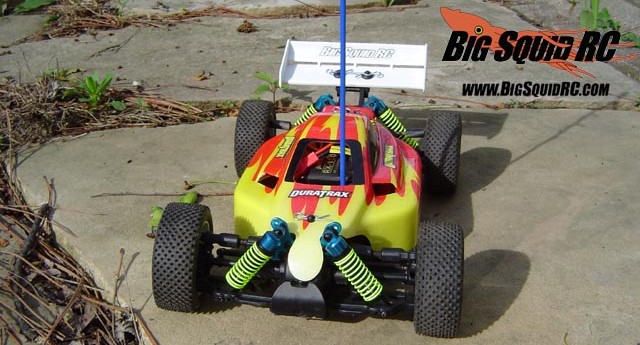 From: DuraTrax
Direct Link: DuraTrax Vendetta
So I finally got my hands on the DuraTrax Vendetta.  Out of the box, it's a pretty cool little buggy.  DuraTrax always has a good presentation, and the Vendetta carries on their tradition.  Something else DuraTrax does good are their manuals.  Again the Vendetta manual was no exception.  It's very well laid out, there is lots of easy to understand information, and the parts/pictures are all easy to find and follow.  If you are a newbie in the world of R/C, DuraTrax is usually a safe place to get started.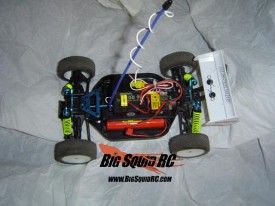 So let's talk about the testing.  One of the things we like to do with our small scale vehicles is to see if they can handle what the big boys do.  That means we take it to the track!  We waited till things calmed down at the end of the night, then took out the Vendetta to run a few laps.  I was surprised how well the buggy handled the track.  The Vendetta (like most buggies) is pretty low to the ground, and at some parts of the track, ground clearance was a bit of a issue, wut nothing that was not expected.  The Vendetta handled great on the clay, and had no problems with the jumps, or the landings.
So after some track time, we moved onto the parking lot action.  Speed and acceleration are both pretty good out of the box, though I always want to go a little faster.  The steering servo is plenty strong/fast and able to handle our parking lot bashing.  It comes with a 600mah battery which you will probably want to update eventually to get some more run time.  The run time isn't short, but it does seem to fly by with that powerful 380 motor.  If you are going to go battery shopping, keep in mind that the battery pack in the Vendetta (and Mini-Quake) is laid out differently, and some packs may not fit correctly.  So make sure you get the right one.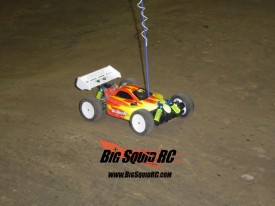 Ok, so we have had the Vendetta to the track, we had it in the parking lot, what next?  The yard!  We wouldn't have the title "backyard bashers" if we didn't play there right?  The Vendetta does not do so well in grass.  Obviously it was not made for grass, and is way to low to the ground run it there.  Lucky for me, I have some nice dirt patches in my yard (who would of thought).  So I tore up the yard for a few battery packs, and then it occurred to me… I haven't broken anything yet!
So it was time for a new test!  I think we might just have to make this a new standard one.  I pulled out the modified bike ramp, it's the standard $30 plastic 1 foot tall ramp, modified to be about 4 feet wide.  I set it up in a spot where I could hit it full speed, where both the run up, and landing were on concrete.  The goal was to jump till it was broke, or till I was sick of jumping.  I set up a tape measure and a few rulers.  I was getting about 2 feet of height, and 12 feet of distance on the jumps.  That's a long way to go.  I was happy with the jumps.  It was easy to land on all four tires as long as you stayed on the throttle.  It was balanced well in the air, though just about every landing made me cringe.  The Vendetta (doing what most buggies do) was bottoming out hard on the landings.  I figured it wouldn't be long before I was shutting off the controller and trying to figure out what I broke.  After 1 fresh battery of nothing but jumps, I added the supplied shock spacers.  These helped a little with the landings, but nothing significant.  I then put in another fresh battery pack and decided to really beat up the buggy.  I started launching off the ramp sideways, hitting the side of the ramp with only 2 tires, landing hard on the nose and tail.  Sometimes only landing on one wheel (ouch!).  Nothing.  Nada, not one broken part!  The only visible issue was that I really ground up a screw head on the bottom that wasn't very flush with the body.  Oops!  Tighten those screws kids!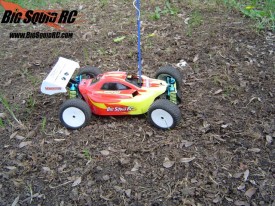 Wow.  I really didn't think I'd loose the battle of the jumps!  I'm sure I hit that ramp over 100 times across 3 packs, and half of those were some bad landings.  I'm very impressed.  I own other 1/18th scale vehicles from other companies that wouldn't of lasted 20 jumps. I would have lost a dog-bone, or pulled out a shock (yea you know who I'm talking about).  I have to say, if you are looking for a 1/18th scale buggy, look no further.  The only thing I'm not a fan of, is the way the fins from the ESC stick out the back.  It helps keep them cool out there, and it makes the body fit good, but as a basher, there is a real good chance of me landing hard on those things, and I'm afraid of what might happen.  So far, no problem, but I thought I should mention it.
A few final words about DuraTrax.  Don't forget their awesome warranty!  If I would have broken anything, they would of sent me out a replacement pretty quickly (for most parts).  DuraTrax has also done a great job lately of showing aftermarket support.  They have a ton of hop-ups for the Vendetta.  If you are looking for bling, or looking for strength, they probably have you covered.
Like with all our stuff, if you see us at the track, or an event, feel free to stop by and check it out!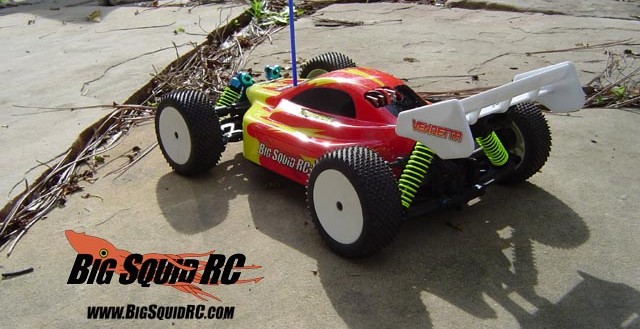 Summary

| | |
| --- | --- |
| Time to Bash | 9/10 Charge, sticker, and go! |
| Workability | 9/10 So far we have not broken a single part. The manual is great, and easy to follow. |
| Car Show Rating | 8/10 It's a good looking truck. It fits the scale well. I had a lot of people checking it out at the track, and there are some cool hop-ups coming. |
| Bash-A-Bility | 10/10 Racing, Bashing, Marathon Jumping, this buggy can do it. |
| Big Squid Rating | 9.2/10 Tentacles.. It's a great buggy! If you are in the market for one, make sure to check it out! |