DuraTrax Vendetta ST Review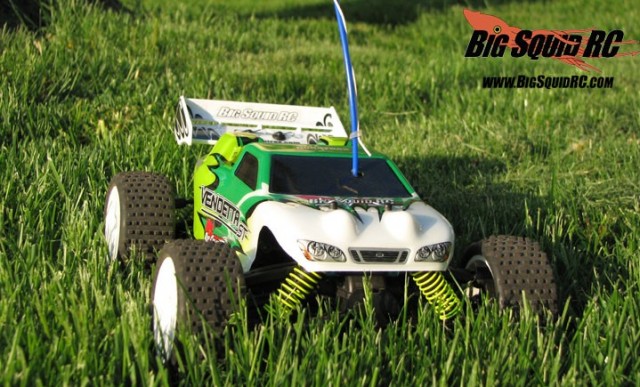 From: DuraTrax
Direct Link: Vendetta ST
If you are into 1/18th scale vehicles, or thinking about getting into them, add the DuraTrax Vendetta ST to your 'MUST OWN' list!  Just keep reading, and you will find out why.
To start off, lets cover the basics shall we?  If you are a newbie looking to get into RC, or a RC veteran who can appreciate a good manual, Duratax is usually a leader in this area.  The Vendetta ST manual is yet another fine example of how these things should be written.  It's easy to read, informative, and well laid out.
One of the first things you will notice when you take it out of the box, is that the ST has this 'solid' feel.  It's hard to describe, but it has just the right amount of bulk to it that just makes me giddy!  Of course the next thing I did was round up the rest of my DuraTrax collection (I think it's safe to say, once you own 3 or more, it's a collection) for some comparison study.  I'll post a bunch of pictures to give you a better idea of what I'm talking about.  Once I had the vehicles all lined up, you could see the bulk I was talking about earlier when I took it out of the box.  It's a little wider then the Vendetta Buggy or Mini Quake, and it has a new beefed up suspension.  The shock springs on the ST look almost double in width to the others.
If you are a reader of Big Squid RC, or have talked to me at a bash, or at the track, you will know that I'm a big fan of the other 1/18th scale DuraTrax vehicles.  From a personal standpoint, I felt that DuraTrax was going to have some pretty big shoes to fill to keep me happy.  I'm very pleased to be able to say that they have gone above and beyond my expectations of what the ST could of been!  Unlike some other RC companies out there (I won't mention any names, but you will know who they are), DuraTrax does not just keep shipping the same vehicle every year, changing the tires, and giving or taking away a wing.  They really have 3 very different vehicles here, and I appreciate this more then I can express.  Instead of just selling their fans the same car over and over, they actually improve the products on each release (wow… how original)!   The ST has a improved ESC and Engine setup over the Vendetta, and a new improved battery.  It's a little smaller then the older ones, which saves some weight.  It comes with a full bearing set, Shaft Driven 4wd, and a ton of aluminum!  I would also like to mention that it comes with a gear cover!  Now I know what you are thinking… did I really need to mention a little piece of plastic?  YES!  Yes I did!  For some reason other companies don't think this is important!  They don't think people actually might use their vehicles outside!  Where there's dirt and rocks. I don't keep my vehicles in a display case, and either should you!  If taking your vehicle out of the box and getting it dirty sounds dangerous, take it back to the hobby shop and get a DuraTrax!  I really feel that not only does DuraTrax care about the racers, but they actually care about the bashers as well!  If I had the web cam on, you could see me standing and applauding.
Can you tell I'm excited?  We better move onto the testing!
After charging up the batteries, and making sure everything was ready to go, I took it out for a few nice and easy drives around the office, then around the parking lot.  The ST handles like a dream!  Before I do any real damage though, it was time for some speed runs.  The ST hit a consistent 20mph during testing with the stock battery!  This is a really good speed for a RTR 1/18th scale bone stock.  I will admit that I would like to see a little better acceleration, but this is really more of a personal taste thing, and I'm sure it can be fixed with a little gearing. I'm not complaining though, it is a quick truck.
Like any good basher, after the initial speed runs are done, it's time to break out the ramps!  I didn't have my usual ramps handy at first, so I made a quick and dirty ramp from a flat cardboard box and another box to prop it up.  I was pretty sure this was going to be a bad idea right from the start.  There was no curve to the ramp, it was over a foot tall, and I was going to be landing on a wood floor.  I launched off the ramp and the truck was like a bird in flight!  I really couldn't believe how straight it was in the air.  It just soared with a perfect four-wheel landing.  It jumped at least 10 feet of space, and I couldn't of asked for a better jump.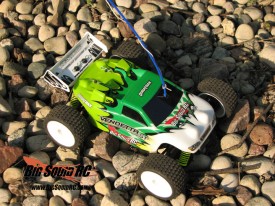 Now if you know me, you probably would of thought I must of made that jump with my eyes closed, because I rarely land that good.  Heck, even I would of thought my eyes were probably closed if it wasn't for the fact that I saw the jump and landing!  I brought the ST back around, and hit the ramp again, hard and fast!  Another perfect landing!  Is this possible?  Maybe some pro driver was standing off to the side somewhere controlling the truck, and I just 'think' I'm driving?  Jump after jump the car handled great!  I actually started hitting the ramp at bad angles, and twisting the steering while making the jump, just to try and not make a good landing.  I did land rough a few times, but it was only because I was trying to.  By now I had a crowd of people watching me tear up the office, and I was like a proud daddy showing off his new baby!
Next up, outside testing.  I was using a modified skate ramp (wider, with a little more length added for easier launching during parking lot bashing), and I propped it up on top of a curb.  So my ramp is now about two feet high.  Two feet is a pretty big height for a 1/18th scale landing on a flat surface.  The ST did as good as earlier in the office, but this time I was a little more brave, and launching at full speed!  Wowza was this little truck flying!  I just sat there and bashed for the length of a full battery pack.  After that, I changed packs, and took aim at the BIG ramp.  The one that the 1/10th scale trucks and 1/8th scale buggies were hitting.  I only jumped it a few times, but it held up great!  This time I was landing in some grass.  Unlike the Mini Quake though, the Vendetta ST is just a bit too low to have fun in the grass.  It was slowed a bit, and just wasn't flying around like I wanted.  Maybe with a little more power it would be able to handle the grass better, but no big deal, I didn't really expect it to do well in grass… so I headed back to the dirt for more action!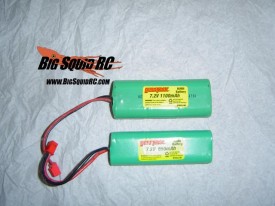 Pack after pack, I have had a real blast with the ST!  To this day, I have not broken a single part.  I'm sure it will happen eventually, but that's fine by me.  With the DuraTrax Stress Tech guarantee, I'm never worried about doing too much damage.
To wrap things up, I have a few final words about Duratax.  Don't forget their awesome warranty!  Just like with most of their vehicles, the Stress Tech warranty covers a good amount of parts!  Their aftermarket support is still improving, and they have released a bunch of hop-ups for the Vendetta ST already!
If you are looking to get into 1/18th scale, don't let this little basher slip by.  It really deserves some good consideration.
Also note that the Vendetta ST carries the Big Squid RC Basher Approved seal.  Click the link or logo for details, but in short, it means that it is a product that we believe is basher worthy, and should not be missed.
Like with all our stuff, if you see us at the track, or an event, feel free to stop by and check it out!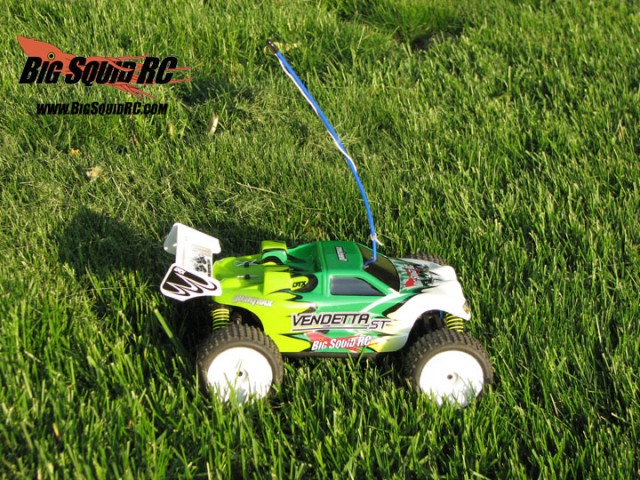 Summary

Basher Approved!

Time to Bash
9/10 Charge, sticker, and go!
Workability
9/10 So far we have not broken a single part. The manual is great, and easy to follow.
Car Show Rating
9/10 It's probably my favorite looking DuraTrax 1/18th scale yet!
Bash-A-Bility
10/10 Racing, or Bashing, it's a perfect fit!
Big Squid Rating
9.5/10 Tentacles… It's a great Truggy! I might have to go brushless to break something!