Duratrax VW Baja Bug Review
The Duratrax VW Baja Bug Review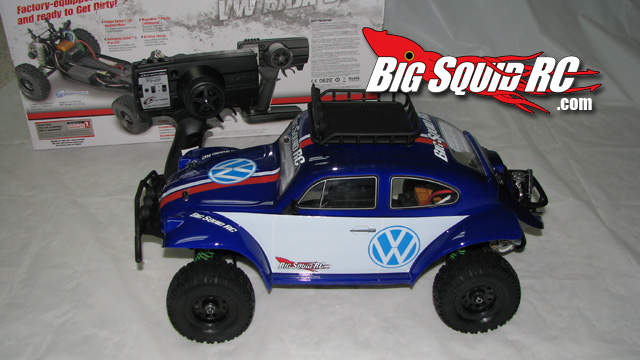 At a visit to Hobbico headquarters several months ago, I got a sneak peak of what some of their upcoming lineup was going to be. I got to see the ARRMA brand, the new Evader Brushless, and finally the VW Baja Bug. Everything I saw had a unique quality that made it special, and for the Baja it was the of course the body and style. Duratrax was breaking away from their mold and trying something a little different. Along with the VW license came their new 'Get Dirty' attitude. Did they deliver? Does the VW break the mold enough to get more people to turn some heads? Keep reading to find out..
From: Duratrax
Direct Link: Duratrax VW Baja Bug
Specs- –
Scale- 1/10th
Colors- Dirty Yellow, Red, White/Blue and White Black
Kit or RTR- RTR
Length- 465mm (18.2 in)
Width- 240mm (9.5 in)
Motor- Photon Speed 2 19T Motor
Speedo- Sprint 2 Plus ESC (Waterproof)
Radio- Duratrax 2.4Ghz FTR radio by Futaba (Compatible with 2PL,3PL,4PL)
Bearings- Full set
Waterproof- "Waterproof" electronics
Weight- 3lbs (1.36kg)
Warranty- Duratrax 1 year stress tech
Misc- Roof Rack Installed
Street Price- $214
Primary Competition– Because it's built on the Evader platform, it could almost fall into the stadium truck class, but the narrow tires and short a-arms make this vehicle different enough to be in a class of it's own.
What's In The Box– The Baja Bug comes RTR with a 2.4GHz radio system, you will need to supply the batteries for the vehicle and transmitter. Don't forget the Stress-Tech guarantee on parts. This is always a plus for newbies or rc veterans.
Build Quality– The VW Baja was completely drive-able out of the box. We didn't experience and build quality issues. Nothing was loose or over-tightened.
Test Drivers– Brian, Wrench, Cubby.
Test Venues– Neighborhood cul-de-sac, streets, parking lots, skate park.
Set-up Notes– Our testing battery of choice was the Onyx 5000mAh hardcase LiPo battery. I think this is one of the few vehicles we didn't have some changes we want to make right away. No need to fix a servo saver, or make other adjustments to get the feel of the vehicle.
Turning– On dirt, gravel, or any type of loose surface the Duratrax Bug would slide the corners well with little cause for concern. On clean pavement, or surfaces with more traction there was the chance you could roll it going into a corner. The smaller a-arms and thinner tires really narrowed the overall width of the vehicle from the Evader it was based on. This vehicle has a completely different feel from the Evader, the tight turning ability is still there, you just need to watch your speed and traction.
Suspension– The new dual-rate spring setup did a decent job of absorbing the harder landings while not making the small stuff feel out of control. Again the a-arms create a big difference in feel they don't need to travel as far to get the full compression or extension.
Tires– The tires held up on multiple surfaces, but were best on the trails and harder stuff. They give a nice scale look to the vehicle, and the wear was small during the duration of the testing. For softer dirt driving, you will probably want something different.
Power– The top speed on the radar gun on 2S was 21mph. For a new basher to the world of RC, the power of the vehicle will keep you out of trouble while learn the ropes. A more seasoned RC'er will be looking for a little more power.
Radio– While the included Duratrax radio is on par with most RTR's, the big feature here is that the receiver is Futaba Transmitter Ready (FTR) meaning you can take your higher-end Futaba radio and bind right up the the truck. This is a great feature that Duratrax has been using in their RTR vehicles recently. We REALLY like this feature. It's still a RTR for someone who does not have a radio already, but for those of us with better equipment, it's ready to go!
Broken Parts– During our testing, we didn't break any parts on the Baja Bug. We were expecting some damage to the roof rack or some of the other scale looking parts like the rear view mirrors, but after all of our beatings, things are still intact! Having tested several Evader based vehicles now, we would recommend upgrading the drive shafts and rear hubs. Just take our word from experience, you will probably need these in your future, especially if you decide to upgrade the power to a brushless system.
Best Mod Over $5– A Futaba transmitter and a brushless system would be our recommendations.
Misc Notes– The huge front bumper on the VW Baja Bug is a great new addition. It can absorb a lot of force and potential damage. We curb checked it on multiple occasions and drove away unscathed. As always, the Duratrax manuals are far above average and great for those getting into the hobby. We would of liked to see a slightly larger rear bumper to protect the motor wires a little better during our bashing sessions. We like seeing the aluminum shock caps. No worries about popping them off, and something else we don't need to upgrade. The VW body looks good, and caught the attention of several others. Scale and realistic is IN and we are happy to see Duratrax taking some chances and give us some new vehicle styles. While we would of been happier with a little more power, we know the vehicle can handle a future upgrade.
---
As with all of our stuff, if you see us at a bash, stop by and check out the vehicles we have with us. We may let you take a test drive, and at the very least get you some stickers!
SUMMARY
Time To Bash – 9.0/10 -Install some batteries and get out there!
Workability – 9.0/10 – The Baja just like the Evader line is very easy to work on. Everything is easy to get to.
Car Show Rating – 9.0/10 – The body, the tires, and the scale looks are a nice improvement. There are a LOT of VW fans out there that will be happy.
Bash-A-Bility – 9/10 – The Stress Tech warranty will give you piece of mind. The soft plastics and huge front bumper will let you give the Bug a good beating.
Fun Factor – 7.5/10 – Out of the box, the Bug is fun to drive and has a different feel from the Evader line it's based on.
Handling – 7.5/10 – The handling isn't bad, but the narrow width on a high traction surface can roll you pretty easily.
Power- 7.5/10 – Power for the RC newbie is decent, and will keep you out of trouble. For a someone who's been around the RC world for a while, you will be looking for a little more power.
Value- 7.5/10 – You will pay a little more with the included 2.4GHz radio and official VW License and you don't get the battery or wall charger like most Duratrax RTR vehicles.
Big Squid Rating – 8.2/10 – Tentacles.. If you are into the VW scene, and looking for a good started vehicle, the Baja Bug may be what you are looking for.
Don't forget to check out the Baja Bug Unboxing photos if you need some more pictures. You can also check out our Evader Brushless Review Here.