Dynamite Passport Ultra Charger Review
THE Dynamite Passport Ultra Battery Charger Review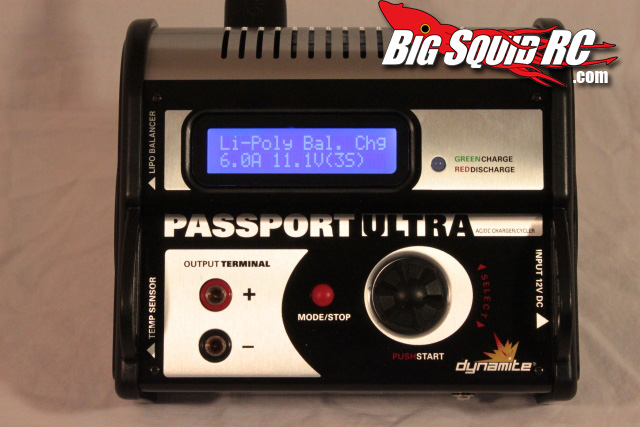 Walking around the pits at the local track or bash spot I started seeing a lot of people using the Dynamite Passport Ultra. What in the world? Since when does Dynamite have a popular charger? What makes it so popular? When one dropped in my lap for review I was pretty stoked to find out what all the buzz is about. Read on for the scoopage on the Passport Ultra…

From: Dynamite RC
Direct Link: Passport Ultra
Review By: Cubby
Pics By: Cubby
Street Price: $130
What Is It?: It's a charger of course (one that also balances your packs), one that can charge little receiver packs, transmitter packs, 18th scale packs, 10th scale packs, 8th scale packs, pretty much everything. Oh and it can be operated off of household AC power or off your 12 volt DC power supply.
Specs:
Input Power: 120 VAC or 12 VDC
Cell Count: Up to 6S Lithium, up to 14 cell Ni-mh, up to 12 volt Lead Acid
Discharge: Up to 5 amps
Charge Rate: Up to 8 amps
Chemistries Supported: LiPo, LiIon, LiFe, NiCd, NiMH, Pb
Display: LCD Backlit
Overload Protection: Reverse polarity and short circuit
Temp Probe: Included
Total Wattage: 100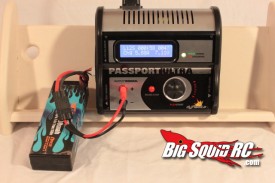 What's In The Box: Manual, various cables and connectors, AC cord, DC clips, temp probe, and the charger.
Build Quality: Quality felt right on target, but looked a bit cheaper than its price point.
Test Drivers: Cubby, Brian, Hawaiian Chris
Test Venues: Various tracks, homes and bash spots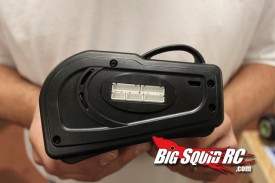 Batteries Charged: Various LiPo's (from 2 to 4S) and Ni-Mh (from 4 cell to 7 cell)
Issues:
While more experienced hobbyists didn't have to resort to reading the manual one of the noobs at the track found it utterly confusing.
Having the balance ports directly on the side of the charger can be quite annoying on packs with short balance wires.
Lastly… I was not a big fan of the rotary dial but other staffers had no problem using it.
Misc Notes:
The "fast" charge mode really is quick, I like it.
The Passport Ultra also seemed to balance charge faster than other chargers in our stable, I like that even more.
The backlit display was easy to read, even in direct sunlight.
The quality of the charge the Ultra did on our packs seemed just fine. Batteries seemed to have good power after a charge on the Ultra.
---
As with all of our stuff, if you see us at a bash, stop by and check out the vehicles we have with us. We may let you take a test drive, and at the very least get you some stickers!
SUMMARY
Time To Bash – 9.0/10 -Comes with a good selection of connectors, just plug it into the wall and charge. The Ultra's quick charge mode can really shorten charge times, a big plus for many people.
Car Show Rating – 6/10 – Rather dull looking with average graphics.
Bash-A-Bility – 10.0/10 – Oh no we didn't, oh yes we did! First off to test "durability" I charged six 4S Lithium packs back to back to back to back at the maximum charge rate to see how the Ultra held it, and yes, it passed with flying colors. Then, just to up the ante, I had myself (and a few others) stand and jump on top of the charger attempting to break/smash/destroy it. Yes, we had a 250 lb man jumping up and down on this charger, and yes it worked fine afterwards.

Fun Factor – 7.0/10 – Chargers aren't know for being particularly fun and the Ultra was no different.
Power- 7/10 – The Passport Ultra is far from being the most powerful charger on the market, but… at it's price point and for being an AC charger it is one of the most powerful when those factors are considered.
Value- 8.0/10 – $130 isn't cheap, but at least the Ultra does a lot for the money.
Big Squid Rating – 7.8/10 – Tentacles.. The Dynamite Passport Ultra is a full featured AC/DC charger that performs well and lived even after our abuse.