Dynamite Passport Ultra Duo 200 watts x 2 Balancing Battery Charger Review
THE Dynamite Passport Ultra Duo 200 watts x 2 Balancing Battery Charger Review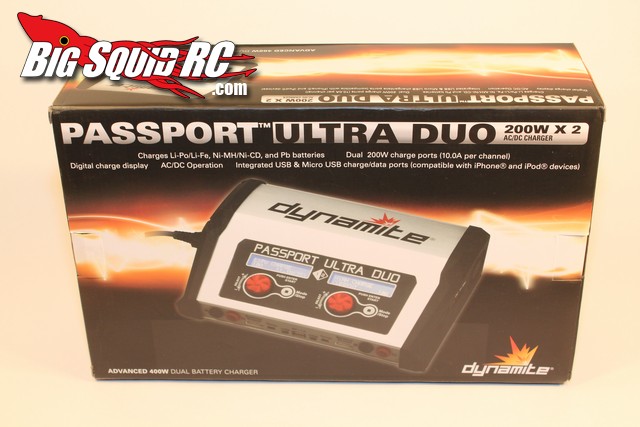 At BigSquidRC we are all about going balls out with everything we do, and that even extends to charging batteries. We hate waiting for batteries to charge, so we charge at the fastest safe rate that we can. Certain members of our staff also hate lugging around a separate power supply and only use AC chargers. Horizon Hobby has a new uber charger out, the Dynamite Passport Ultra Duo that is made for people like us. The Passport Ultra Duo is a dual port charger than can put out up to 10 amps x 2, even when plugged into a normal AC power outlet. Is the new Passport Ultra Duo one of the most elite chargers on the market, or does it fall short? Read on…
From: Dynamite RC
Direct Link: Passport Ultra Duo
Review By: Cubby
Pics By: Cubby
Specs- –
Heat Sensor: Can be used but not included
Connectors: EC3
USB Charge port: Yes
Internal Power Supply: 500 watts
Max Charge Rate: Up to 10 amps on each port
Max Cell Count: Up to 6S Lithium, 15 cell Ni-MH
Cell Chemistries Supported: NiCd, NiMH, LiPo, LiFe, and Pb
Model Memory: Yes
Discharge Mode: 25 watts per port (up to 5 amps)
Balance Current Drain: 300mA per cell
Battery storage mode: Yes
Balance Charger: Yes
Balance Plug: JST-XH
AC/DC: AC and DC, DC cords not included
Warranty: 1 year limited
Street Price: $270
Primary Competition: Good question, there aren't that many high output dual AC chargers out there. There are several other high output DC only dual chargers out there, but not AC.
What's In The Box: Charger, AC cord, balance boards, battery wires with EC3 connectors, and instructions. What is not included is temp probes and DC wires.
Build Quality: Everything looked solid and nicely done.
Test Drivers: Cubby, Brian, Tim, Iron Mike
Set-up Notes: The only mod we did was to ditch the stock EC3 connectors and solder up Traxxas Connectors. We did this mainly because all of our test packs are already shod with Traxxas. Otherwise, we charged a variety of packs from small 18th scale 1200 mah packs to 4S 6500 mah Lipo's.
Ease of Use: I did not have to refer to the owners manual during our test period, but Iron Mike did go through the manual for a couple of questions he had. We had a noob at the track charge his pack with the Passport and he had no problems charging his pack. The menu's do take a few minutes to get used to, but once you get the feel of it the Passport is easy to operate.
Power: 10 amps per side on an AC charger is a TON of power.
On track: We went back to back with packs charged off the Dynamite with two other different brands of chargers. The packs that came off the Dynamite felt as strong, if not stronger, than the packs that came off our reference chargers when driven on track.
Broken Parts/Issues: None. We dropped the Passport Ultra Duo off our pit table three times without any issues. Also, we charged over a dozen packs at the Passports maximum charge rate (on both ports at the same time) with no issues.
Quality Of Charge:
Here is a new category for our battery charger reviews- we actually test the Quality of the charge.
What benefits can you see from a better quality charge? Two things- longer run-times and higher voltage. Years ago it was a big deal to buy a charger that was said to give a better charge than another brand. With the advent of Lipo batteries it seems like everyone has forgotten that yes it is still possible for one charger to do a better job of charging than another. We've seen it first hand- we've seen chargers that simply would not fully charge a Lipo, and we've seen chargers that said 8.40 volts on their screen, but when tested with a separate multi-meter it was a significantly lower voltage. The only way to find out if a charger is truly giving you a good charge is to test it first hand, and that's what we did with the Dynamite.
We did four discharges to determine the quality of charge, runs 1 and 3 after using the Hyperion to charge with, runs 2 and 4 using the Dynamite for the charge.
Here is how we conducted the tests-
1. At the start of the day we fully charged a 2S 5000 mah Lipo battery. We used a Pro-Match for this test that had slightly over 50 cycles on it.
2. Immediately after the pack was fully charged, we discharged the pack at 30 amps to 3 volts per cell on our West Mountain CBA. This was a sort of warm up and we did not keep the graph of the discharge on this run.
3. After the pack returned to ambient temp (72 F in this case) I immediately charged the battery on a Hyperion 720iNet3 at a 2C (10 amp) charge rate.
4. Immediately after the pack was fully charged it was then discharged at 30 amps to 3 volts per cell on our West Mountain CBA and we saved the graph. This was the first "run" saved for comparison purposes.
5. The pack was allowed to cool to room temp then immediately charged with the Dynamite Passport Ultra Duo at 2C (10 amps).
6. Immediately after the pack was fully charged it was once again discharged on the West Mountain at 30 amps making the second "run" for comparison purposes.
7. Once the pack had reached ambient temp it was immediately charged on the Hyperion then discharged for a third "run".
8. We did one final cycle using the Dynamite for the charge.
We used 2C charge rates because that's what we use in the field. We chose a 30 amp discharge at it represented a 6C (10 minute) discharge, roughly the type of run-time we'd expect to get out in the field. All charging was done in "fast charge" mode without balance charging, just like we would do in the field. All 5 charges and discharges were conducted on the same day in the most consistent manner possible.
Run #1 was charged by the Hyperion and resulted in a tested capacity of 4803 mah, with a 9 minute 38 second discharge. Run #3 charged by the Hyperion resulted in a tested capacity of 4821 mah and a 9 minute 40 second discharge.
Run #2 was charged by the Dynamite and resulted in a tested capacity of 4879 mah with a 9 minute 49 second runtime. Run #4 charged by the Dynamite resulted in a tested capacity of 4853 mah and a 9 minute 44 second run-time.
How long did it take the two different chargers to fully charge our Pro-Match 2S 5000? Average charging time for the Hyperion at 2C on the Pro-Match 2S 5000 Lipo was 38 minutes 12 seconds. Average charging time for the Dynamite at 2C on the Pro-Match 2S 5000 Lipo was 35 minutes 38 seconds.
To boil it down, this could not be considered a "scientific" trial by any means, a measly 4 discharges are not nearly enough to declare something as fact. But… from the small amount of testing we did, it would appear that the Dynamite give slightly longer run-times, and after closely looking at the graphs, slightly higher voltage as well. The differences are very small, perhaps too small to ever be felt on track, but our data shows they existed during our limited testing.
The Dynamite spent less time charging (about 3 minutes less per charge) than the Hyperion did. 3 minutes saved may not seem like a big deal, but if you are racing multiple classes those 3 minutes can be the difference between making the line with a fully charged pack or not.
Considering the Hyperion is often times referred to as the "best of the best" in battery chargers, I'd say the Dynamite tested very well based on the limited data we collected. At the very least, IMO from both bench testing and from on-track driving of packs charged on the Dynamite, I'd definitely say the Passport gives a very high quality charge.
Misc Notes:
We were handed our review Passport at the iHobby Expo in Cleveland. Over the course of the show we left the Passport out in our booth for display purposes. I have worked a lot of rc trade shows and I've never seen a battery charger garner so much attention. People would walk right past uber show cars to come over and look at the Passport. It's a behemoth, it's trick looking, and at iHobby it was a "show stopper".
The display is easy to read and puts up all the pertinent information you need.
We found the fast charge mode to be very fast. However, if you choose to fully balance your packs using the "balance mode" a charge can take forever. The Passport uses a very light discharge to even out the cells during balance charging and that process can take hours, even on packs that aren't far out of balance.
The Passport Ultra Duo has a large footprint and some weight to it, it feels like you got your moneys worth, and it makes a statement on your pit table.
The fan is fairly quiet, that's a big plus to us.
The USB charge port for your cell phone is AWESOME, this should be standard on every charger made.
The alarm tones are also fairly quiet, which is a good thing in a crowded indoor pit room. We all know "that one guy" with the horrifically loud battery charger that is seemingly never attended and goes off forever. You won't be "that" guy in the pits with the Passport. However, if you are in the next room, or the ambient noise level is high, you may not hear that your charge has ended.
Downsides:
I know the Passport didn't come with DC cables to keep its price point down, but without including them people will end up rigging cables to run the charger off of a 12 volt car battery when the AC power isn't on at the track. I predict sparks will be a fly'n. LOL
A set of wires with simple alligator clips would have been nice to charge with. Not that many people use the EC3's that the Passport comes with and alligator clips can be used on nearly every type of connector out there.
---
As with all of our stuff, if you see us at a bash, stop by and check out the vehicles we have with us. We may let you take a test drive, and at the very least get you some stickers!
SUMMARY
Time To Bash – 8.0/10 – Easy to understand menu's and AC make it fast to get going. Only coming with EC3 connectors can slow things down.
Car Show Rating – 8.5/10 – It's does not have a lot of bling factor- there is no gold plating or chrome going on here. However, what it lacks in bling it makes up for in man factor- it looks like a tank on your pit table.
Bash-A-Bility – 10/10 – Yes we tortured our test unit and it is working as well today as when we pulled it out of the box.
Power – 9.5/10 – The Passport Ultra Duo does a 10 amp charge on both ports, all the while not requiring the use of an external DC power supply. That is a lot of power.
Value- 8.0/10 – At $270 the Dynamite is not cheap, in fact it's one of the most expensive chargers you can buy. But… we feel you get a lot for your money on this one, thus making it a good value. If you were to add up the prices of two high end 10 amp chargers plus a power supply big enough to run them you would really start to see the value of the Passport Ultra Duo.
Big Squid Rating – 8.8/10 – Tentacles..The Dynamite Passport Ultra Duo is a bad-ass dual AC/DC charger, hands down the best in its category ever produced.