Dynamite Passport Ultra Power DC Charger now avaliable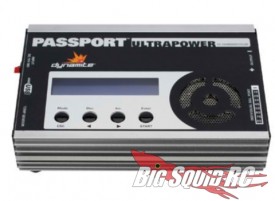 It looks like Dynamite RC is continuing their line of affordable, feature-rich chargers with the new Passport Ultra Power DC Charger. This 150W charge power, 25W discharge power DC charger comes with Tamiya, Traxxas, Deans Ultra, EC3 and EC5 battery adaptors. It can charge up to 26 NiCD/NiMH cells, 9 cell Li-ION/LiFe batteries, and Pb batteries between 2V and 36V. It also has a USB comm link and the ability to store 10 unique battery profiles. All this is packed in an included aluminum carrying case.
MSRP is $199.99 but expect this guy to come in around $140. Head on over to Dynamite RC's website to see more.