Dynamite Passport UltraLite 50 Watt AC/DC Battery Charger & Multi-Tool Review
THE Dynamite Passport UltraLite 50 Watt AC/DC Battery Charger & Multi-Tool Review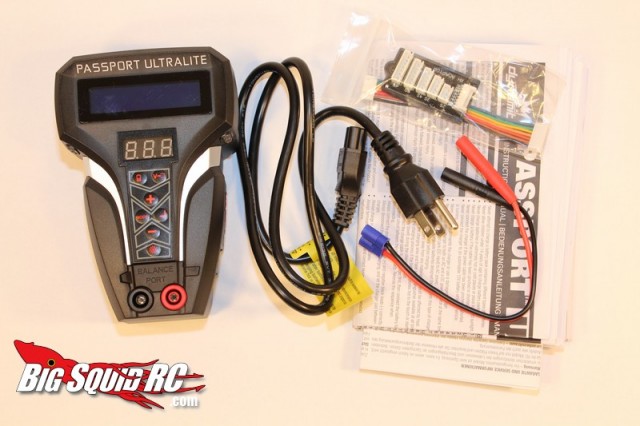 The guys designing battery chargers now days aren't just putting out the same old cookie cutter designs that they used to. A good example of this is the new Dynamite Passport UltraLite 50 Watt AC/DC charger. The UltraLite not only has a unique look, but is loaded to the hilt with features. Is it a battery charger worth putting in your garage? Let's find out…
From: Dynamite RC
Direct Link: Passport UltraLite 50 Watt ChargerPassport UltraLite 50 Watt Charger
Review By: Cubby
Pics By: Cubby
Street Price: $95
---
Specs:
Heat Sensor: Available but not included ($10)
Connector: EC3
USB Charge port: Yes
Internal Power Supply: Yes
Max Charge Rate: 6 amps
Max Cell Count: 6S Lipo, 15 cell Ni-MH,
Cell Chemistries Supported: Li-Ion/LiPo/LiFe/NiCd/NiMH/Pb
Model Memory: Yes, 10
Discharge Mode: Yes, 2 amps max
Battery storage mode: Yes
Balance Charger: Yes
Balance Plug: JST-XH
AC/DC: Both, DC cable not included ($7)
Cooling fan: Yes
Length: 155mm
Width: 105mm
Height: 67.5mm
Part #: DYN4103
Warranty: 1 year limited
---
What's In The Box: Charger, manual, warranty information, balance board and wiring, AC power cord, output wires with EC3 connector
Build Quality: The chargers case is constructed primarily out of plastic. Charger looked well put together, display was easy to read.
Test Users: Cubby, Brian, Tim, Iron Mike
Set-up Notes: We used the Passport UltraLite only off AC power, and the stock EC3 was ditched for a Traxxas connector. A variety of packs were charged- from small 18th scale packs, to 2S 5400 mah Lipo's, to a 4S 6500.
Ease of Use: The UltraLite has mulitple functions, all of which can be used without consultation to the manual. The display was exceptionally easy to read, but the tiny, hard to press buttons took some getting used to.
Power: The Dynamite UltraLite packs a decent punch from its small form factor. A 6 amp rate on 2S is enough to charge most Lipo packs in a reasonable amount of time.
On track: We didn't do a bunch of lab testing on the quality of charge for this review, but on track the packs we charged with the UltraLite were solid in power output.
Broken Parts/Issues: Because of the design of the UltraLite, it fell off various pit tables roughly a dozen times, but it still works without issue today.
Misc Notes:
The LED lights on the sides of the UltraLite are a neat touch that come in handy.
Love the display, easy to read on sunny days, easy to read in the pitch black. The included stand props the charger up at a nice angle for optimal reading of the display.
The UltraLite tends to fall over, a lot. This is caused by two things- 1. the AC power cable coming out the top, and 2. the stand that props the charger up is too narrow. These two factors result in a top heavy design with not enough support, thus resulting in a charger that is seemingly always on its side. If the UltraLite had the AC cable coming out the bottom, and the base of the support stand was wider, I don't think it would tip over nearly as much, if at all.
The tipping issue won't be a problem if you elect to hang it from a hook or lay it flat on its back.
The charge cord looks a bit short but was long enough for all of our applications.
I personally liked the looks of the UltraLite, but then I'm a big fan of things that look high tech and different.
We liked the small size of the UltraLite, it takes up very little space in your pit box.
I'm told the case material is an industrial resin used to make car bumpers and football helmets, sounds like tough stuff for us basher types.
I have seen Iron Mike do plenty of stupid things, but one really sticks out to me. About a year ago I witnessed Iron Mike pull the wires out of a battery charger while the battery was still attached to the wires via its Traxxas connector. What happened next was all sorts of ugly- the bare bullet connectors at the charger end of the wires touched, sparked, welded together, then the Lipo went into full blown thermal runaway. This can't happen with the UltraLite as the bullet connectors that go into the charger are insulated.
We used the UltraLites USB charge port all the time on our smart phones. However, it also comes out of the top which doesn't help the top heavy situation.
Charging a Lipo in fast charge mode results in a quality quick charge without wasting any time. After a fast charge our packs felt snappy on track.
---
Summary:
Time To Bash – 8/10 – The menu is easy to learn, just plug in the AC power and you are ready to charge.
Car Show Rating – 8/10 – The UltraLite had a love/hate response around the office, staffers either loved it or didn't care for it at all. It can certainly be said that the UltraLite has a unique look that turned heads when sitting on the pit table.
Bash-A-Bility – 10/10 – The Passport UltraLite took more than its fair share of falls off the pit table without issue.
Power – 7/10 – The UltraLite has enough power for the typical 2S 5000 mah Lipo that most drivers use, but if you primarily use higher cell counts or want to charge at faster than a 1C rate you'll want to look for a more powerful charger.
Value – 8/10 – The Passport Ultralite is perhaps the most feature packed charger on the market for under a hundred bucks.
BigSquid Rating – 8.2/10 – Tentacles. The Dynamite Passport UltraLite gives solid battery charges and is packed full of features. Unfortunately it tended to tip over while sitting on the pit table, this detracts from its appeal, but if you elect to use it flat on its back or handheld like a multimeter that won't be an issue.