Dynamite SpeedPack 3S 50C 5200 mAh Lipo Battery Review
THE Dynamite SpeedPack 3S 50C 5200 mAh Lipo Battery Review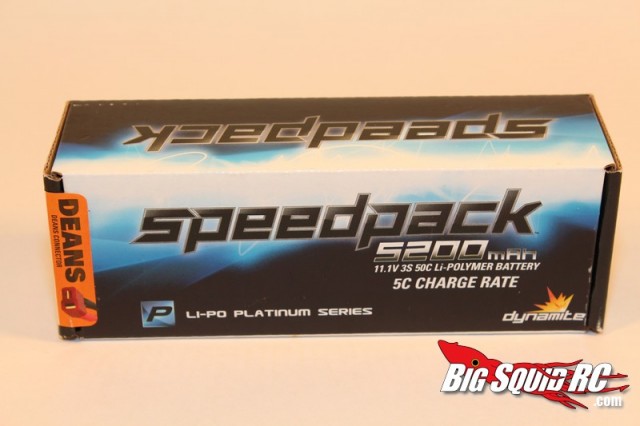 Intro: The Dynamite SpeedPack Lipo's have developed a good reputation among the bashing crowd of being reliable, go to cells that put out good power. Today we'll be taking a look at their hard case 3S 50C 5200 mAh Lipo. Does it put out insane power? Can it take a beating? Let's find out…
From: Dynamite
Direct Link: SpeedPack 3S 50C 5200 w/Deans
Review By: Cubby
Pics By: Cubby
Specs:
Battery Type: Lithium Polymer
Stated Capacity: 5200 mah
Cell Configuration: 3S2P
Voltage- 11.1v (12.6 volt max, 9 volt min)
Discharge- 50C constant (260 amps)
Weight (measured by BSRC with Traxxas connector)- 430 grams
Dimensions (measured by BSRC)- 46mm wide x 35mm tall x 138mm long
Balance Plug Type- JST-XH
Stock Connector- Deans
Max Charge Rate- 5C/26 amps
Street Price: $130
What's In The Box: Our review Lipo battery came ready to jam with a Deans plug pre-soldered.
Build Quality: Decent build and solder quality.
Test Platforms: Pro-Line Pro-2 Tuned Traxxas Slash and STRC tuned Axial EXO Terra Buggy. The Pro-Line truck was using a Castle SideWinder and 5700kv brushless motor, the STRC EXO sported a Max Pro with 3800 kv brushless motor. Hitec servo's were used in both, as was a Futaba 4PK Super-R radio system.
Test Drivers: Cubby, Brian, Tim, and Iron Mike
Test Venues: iHobby demo track Cleveland Ohio, Leisure Hours in Joliet Illinois, DirtBurners in St Louis Missouri, various backyards and streets
---
Driving Impressions: Whoa! As I like to tell new people to the hobby, going from 2S to 3S may only be a third more voltage, but it feels TWICE as fast, and that was certainly the case when using the Dynamite SpeedPack. The SpeedPack we tested never failed to provide us with wayyyy more power than our driving skills could remotely handle. Instantly jabbing the throttle on the SpeedPack 3S 5200 turned our tires to giant pizza cutters with massive rooster tails behind them. Our Pro-Line tuned Slash is normally a great handling machine at normal power levels, but on the 3S SpeedPack it was at the very limits of what it could put down to terra firma. Our review 4wd Axial EXO is pretty fast on 2S, but after popping in the 3S Dynamite it was like an angry pitbull on crack- insanely, gnarly, just plain stupid fast.
Downsides: Solid pack, not much to gripe about. I know the Dynamite SpeedPack isn't supposed to be a "high-end" line for Horizon, but a more attractive case and graphics would be nice. The pack has good performance inside, but it looks dull and average on the outside.
About The Graphs: We used a West Mountain CBA discharger to performed a 1C/5.2 amp discharge to test capacity. Next we did a 6C/31.2 amp discharge, and finally a 40 amp continuous discharge to see how well the Dynamite held its voltage under a continuous load. The higher a battery can hold its voltage, the faster your car/truck will be. Ambient temp for all bench tests was 70 F, the pack was always charged on a Hyperion 720iNet3 at 1C/5.2 amps and voltage cut-off was always set at 3.0 volts per cell during discharges. We tested it with a Traxxas connector just like we have done for every other pack.
Discharge Notes:
The Dynamite states 5200 mAh on its packaging, we only measured 5007 mAh, which is 96% of stated capacity. Not bad, but not great.
Under load the SpeedPack held up well, putting out solid numbers at reasonable temps. Because this was the first 3S pack of this size that we've reviewed, we can't state that it had epic or poor performance compared to other 3S packs. However, we can look at the output graphs and see at the 1 minute mark of the 6C test the SpeedPack put out 11.44 volts, which is 3.81 volts per cell. We recently reviewed a Pro-Match 2S pack, their 50C 5000 mAh, at its 1 minute mark under 6C its voltage was 7.65 volts, 3.83 volts per cell. By that comparison the Dynamite puts out .02 volts less per cell than the Pro-Match did under a 6C load. Not an optimal comparison by any means, but it roughly shows that the SpeedPack is in the ballpark for performance during bench testing.
Measured Temps:
1C – 78 F
6C/31.2 amps – 92 F
40 amps – 97
Measured Capacities:
1C – 5007 mah
6C/31.2 amps – 4823 mah
40 amps – 4880 mah
Measured Run Times:
1C – 57:34
6C/31.2 amps – 9:18
40 amps – 7:20
---
Summary:
Time to Bash – 9.5/10 – The SpeedPack had a Deans pre-solded, plus you can charge it at up to a 5C charge rate, these two factors get you on track extra fast.
Car Show Rating – 7.5/10 – Clean but plain looking pack.
Bash-A-Bility – 10/10 – The Dynamite lived through arguably the toughest beatings we've ever put a pack through with no ill effects.
Fun Factor – 9.5/10 – Blowing up tires, 40 foot long rooster tails, and bouncing off rafters is awesome fun!
Power – 9/10 – We are scoring the Dynamite as a 9 because it puts out plenty of solid power. But here is the real scoop- if you are used to only driving on 2S the Dynamite will feel about a 20 on a scale of 10.
Value – 7.5/10 – The Dyanmite is a mid-priced 3S Lipo that has solid power for the bank invested.
BigSquid Rating – 8.8/10 – Tentacles. If you are wanting to take your fast 2S truck to a completely new level the 3S Dyanmite pack can and will do it. It can power your truck to insane levels, gives you good run-times and endures abuse as well as any we have tested.