Dynamite Speedpack Platinum 2S 7.4v 50C 5200 Mah Lipo Battery Review
THE Dynamite Speedpack Platinum 2S 7.4v 50C 5200 Mah Hard Case Lipo Battery Review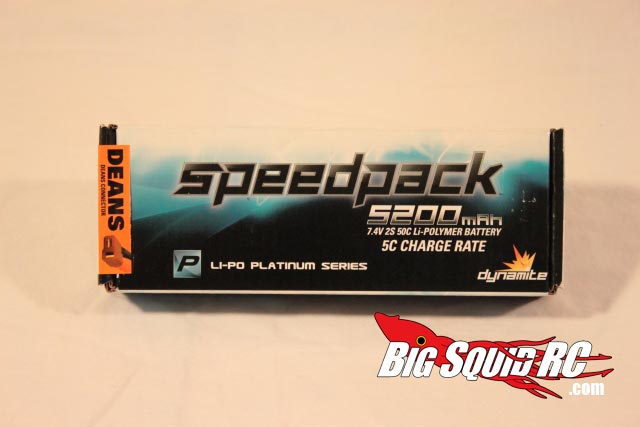 There is no lack of choice issues when it comes to Lipo batteries. Dynamite, Horizons in-house line of aftermarket products, is one of many companies hoping to win you over in the war for Lipo supremacy. How does their Platinum series pack stack up? Read on…
From: Dynamite RC
Direct Link: Speedpack 7.4v 50C 5200
Review By: Cubby
Pics By: Cubby
Specs:
Battery Type: Lithium Polymer
Stated Capacity: 5200 mah
Cell Configuration: 2S2P
Voltage- 7.4v (max voltage 8.4, min voltage 6.0)
Discharge- 50C constant/100C burst (260 amps/520 amps)
Weight (measured by BSRC, battery including Traxxas connector)- 297 grams
Dimensions (measured by BSRC)- 138x47x25mm
Balance Plug Type- JST-XH
Stock Connector- Deans or Traxxas available
Max Charge Rate- 5C/26 amps
Street Price: $100
What's In The Box: Everything you need. The Dynamite comes with your choice of Deans or Traxxas connectors. If you don't like either of those choices you are using the wrong connectors to begin with and need to switch over.
Build Quality: Everything looked good except- our test unit came with a Deans plug installed, we do all our testing with Traxxas connectors so while removing the included Deans I noticed that the positive wire to the Deans was well soldered but the solder joint on the negative wire was very poor.
Test Platforms: ECX Torment (all stock), Associated T4 (with 7700 kv brushless), Losi Ten SCTE (with 3800 kv brushless)
Test Drivers: Cubby, Brian, Iron Mike, Top Jimmy, Craig "The Ramp Builder"
Test Venues: iHobby Expo Hall, RC Outlaws track, cul-de-sac, backyard
Driving Impressions: You can install virtually any new Lipo into your truck and feel that its fast. The big question is- how does it stack up against the competition?
Compared to the stock 6 cell Ni-mh pack included in our ECX Torment the Speedpack was a huge improvement. Stock, with the 1800 mah Ni-mh pack, the Torment was quite tame, but with the 5200 mah Speedpack installed the Torment could easily pop wheelies, churn up big roost, and burn its tires off.
Compared to another "name brand" Lipo of roughly the same price and capacity the Speedpack felt every bit as strong as its competition. Low end yank in our Losi Ten SCTE felt strong, and the top end power in our 7700 powered T4 seemed to keep pulling forever.
We were not able to compared the Speedpack to a more "elite" pack of higher price and capacity. All the packs fitting that description sitting around our office had more than 100 cycles on them. Driving a tired high end pack back to back with the Speedpack would not have given a very accurate comparison, so none was done.
---
About The Graphs: We used a West Mountain CBA discharger to performed a 1C/5.2 amp discharge to test capacity. Next we did a 30 amp discharge, then a 6C/31.2 amp discharge, and finally a 60 amp continuous discharge to see how well the Speedpack held its voltage under a continuous load. The higher a battery can hold its voltage, the faster your car/truck will be. Ambient temps for all bench tests was 68 F, the pack was always charged on a Hyperion 720iNet3 at 1C/5.2 amps and voltage cut-off was always set at 3.0 volts per cell during discharges.
The Dynamite 2S 50C 5200 Speedpack faired well on the West Mountain. For example, the Speedpack maintained much higher voltage under load than the last pack we reviewed, a Zippy 2S 4000. Against others of its price point and capacity it showed competitive voltage across the entire curve.
The rough curve at 60 amps indicates a connection issue, perhaps inside the pack, or perhaps with our test gear. I have subsequently performed 60 amp discharges on other packs without the roughness showing up in the curve, indicating the likely culprit is inside the pack.
Measured Temps:
1C – 80 F
30 amp – 94 F
6C – 95 F
60 amp – 104 F
Measure Capacities:
1C – 5082 mah
30 amp – 5020 mah
6C – 5005 mah
60 amp – 4888 mah
Measure Run Times:
1C – 58.5 minutes
30 amp – 10.1 minutes
6C – 9.65 minutes
60 amp – 4.9 minutes
---
As with all of our stuff, if you see us at a bash, stop by and check out the vehicles we have with us. We may let you take a test drive, and at the very least get you some stickers!
SUMMARY
Time To Bash – 9.5/10 -The Speedpack comes with your choice of Deans or Traxxas saving you time. A 5C charge rate will have you on track in a matter of minutes.
Car Show Rating – 7.0/10 – Conservative styling looks fine but doesn't draw a crowd.
Bash-A-Bility – 10.0/10 – We had absolutely zero issues with the Dynamite Speedpack. We had no issues with the cells venting internally and the case survived severe g-forces from big jumps and crashes.
Fun Factor – 8.0/10 – One squirt of the throttle with the Speedpack in place was enough to incite a big grin, power always has that effect on us. 🙂
Power- 8/10 – The Speedpack instantly made our ECX Torment faster and had more than enough juice to launch our Losi SCTE over the biggest triples on the track.
Value- 8/10 – At the hundred dollar price point you expect a reliable, powerful battery. The Dynamite packs a lot more power than the last "cheap import" pack we last tested and was quite reliable for us.
Big Squid Rating – 8.4/10 – Tentacles.. Dynamite isn't exactly known for its prowess in the battery biz but their Platinum series 5200 performs well.