E-Fest 2010 DVD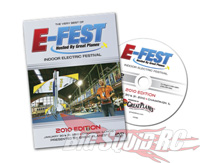 For all those that missed E-Fest 2010, Great Planes has a DVD featuring all the highlights! Pylon Racing, Freestyle, Combat, and more! If you are into the RC Flying scene, and weren't there, you should add this DVD to your shopping list!
Here's a sneek peek from Youtube:
Check out the Great Planes website for more info.