Easter Parade! Basher Style!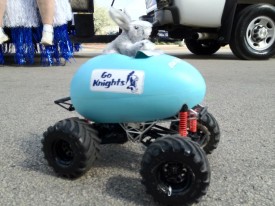 So the time came around for the 2012 Downtown Joliet Easter Parade and I needed to come up with something one of a kind to promote my old grade school. Then I was walking though my local Hobby Lobby and I found a huge plastic egg. That was it! An RC Easter Egg! So I went home with the egg and started dremeling away, I mounted it on top of an HPI Wheely King, but when it was done it just didnt look as cool as I wanted. To add to the wow factor I cut a hole in the top of the egg and mounted a stuffed Easter Bunny in it. Now I had an Easter Bunny Driving a 4×4 Easter Egg. The Egg turned heads like no other and everyone who got the chance to ask about it wanted to know where they could get one and how much I paid. Riding wheelies through the parade really got the crowd going and helped promote the school. Happy Easter! from Adam the Intern!
                       No real bunnies were harmed in the making f this post.