ECX Revenge 1/8th Scale Electric Buggy Review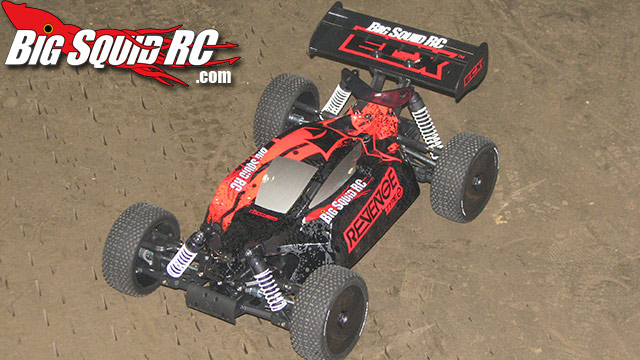 The RC world was very surprised when ECX announced they were going to have two 8th scale buggies added to their lineup! It just wasn't something we expected from the brand. We were very excited to get our hands on both Revenge versions. This review is of the electric version. Did it live up to our expectations? Was it a good representation of the ECX brand? Keep reading to find out..

Review By: Adam the intern  
Specs:
Type: 4WD electric buggy
Scale: 1/8
Length: 19.1 in (485mm)
Width: 12.1 (309mm)
Wheelbase: 12.7 in (323mm)
Weight: 6.7 lb (3039 g)
Chassis: 3mm plate 6061-T6 aluminum
Suspension: Independent
Drivetrain: 4WD
Tire Type: All-terrain
Motor or Engine: 550 4-pole non-sensored brushless
Radio: Spektrum DX2E
Wheel Size: 3.21 in (81.5mm)
Kit/RTR: RTR
Shock Type: 12mm aluminum oil-filled.
Primary Competition: Other RTR 1/8th scale buggies.
 What's Needed To Complete: Your choice of a battery and charger, out of the box the car can handle up to 3s but in order to get the full power of the esc on 4s you will have to upgrade the motor.   
Test Drivers: Brian, Wrench, and Adam.
Test Venues: Leisure Hours Raceway, parking lots, and a couple of parks.
Set-up Notes:  The buggy came completely ready to go and had no problems out of the box. We installed a 3s Dynamite Speedpack Lipo and everything went smooth.
Turning: The steering on the buggy is a little bit too slow so at the track it defiantly takes some getting used to when you first start to drive the car. We checked to see if there was anything that was too tight in the steering and everything was smooth. Although it was slow the servo took some punishment and didn't have any problems.
Jumping: The buggy did great at the track and handled jumps well. It ended up being slightly nose heavy but when we slid the battery towards the back more it evened out the weight and it stayed nice and level in the air. We took the car off some bigger jumps in an effort to test its limits and it survived a few 30ft. jumps and is still in perfect drivable condition.
Bumps/Whoops: There were no problems gliding over anything that got in its way on and off the track. Even got the chance to hit some parking lot speed bumps which was a lot of fun.
Off-Road: The Revenge handled off-road surfaces very nicely, for an 1/8th scale buggy the suspension had plenty of travel and took everything that we threw at it. The car had enough power to clear a two lane street without a ramp and continued to impress on and off the track.
Tires: The buggy has Speedtreads Watch Dog tires which surprised me especially in the snow and on ice! They were able to perform like off-road tires when needed and still got the buggy around the track with very good traction.
Power: Honestly when I saw that the buggy ran on 3s I wasn't sure if it was going to have enough power to push around a heavy 1/8th scale platform. I was very surprised when I pulled the trigger and it had no problem breaking the tires loose! The Dynamite Fuze 2500Kv Sensorless Brushless Motor has plenty of power to handle the buggy.
Radio: The Spektrum DX2E transmitter performed great. I liked how soft the trigger was, a lot of these new RTRs from other companies have super stiff controls on their remotes and it just makes it feel cheap! ECX made a good choice to put a quality Spektrum radio in the Revenge.
Broken Parts: For this section I only encountered one break! The shocks. We broke a front shock and a rear shock. The end of the shock shaft broke off inside the tie rod end leaving no threads to put on a new one. Both shocks broke the same exact way so it could be that the shock shafts themselves are a little brittle. Other than that nothing broke and this thing got put through some serious punishment!
Misc Notes: The car is fully water-proof which is very nice because its not always nice out and its never a good day when you cant run your car because of the weather!
Best Mod Under $5: Some better shock shafts would really fix the only weak spot I was able to find on the buggy.
Best Mod Over $5: The only thing that would need to be changed is the steering servo its just too slow to use on a track.
---
SUMMARY: A = Outstanding/Best in Class, B = Above Average, C = Average, D = Below Average, F = Horrific
Time To Bash:  C  Everything was included but the battery and charger.
Workability: C The Revenge has a very nice easy to work on platform. Everything went smooth when changing out the shocks and nothing stripped or was hard to get to. 
Car Show Rating: B This buggy looks awesome! The paint scheme and white lettering on the sidewalls of the tires really makes it stand out!
Bash-A-Bility: C The only problem was the shock shafts. If that were fixed, this car would take everything you throw at it.
Fun Factor: B The fact that its waterproof really adds to the fun that you can have with the Revenge. Being able to run in all weather conditions is very important when your a basher.
Handling: C The steering isn't bad when your bashing in the backyard but when it's out on the track it needs to be sped up, or you are going to miss some turns.
Value: B The price isn't bad for the quality of the car its very durable and a lot of fun to bash or race on the track. 
Big Squid Rating: C+ This car defiantly puts up with some abuse and with some minor mods could be a very bullet proof basher!