ECX Torment 2.4 Ghz RTR Review
THE ECX Torment 2.4 Ghz RTR Review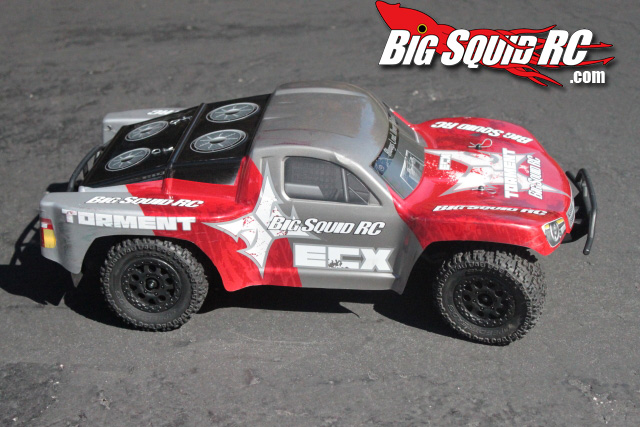 BigSquidRC is a site aimed right at the bashers of the world. In the bashing realm being tough and affordable are of the utmost importance. ECX (formerly known as Electrix) is a brand targeted at the beginner and the basher market. Their latest offering, the Torment, is a 2wd short course truck that should be a perfect fit for many of our readers here on BigSquid. How does it measure up? Is it worth your cash or only your middle finger? Read on…

From: ECX
Direct Link: ECX Torment
Review By: Cubby
Pics By: Cubby, Jeff
Specs-
RTR or Kit: RTR
Age: 14 years +
2wd or 4wd: 2wd
Electric or Gas: Electric
Scale: 1/10th
Length: 20″
Height: 7.5″
Width: 11.6″
Wheelbase: 13.1″
Weight (truck measured by BSRC w/ Lipo Batt): 5.6 lbs
Motor: Dynamite 20 Turn
Speed Controller: Dynamite Brushed (12 Turn Limit)
Radio: Spektrum DX2E 2.4 Ghz
Tranny: 3 gear
Differential: Gear Diff
Slipper Clutch: Included
Driveshafts: Plastic Sliders
Shocks: Plastic, Oil Filled
Screws: Phillips Head
Bearings: Full Set
Tires: Dynamite Speedtreads
Waterproof: No
Warranty: "Horizon Hobby warranties the product to be free of defects at the date of purchase."
Street Price: $160
Primary Competition: Traxxas Slash, Venom Gambler, HPI Blitz, ARRMA Fury, Associated SC10, Losi XXX-SCT
What's In The Box: Absolutely everything you need to get running.
Build Quality: We found no excessive flash, no loose or stripped out bolts, nothing was binding, pinion/spur mesh was perfect, overall the build quality was quite good. The only issue I found was our slipper was adjusted 2 full turns too tight out of the box (even for a high bite track).
Test Drivers: Cubby, Brian, Evan, Adam, Jeff, Tim, Jim, Bill
Test Venues: iHobby Demo Track, RC Outlaws Track, Backyard, Parking Lot
Set-up Notes: Bone stock except for the addition of Traxxas connectors. Also, we used MaxAmps 2S 6500 mah Race Spec packs for testing instead of the included 6 cell Ni-mh.
Turning: The Torment was good in the corners. On the high bite iHobby track it exhibited some oversteer entering corners then typically leaned over and held a good line. The lack of proper ackerman and a weak steering servo kept the Torment from carving the inside lines on high bite, but, if anything this made the truck easier to drive fast for both noobs and pro's. On the ultra slick hardpack dirt surface at RC Outlaws the Torment pushed just a bit entering corners, but stabbing the brake made it easy to turn on a dime in the tight 180's. The stock tires and chassis set-up generally made the Torment predictable in the corners, not darty or loose in the rear.
Jumping: 2wd short course trucks are notoriously hard to jump, that big ole' body they have strapped on top makes them behave more like a kite in the air than a truck. Our Torment had the normal amount of parachute effect, but was easier to control in the air than others in its class. For instance, when stabbing the brake to bring the nose down it was more effective on the Torment than on a Slash. The Torment had about the same amount of rpm as the others in its category for bringing the nose up. The Torment is slightly under damped, so landings were perhaps a bit harsher than others in its class, but still the Torment typically landed quite well. Landing sideways was not one of the Torments fortes as it tended to flip if not landed perfectly straight, this is surely a downside of it's extra ground clearance compared to competitors that use a flat chassis (like the AE, Losi, and HPI).
Bumps/Whoops: The shocks on the Torment came slightly under damped on both compression and rebound sides giving the truck a bit of huckabuck effect in the whoops, but it wasn't really far off. For instance the Gambler is simple undrivable out of the box desperately needing a shock oil change before even the first drive, the Torment can easily be driven with stock oil. With stock oil whoops are fun but difficult to attack full tilt, throwing in some slightly heavier will help give you the ability to keep pinned wfo through the rough stuff. The chassis on the Torment is laid out like a Slash, it uses risers to get more ground clearance. This comes as an advantage in the crazy burly stuff (also on grass, rocky areas, etc). Truly rough areas that a Blitz/SC10/XXX-SCT will get high centered on the Torment just blasts through.
On-Road: No, the Torment wasn't designed for on-road use, but lots of basher spend plenty of trigger time on the tarmac. At low to medium speeds the Torment was a blast showing loads of mechanical grip, plenty of suspension travel for soaking up road joints, and generally drove like a dream. Only at higher speeds did its off road intentions drastically hurt performance. The light damping gave too much chassis roll at speed and its soft tires and foams liked to dig in and flip the truck at higher speeds. The good news is that if you indeed do most of your driving on-road it is cheap and easy to make the Torment an on-road beast. Stiffer springs, oil, some street shoes, and you'll be dialed.
Suspension: As previously mentioned the Torment could use slightly heavier oil front and rear, but what wasn't mentioned was the spring rates are pretty much dead on (for use with a 2S Lipo) and the shocks on our test Torment came with very little stiction. Oh and… did I mention our shocks have yet to leak? Where I came from non-leaking shocks is a big deal, props to the designers on creating shocks that don't leak.
Tires: The stock shoes on the Torment are supplied by Dynamite. The rubber is fairly soft and yields excellent traction for an RTR (perhaps the best I've seen on an RTR), yet its tread pattern will assure long wear. The included foams are very soft, perhaps too soft except for the slipperiest of dirt surfaces.
Power: Is there such a thing as too much power? If you are a noob just getting into the hobby there certainly is. The Torment comes with a fairly standard 20 turn brushed motor that puts out good, tractable, power, but not so much as to cause a noob to break their new truck in half when slamming a curb. Our Torment was able to make some pretty respectably sized jumps and given enough traction could hold 40 foot long wheelies, not bad for its price point. No, you won't be pwn'ing anybody with a brushless system, but the included power system has enough yank to be fun.
Radio: The Spektrum system that comes with the Torment is worlds better than previous radios from Electrix. The included radio had a rubber grip and was very comfortable. The included trigger was also very well thought out and had an excellent fit on my finger. The only downside of the included radio was its wheel which was made out of hard plastic. If the wheel would have had foam on it the stock radio would have felt incredible. Range was typical Spektrum, enough to get the job done but nowhere near best in class.
Broken Parts: We didn't huck the Torment off the tallest building we could find like most reviews we do here, but perhaps we did something worse- the entire BSRC bash crew got 4 days of intense wheeling on them at the iHobby demo track. You see… some of the members of the BSRC bash crew are excellent drivers, others are just ok, while others can break an anvil with a marshmallow. We had 4 Torment trucks and 8 drivers to wheel them like they stole them for 4 days straight. Ok, so how big was the pile of broken parts? One broken outdrive, one stripped spur, and one stripped shock cap. That's it. Not bad at all considering the pounding all the trucks suffered at the hands of our deviant BSRC bash crew. All the ECX vehicles we've tested have proven exceptionally tough, the Torment was no different.
---
Best Mod Under $5: Easy, install Traxxas plugs. The stock Tamiya plugs are nothing but trouble, cut'em off then throw'em as far as you can. Another absolutely free mod is to break your motor in, check YouTube on how to water break-in the motor, this will yield better power and longer motor life. Some 40 weight Associated shock oil is dirt cheap and would make an immediate improvement in handling once pouring in.
Best Mod Over $5: I'm going with switching the servo out on this one. The stocker gets the job done without issue, in fact it makes the truck easier to drive for noobs, but a faster and higher torque servo will make a big difference. Popping $50 on a new Hitec will transform the handling of the truck from tame to race.
Misc Notes: Mark Reed is one of the main men behind ECX and I was impressed by his passion and knowledge for the Torment after speaking with him at iHobby. He didn't test samples by being nice to them, he treated them like a true basher would, and when something broke he did his best to fix the problem before it hit the market. After getting in some time with the Torment it's obvious he's on top of his job putting out a good, reliable product.
---
As with all of our stuff, if you see us at a bash, stop by and check out the vehicles we have with us. We may let you take a test drive, and at the very least get you some stickers!
SUMMARY
Time To Bash – 7.0/10 -The included wall charger is S L O W. It will work in a pinch, but a faster charger is the way to go. Otherwise the Torment is quick and easy to get going.
Workability – 9.0/10 – The phillips heads needs a long walk off a short plank, but otherwise the Torment is well laid out and easy to spin wrenches on.
Car Show Rating – 8.5/10 – Adam "The Intern" really liked the looks of the new Torment, as did the rest of the staff. The graphics on the body were exceptional, the tires look awesome, and the "murdered out" rims looked good.
Bash-A-Bility – 9.0/10 – The Torment received an uncalled for amount of abuse but took it in stride. Seriously, the Torment can take a solid pounding with very little breakage.
Fun Factor – 9.0/10 – We had a blast with our Torment. What's not fun about driving a truck like you stole it and not having to worry about it breaking?
Handling – 7.0/10 – Overall the Torment could be described as easy to drive, which is great for noobs or just bashing in the backyard. Minimal tweaks can turn the Torment into a race weapon.
Power- 8.5/10 – Tractable, smooth powerband with enough yank for wheelies, throwing roost and making good sized jumps.
Value- 9.5/10 – You fork over $160 smackers, you get a truck that rivals others in its class costing nearly twice as much. That's a great value.
Big Squid Rating – 8.5/10 – Tentacles.. The Torment possesses all the traits of a great bash-mobile- it's tough as a fire hydrant, it's a blast to drive, and is a great value. If you consider yourself a true basher and like short course trucks the Torment is a must have in your rc garage.
Need more pictures? Check out our ECX Torment Unboxing pictures!