Electrifly SafeCharge LiPo bag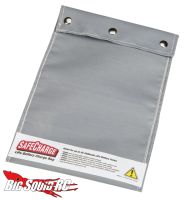 If you're using LiPo batteries of any type you need to be using a fire resistant container while you're charging them.  The most popular type is of the sack variety.  Electrifly's got a new one out for you at a low cost.  Featuring fiberglass fabric that's been coated in heat resistant silicon and stitched together with heat resistant thread, their new sack should be able to contain and snuff out a raging LiPo fire if you're ever unlucky enough to experience one.  The pack is 12.5″ x 9″, so fitting most 1s – 3s packs inside shouldn't be an issue.  Check your local hobby shop shelves in late May, the MSRP is $24.95.
Hit up Electrifly's web site for some more info.