Electrifly Triton 2 EQ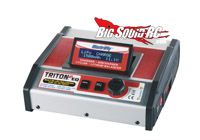 Electrifly has announced the Triton2 EQ. It has 10 memory storage, heat-sensitive monitoring (with optional probe) and can charge LiPo, NiCd, NiMH and even LiFE (A123)! That's cool. It also has balancing capability for up to 6s lithium packs. It comes with a backlight lcd and DC input for portability with switching to AC power for working indoor. That's a big plus also, so I don't have to lug in my power supply!
Only time will tell if this charger will replace the super popular Duratrax ICE, but this charger sure sounds like it has all the right options to do so.