From: Electrix RC
Direct Link: Electrix Ruckus
Review by Brian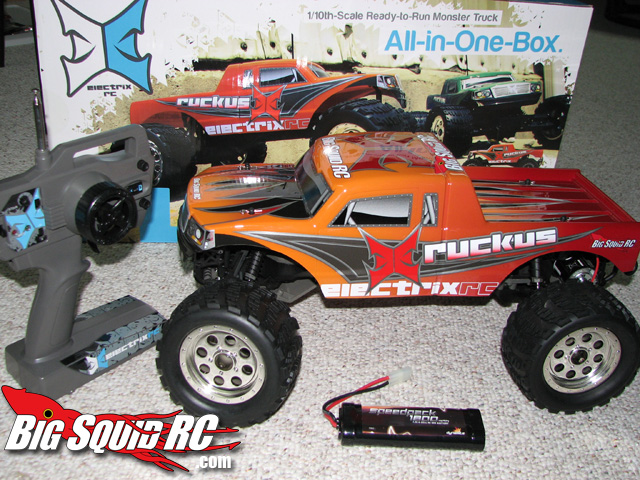 When we first heard about the Electrix brand, it was one of those situations where you knew there was only two possible outcomes. There have been a good handful of companies that have tried to put out a very economical and durable RC, and most seem to fail. Did Electrix pull off a win, or were they going to follow in the footsteps of many.. keep reading to find out..
So when I was talking in the office holding the Ruckus box, I made off like I was going to be dropping it off on Cubby's desk, and he was already rolling his eyes and starting the excuses. It's fun to mess with him, but in reality I was really looking forward to some torture testing. I rounded up Bill Wrench and we headed out.
What's in the box:
Everything you need to be up and running in no time. The Electrix Ruckus comes RTR complete with 1800mah Dynamite 6cell NiMH battery, and something I really thought was great, two sets of crystals for the radio! If you and a friend or sibling happen to go out and get new trucks, there would be no issues of anyone being on the other persons channel. I know this isn't a big deal, but it's the little things that I can appreciate when it comes to getting people into the hobby.
The Ruckus is a 2WD 1/10th scale Monster Truck, with complete ball bearings all around, AM radio, weighs in at about 5 pounds, and can be bought for about $129. All the replacement parts are pretty cheap, and it looks like there will be some hop-up support for the truck coming soon.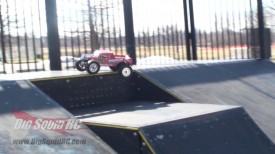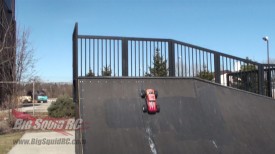 Out of the Box:
The first thing I noticed out of the box was how small the front bumper was. As we tend to hit things a lot, like other vehicles, curbs, people, walls, that front bumper becomes pretty important. Something else was that it looks similar to a certain Traxxas vehicle. More than one person at the track came up to us and said 'Is that the new Stampede?' Under the hood they are very different, but from a distance, I can understand the question.
While the included 1800 NiMH battery pack fit perfect, as well as other NiMH (round cell) packs, we did have some issues with LiPo packs fitting into the battery tray. While we appreciated the ability to secure the battery without body pins, the non-adjustable box made it difficult to impossible to use larger squared off 5000mah Lipo's. There just wasn't enough play or room to get the strap to lay down enough to lock the batteries in. For the intended audience who probably won't be trying to stuff 5000+ mah Lipo's into their truck this is fine, but for the few of us out there, this seems like something that should of been addressed.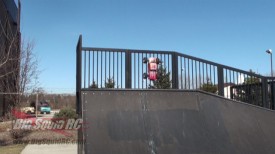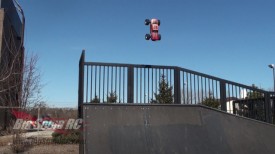 Off and running:
Ok, batteries charged, installed and plugged in, it was time for action! The Dynamite 20T motor did an ok job of moving the little truck well. We had no problem in grass, dirt, wood chips, or any other common RC surface. While as bashers we always want more speed (Electrix does offer faster motors) the 20T will be a good start for a lot of new drivers. It's enough to pull wheelies from a stop, or with a slight blip into reverse first. There isn't a basher out there that does not love wheelies!
After evaluating the standard stuff, it was time for bashing! Wrench and I headed off to the local skate park to see what we could break.
The skate park had a ton of ramps, half pipes, quarter pipes, and has been the end of many of our RC vehicles lives. This is the stuff that bashers dreams are made of. We started off small hitting the flat top boxes and smaller jumps, and as we got a little more brave handing the controller and camera back and forth we were eventually going for bigger and bigger air. There was several times we were easily 15 feet in the air and landing on pure pavement. The soft suspension of the monster truck, and soft plastic of the a-arms, connecting rods and chassis absorbed the hard landings and crashes without any major injuries. We were landing hard on our wheels, nose down, on our roof, you name it, and the little truck just kept going. It was hear that I realized that the little front bumper that I had been worried about was actually so small, the wheels were always hitting first. The front wheels just barely stick out in front of the bumper, so any major hits, the giant soft rubber tires would take the initial pounding, and then the bumper. Normally this would result in a lot of broken a-arms, but the soft molded plastic arms held up fine to the stress. Keep in mind this same soft front end ads a good amount of slop to your steering. Ok for newbies and bashers, but serious 'racers' would have issues with it.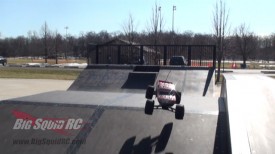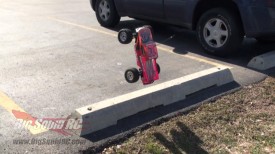 After a serious beating, it was time for the track! We headed off to Leisure Hours Raceway to see how it handled. Again we took turns behind the controller. I remember driving first, and the first time I was going to hand it over to Bill he said 'wow.. that actually looked pretty good out there' and he was right. It felt good out there. The truck wasn't the fastest thing on the track, but it was getting around it just fine. I was taking the double instead of the triple, and doing my best to time some sections, but the truck did ok. Whenever I tried to push too hard with a resulting nose first smash into a jump, the Ruckus would bounce right up and be ready for more.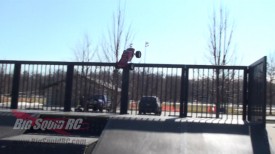 After several battery packs at the track, I gave Bill, err Wrench the green light. He loves when he gets the green light, because that usually means he gets to be destructive with no remorse! In this case, he was going to be taking the big sweeping turn to the full front straight at FULL SPEED and running it directly into the brick wall at the end of the straight. One lap around and BAM! The truck hit so hard, it looked like both a-arms were bent back and out and the truck did a complete flip and then landed on it's lid. I looked up to Bill and the smile on his face was ear to ear! I got out onto the track, did a quick inspection, and it looked like the truck was in one piece! I put it down, looked up to Bill on the drivers stand and gave the signal for once more around! Again he came flying out of the turn and down the straight, it seemed faster then the first time, maybe he let off a little last time? Then BAM! Again the truck smashed hard to the gasps of many wondering what the heck we were doing, because it looked like it was on purpose the second time. Again, I ran out to inspect the truck, flipped it back and it drove off! This was impressive! From the beating at the skate park, to the attempts at total carnage, the truck had survived!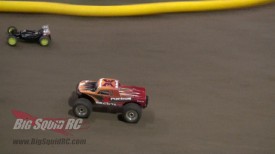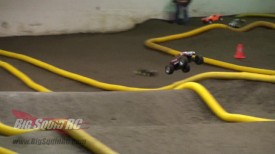 For the $129 price tag, the Ruckus turned out to be a pretty good little truck! It's taken a beating, the replacement parts are cheap if you do happen to break something, it looks like there may be some upgrades in it's future, and out of the box, the paint, rims, tires and overall package looks pretty good.
While it's missing any type of 'water proof' ness that we are starting to want more and more, and that some lipo batteries may not fit into their battery tray, I have to say that overall this is a really good truck for the new young person coming into RC. If you know of someone looking to make the jump from 'toy' brand to something a little more hobby grade, but they don't have enough experience to keep it off the curbs, this may be the ideal started truck.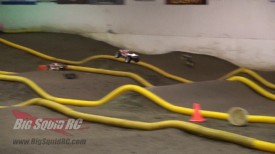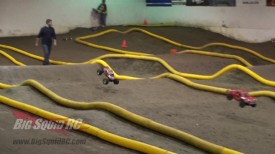 As with all our stuff, if you see us at a bash or at the track, make sure to stop by and say hi, and see what we brought with us. Maybe you can take a test drive, or at the very least, get some stickers!
SUMMARY
Time To Bash – 9.0/10 -Charge the included NiMH pack and go.
Workability – 8.0/10.0 – It has been easy to work on. The receiver box could be laid out better, but we were able to fit a after market receiver in. No large lipo's fitting in this battery box. We hope to see some hop-ups in it's future.

Car Show Rating – 8.0/10 – It's not going to turn to many heads, but it's not a bad looking truck either.

Bash-A-Bility – 10.0/10 – Nothing has broken on the truck yet, and believe me we tried! From huge air and hard landings, to full speed wall smashes.

Big Squid Rating – 8.5/10 – Tentacles. While most rc'ers in the hobby won't consider one of these trucks, it's a great vehicle to get someone new started in the world of RC at a good price.
Don't forget to check out the unboxing pictures we posted recently also!