The Element RC Enduro Bushido Trail Truck is now available in Green. It's no secret that I'm an 80's nostalgia nut. And by the looks of it, so is Element RC. We missed our first chance at the Bushido when it came out, but not this time! So, lets jump in a see what this little green truck has to offer!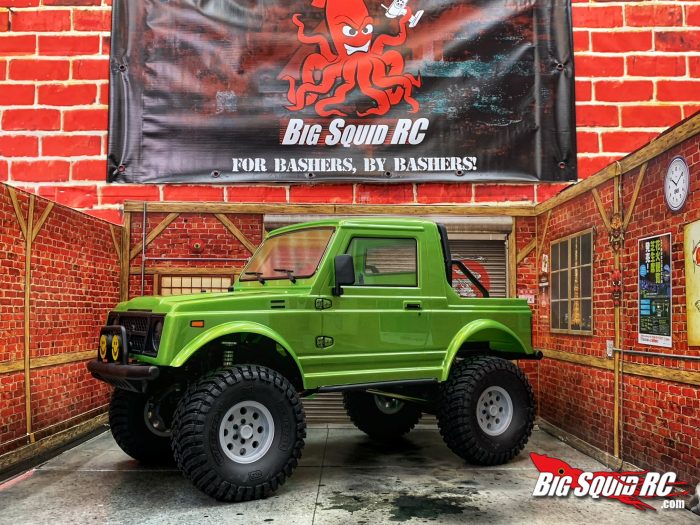 From: Element RC

Direct link: Enduro Bushido Trail Truck RTR Green
Running Film: Element RC Bushido in action!
Unboxing video: Element RC Enduro Bushido Unboxing
Review By: Jeremy Griffith
Photography By: Mitch Coner
Test Drivers: Jeremy Griffith
Specs:
RTR or Kit: RTR
Ages: 14+
2wd or 4wd: 4WD
Shaft or Belt: Shaft
Electric or Gas:  Electric
Waterproof: Water Resistant
Scale:  1:10
Shocks: Threaded Aluminum Shock Bodies
Wheelbase: 300mm (11.81in)
Motor: Reedy Power 5-slot 16-turn brushed crawler motor
Low voltage cut off: yes
Radio: 3-channel XP130 2.4GHz radio
ESC: Reedy Power SC480X
Servo: Reedy Power metal-gear, water-resistant servo
Screws: Hex
Chassis: Stamped steel frame rails
Bearings: Yes
Tires:  licensed 1.9″ x 4.65″ General Grabber X3 tires
Wheels: 1.9 Element RC Ocho beadlock wheels
Part Number: 40125
Street Price: $399.99
Run Time (measured by BSRC) 2hrs with a PitBull RC 3s 3400 MAH
Top Speed: 8MPH
Primary Competition: Element RC has solidified their place as one of the top RC crawler manufactures. Primary competition is Traxxas, Axial Adventures, Red Cat Racing and FMS Model to name a few.
Build Quality: The Bushido was fully in tack and ready to hit the trails!
Set up notes: The rig comes ready to hit the trails. If you want the snorkel you will have to install it yourself.
Test Venues: Daniel Boone National Forest, Big Squid RC Farm.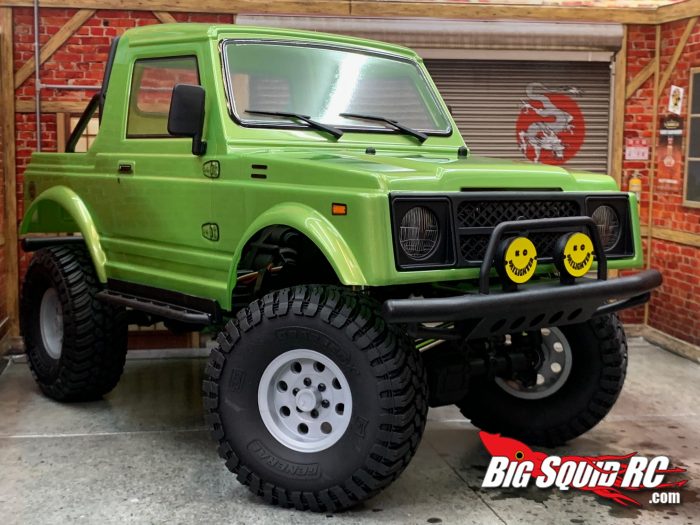 Turning: The short wheelbase on the Bushido helps the turning radius immensely. The servo has plenty of power for the rig and we never had a problem with the servo underperforming.
Crawling: Even though the Element RC Bushido has been out for some time, this was our first time driving one, and the rig did not disappoint. The Driveline with a 16 turn Brushed motor is very smooth. Creeping up to an obstacle and letting the overdrive work, is like watching one of those satisfying videos you see on the web. Side hills the Bushido really outperformed our expectations. On the rocks the rig kills it. The short wheelbase is a blast to crawl with and can hit lines that other rigs can't.
Broken parts: Other than some tire wear the Bushido held up great during our testing and is till hitting the trails as you read this!
Best Mod: Performance wise the Bushido is dialed in for an RTR. I would get the 3D printed interior from Knights Customs to make the rig more scale.
Summary:
Time to bash: The Element RC Bushido takes no time to get ready for the trails. As you should do before any RC Journey, go through the rig and make sure everting is tight. Nothing worse than a lose wheel nut ending your time early.
Workability: The Bushido is easy to work on. With the Bushido being in the Enduro family, swapping parts from one rig to the other and making your own Element rig is a walk in the park.
Car Show Rating: The classic look of the 80's is so cool. Before trucks became computers with seatbelts, trucks looked way better. The Bushido is a perfect example of how real rigs used to look. From the time period accurate graphics Element supplies to the all the molded parts the bushido is a great looking scale crawler. The only thing that holds the rig back, is the body pins. Element makes some of the best rigs you can get. Constantly innovating and designing, Element RC definitely has the skills to do away with those pesky body pins.
Handling: Driving the Bushido is a lot of fun, and a big part of that is how well it performs. No matter what terrain you are on, the Bushido can be tuned on the fly with its adjustable shocks. The Licensed 1.9″ x 4.65″ General Grabber X3 tires have a good soft compound that molds over the rocks, giving you maximum grip when you need it.
Value: Coming in at $399.99 the Element RC Bushido is worth every penny! Now days finding a rig under $500.00 is a challenge. Element has done a great job at keeping the price down, and still supply a quality vehicle for the public to enjoy.
Parts Availability: Element RC Parts can be found in most local hobby shops and online, giving Element RC an advantage over the some of the competition.
Big Squid Rating: Element RC has yet to disappoint us, and the Bushido lives up to its predecessors. Every year Element RC finds new ways to keep the hobby exciting as well as growing, by not only appealing to the established people in the hobby, but also the newcomers. If you are looking for a different crawling experience, then the short wheelbase Bushido is a rig you might want to pick up!