What is going on everybody, we got our hands on the Element RC Enduro Gatekeeper and have been putting it to work for a few months. Element RC has become a force to be reckon with in just a short span of time. So, let us see what all the hype is about and find out if the Element Gatekeeper is hot or not!
From: Element RC
Direct link: Element RC Enduro Gatekeeper Rock Crawler Buggy RTR
Unboxing video: Big Squid RC Element Enduro Gatekeeper RTR Unboxing
Running video: Element Gatekeeper first run video
Review By: Jeremy Griffith
Photography By: Jeremy Griffith
Test Drivers: Jeremy Griffith, Greg Holman , Muckboots Mike
Specs:
 RTR or Kit: RTR
Ages: 14+
2wd or 4wd: 4WD
Shaft or Belt: Shaft
Electric or Gas:  Electric
Waterproof: Water Resistant
Scale: 1:10
Length: 467mm (18.39in)
Width: 248mm (9.76in)
Wheelbase: 325mm (12.8in)
Weight: Varies
Motor: Reedy Power 5-slot 14-turn brushed 550
Speed Controller: Water-resistant SC480X brushed ESC
Low voltage cut off: yes
Radio: XP130 2.4 GHz 3 Channel
Differential: Locked
Driveshafts: 3-piece telescopic driveshafts with an extruded aluminum center section
Shocks: Adjustable
Servo Saver: No
Screws: Hex
Spur/Pinion Pitch: varies
Bearings:  yes
Tires: licensed 1.9″ x 4.65″ General Grabber X3
Battery: battery will be needed, and charger will be needed
Part Number:  40111
Street Price: $399.99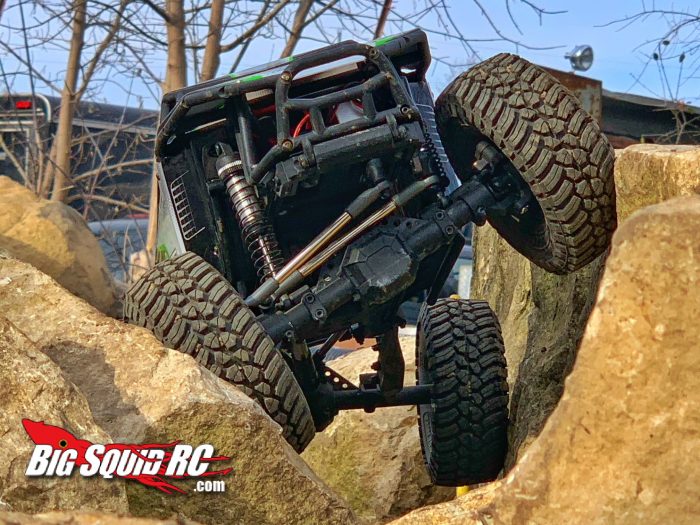 Bashing Specs
Wheelie on demand: No
Axels: Enduro Axle
Sound module: No
Self-Righting: No
FPV: No
Run Time (measured by BSRC on a 2s 2000mah lipo): 40 minutes
Top Speed: like most Crawlers about 7mph.
Primary Competition:  Axial Racing, Traxxas, and Redcat to name a few.
 Build Quality: Out of the box the Gatekeeper is ready for adventure! All the hardware and parts were in their correct positions, no issues to start.
Set up notes: Everything on our Gatekeeper was left stock and ran on a Max Amps 4750mAh Graphene 2s Lipo.
Test Venues: Juicebox Off-Road Park, Crawler Canyon RC Park, Dellwood Park
Radio: The stock radio feels great in the hands and offers a 3rd channel. You have 6 different trim adjustments and the wheel has a soft foam grip replicating racing wheel from an On-Road car.
Turning: The Element Gatekeeper is not like your normal 1:10 crawler, it features a behind the axle steering or as Element calls it (BTA). Having the steering link behind the axle increases ground clearance and adds to better approach angels. While on the rocks the Gatekeeper had no hesitation in the servo and turns on a dime!
Crawling: at the start of the Gatekeeper testing, we wasted no time and went straight for the throat by hitting the harsh terrain of one of our favorite test venues Dellwood Park. The jagged rocks put the Gatekeeper on its side a few times in the first run, once the box stiffness was gone the rollovers were lest frequent.  Same can be said for the officially licensed General Grabbers X3 tires, as they loosened up the more, they grabbed. What makes the Gatekeeper stand out from all the other rigs is the GKS package. The package includes rear trailing arms that move the shocks forward, giving you tons of playroom for shock tuning. The rear anti-roll bar gives you a stable suspension when out in the wild and if that is not enough for you, how about an adjustable track bar mount bolted to the chassis rails eliminating the flex turning. The Gatekeeper is no joke on the trails or rocks, it shows up to work and does just that!
Broken parts:  Other than trail rash our Gatekeeper has held up like a champ in our review testing!
Best Mod: There are a bunch of cool mods for the Gatekeeper, many of them coming right from Element Rc and Extreme RC 4X4. If I were to pick, I would get the IFS from Element, plans are to turn our Gatekeeper into a scale trophy truck and the IFS from Element will make it more realistic.
Summary:
A= outstanding/Best in class, B = Above Average, C =Average, D = Below Average, F = Horrific
Time to bash: B+. The hinge body system makes it easy to get ready for the day's journey with the Gatekeeper.
Workability: A. while the Gatekeeper looks like a lot to deal with, its not. The cage is separate from the chassis and a part of the body. So, working on the Gatekeeper is not different then working on the Element Trailwalker.
Car Show Rating:  B-. The graphics are wicked and pop just right with the body panels, the tires and wheels are a match made in RC scale heaven. The only flaw I have with the Gatekeeper is the snout, it never effected the performance for me it just looks slightly funny. I found putting a winch in the dead spot helps.
Bash-A-Bility:  B. Bashing crawlers is harder than you would think, sure anyone can break a rig that is easy, but truly driving the rig in real scenarios and as if it were a 1:1 is the best way to drive. The Element Gatekeeper has held up and is still going strong today, I just would not choose it as a basher, at least stock out of the box that is.
Handling: B+. Stock out of the box the Gatekeeper is tippy but as the shocks start to wear in the rig seemed to handle side hills better. That goes for the whole rig, about my third run the Gatekeeper woke up and performed at its best. Let that new rig stiffness wear out then you will truly see the Gatekeeper in action!
Value: A+. coming in at $399.99 the Gatekeeper is a bang for your buck in my eyes. A ready to run rig with official licensed tires and wheels and a proven performance chassis is well worth the $399.99 in my book. This price point will attract not only the seasoned scaler, but also the massive wave of new RC fans the hobby has gained recently.
Parts Availability: B+. Most local hobby shops will have parts for the Gatekeeper, it is in the Element Enduro family, so the two rigs use some of the same parts. Or if you do not want to leave your home the Element RC web site has you covered!
Big Squid Rating: B+.  Element RC continues to put out solid rigs and the Gatekeeper is just another example of that.  If you are looking to crawl it can do it, if you are looking to rock race, well it can do that too. The amount of customizing and performance options for the Gatekeeper is enough to hold your interest for a long time.