From the mad scientist of Area 51 Design Works comes the Element RC Enduro Knightrunner 4×4 ready to run. Element RC has made a name for themselves, and has proven they won't be going away anytime soon. With prior releases such as the Gatekeeper, Ecto, Sendero, and the Trailrunner, Element RC is looking to keep that momentum moving in the right direction. Will the Knightrunner take them home or leave them stranded on the side of the trail? Find out here in the Big Squid RC Element RC Enduro Knightrunner 4×4 review!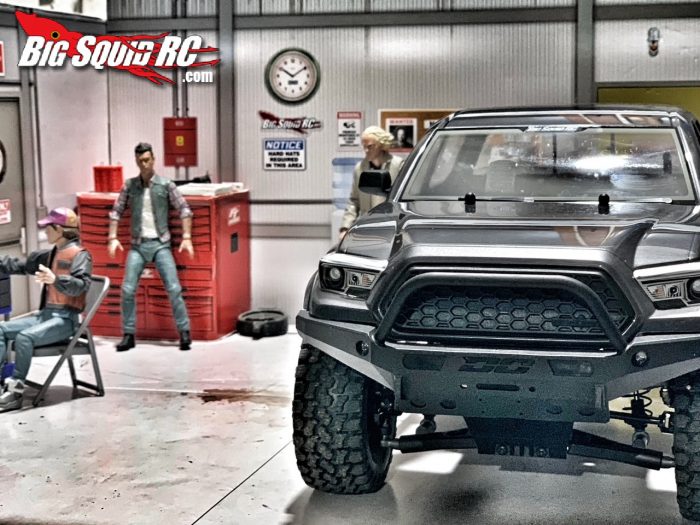 From: Element RC
Direct link: Element RC Enduro Knightrunner 4×4 RTR
Unboxing video: Big Squid RC Unboxing the Element RC Enduro Knightrunner
Review By: Jeremy Griffith
Photography By: Jeremy Griffith
Test Drivers: Jeremy Griffith, Greg Holman, Muckboots Mike, Wayne's RC world
Specs:
RTR or Kit: RTR
Ages: 14+
2wd or 4wd: 4WD
Shaft or Belt: Shaft
Electric or Gas:  Electric
Waterproof: Water Resistant
Scale: 1:10
Length: 462mm (18.19in)
Width: 236mm (9.29in)
Wheelbase: 325mm (12.8in)
Weight: varies
Motor: Reedy Power 5-slot 16-turn brushed crawler motor
Speed Controller: Reedy SC480X ESC
Low voltage cut off: yes
Radio:  XP130 3-channel 2.4GHz
Differential: Locked
Driveshafts: Telescopic driveshafts front and rear
Shocks: Threaded aluminum and fluid-filled
Servo Saver: No
Screws: Hex
Spur/Pinion Pitch: varies
Bearings:  yes
Tires: licensed 1.55 General Grabber A/T X tires
Battery: battery will be needed, and charger will be needed
Part Number:  40113
Street Price: $ 429.99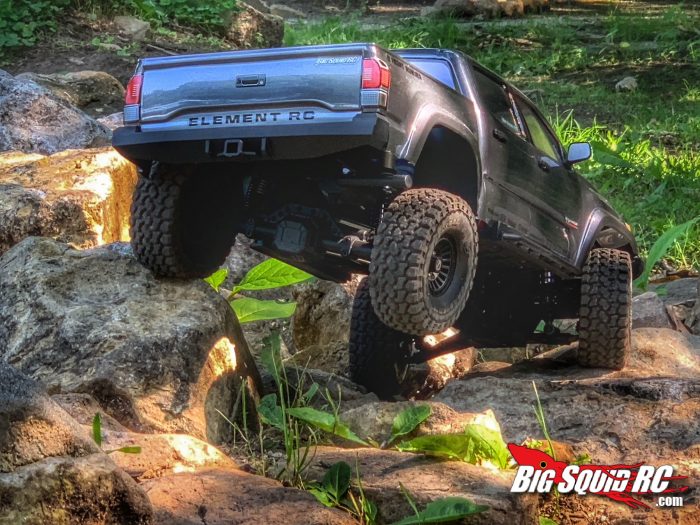 Bashing Specs
Axels: One-piece rear axle design, Universal front drive axles
Run Time (measured by BSRC) 35 mins on a 2s 2000mah lipo
Top Speed: 10 MPH
Primary Competition:  Axial Racing, Traxxas, Redcat, along with RC4WD.
Build Quality: The Knightrunner was ready for the trails right out of the box, all hardware was fastened properly and electronics worked smoothly.
Set up notes: Most RTR rigs have few if any extra parts or scale accessories. The Element Knightrunner on the other hand, comes with an extra set of overdrive gears along with officially licensed Front Runner bed rack and tent, and Officially licensed Magnaflow exhaust. That's just what's in the box, if you want to get more in depth with the Knightrunner before hitting the trail, Element RC has partnered up with James Knight of Knight Customs and have a full interior, inner fenders, grill, and a few other scale items you can 3D print!
Test Venues: Juicebox Off-Road Park, Crawler Canyon RC Park, Dellwood Park
Radio: The XP130 3-channel 2.4GHz is a solid radio, it feels good in the hands, and is very responsive.
Turning: The IFS suspension on the Knightrunner helps the rig dig into the turns and adds a sensation of real 1:1 driving. While the IFS looks like it would hinder the rigs off-road capability on the rougher terrain it does not. After many runs and some serious abuse, the high-torque metal-gear 1320MG Reedy servo is a champ and still working great!
Crawling: Since the Knightrunner is a "tiny tire truck" 1.55, the ideal crawling atmosphere is the trails, but the Element RC Knightrunner can go well beyond just trail running.  The rig has a great center of gravity keeping it from being top heavy and making it perform just as good the lager tire rigs.  We found that the Knightrunner was very impressive in the tougher terrain, the IFS adds not only a scale appearance but performs well. Being able to have one side of the rig compressed and not have the weight shift to the opposite side lets you pull some wicked lines.  Now if trail running is what you are looking for, than the Element RC Knightrunner is for you! Slow crawling through a scale town or off-road park with the Knightrunner has a Zen like feeling. The Scale details of the rig capture that of a 1:1 so well and translate over to better scale photos and film making.
Broken parts:  Other then some trail rash the Element RC Knightrunner is still in one piece!
Best Mod: Power plant wise we think the Knightrunner is solid and does not require any help in that department out of the box. We do strongly recommend getting the extra scale parts from Knight Customs. The scale add on's will make the Knightrunner pop in the scale world leading you down a worm hole of scaleness!
Summary:
A= outstanding/Best in class, B = Above Average, C =Average, D = Below Average, F = Horrific
Time to bash: B. Getting the Knightrunner ready for the trails takes no time at all without the scale tent and rack installed. We can see how it may take a bit of time if those parts are installed, but like I say "You can't rush art!" So be it if it takes an extra minute to hit the trails, as long your rig looks good to you then rock it!
Workability: B. Working on any of the rigs Element is fairly simple. Lots of walk throughs if you ever get stuck and weekly trail tips from Element RC themselves on their web site are a great resource.
Car Show Rating: A. One of the best Looking RTR rigs of the year! The Knightrunner is stunning and has a massive amount of cosmetic hop ups you can acquire. Making the Knightrunner your own and a unique rig is what Element RC had in mind when making this truck. Element RC has a love for the scale side of the hobby and knows what we all do to the rigs when we get them. They do the same thing and have now made it easier to go from a Trail rig to straight up Doll House rig. All things said the Knightrunner should have been a A+, but the body post was the only thing stopping it from getting that.
Bash-A-Bility:  B. the Knightrunner took a bit of a pounding from the drivers and was able to pass its Big Squid RC initiation.
Handling: B. This rig drives and feels like a 1:1 at times. You could make a trail rig or an off-road Baja truck out of the same platform. Either way you go the Knightrunner will handle like a dream!
Value: B. Coming in at 429.99 the Knightrunner is a good deal even though it's not a licensed body. That's where Knight Customs comes into play, so you have an opportunity to fix that little issue, and don't forget every Knightrunner comes with a scale garage that is perfect for displaying.
Parts Availability: A. Being a part of the Element Enduro family, getting parts for the Knightrunner is not a problem. Most Local hobby shops have parts on hand as well as Element RC's web page.
Big Squid Rating: B+. Element RC knows what people want and they listen. Making parts interchangeable from one rig to the other gives the scaler a wicked catalog to pick from when doing a build. The Knightrunner is a great example of that, utilizing the IFS and Enduro chassis Element RC has made a great performing rig. The added scale details are just the icing on the cake. I look forward to seeing what people do with the Knightrunner because it's a rig that can do so much for so little.