Estes Syncro Quadcopter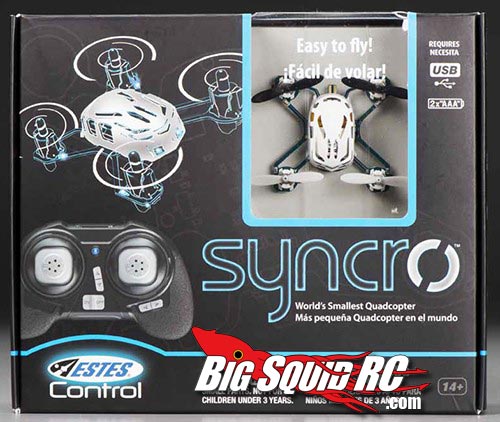 As you all know, we LOVE the Estes Proto X around here. It's fun to fly, durable, and easy on the budget. We all own at least one. Well Estes just announced the new Syncro Quadcopter. The Syncro is still nano sized, and almost identical to the Proto X, though it looks like it's going to have a little more back end support.
We just discovered that you will be able to buy a replacement battery ($5.50) as well as motors ($9.99 for 4). Something that was not available on the Proto-X. We are very excited about this, as our months of abuse have taken a toll on our quads, and having the ability to replace some parts will be a huge plus!
Specifications include-
* Weight: 11.5 grams
* Dimensions: 1.75″in diameter.
* 100mAh 3.7v Lipo w/ USB charge cord
* LED lights to indicate front of quad
* 2.4GHz radio system w/ digital trims
* One piece PCB frame
* Requires two AAA batteries for transmitter
* Comes with 4 spare blades.
The part number for the Estes Syncro is #004609, it has a street price of $39 and they will be available very soon.
Click Here for more Estes news on BigSquidRC.