Evan's 5 Minutes…on 8 Days Until RCX!!!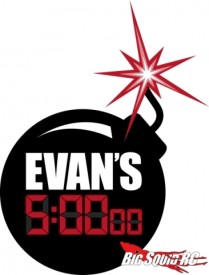 What up Squiddys?! We are officially 8 days away from RCX! That means we are only 8 days away from BASH-A-PALOOZA! Most importantly, we are only 8 days away from giving out $1500 in prizes for BASH-A-PALOOZA! I've seen the stack of stuff we have lined up to give away and trust me when I tell you that you REALLY want to be a part of BASH-A-PALOOZA! Don't tell Brian, but I'm half considering quiting here and entering myself! In case you can't tell, I'm pretty stoked for RCX. It will be my first time out with all the fans and all the latest stuff in the world of RC. "Is this heaven?" "No, it's Chicago, Illinois and this is RCX!"
The NFL lockout officially came to a close this week to the cheers of many including myself! Let the free agent/trade blitz begin! Haynesworth and Ochocinco to the Patriots, Kolb to the Cardinals, and it looks like McNabb to the Vikings. Man, I am ready for some football! X Games 17 is also off and rolling and my favorite Moto X Best Trick competition went big last night! Josh Sheehan brings home bronze with a double backflip, Team Associated's Cam Sinclair brings home silver with a Nac-nac double backflip, and Jackson Strong nails the first X Games Moto X front flip for the gold. HUGE! Sadly, my boy Travis Pastrana crashed again on the "TP Roll" and broke both his foot and ankle. He was supposed to make his NASCAR Nationwide debut Saturday and then RallyCross on Sunday. No idea if that will happen now or not. All right, onto RC!
As Brian discussed earlier this week, things have been absolutely nuts here lately. I should be getting my hands on the Axial Wraith we reviewed next week to start on a series of builds/mods to see if I can get that beast to really rock. Maybe I'll get a chance to work directly with Axial on a few things and try to dial this thing in to really bring out the best of the Wraith. I've also got 5 minute reviews planned for the Tekno Revo 3.3 Brushless conversion kit, the Pro-Line Flo-Tek short course truck body, and a couple other little surprises. I'm hoping to do a couple other major reviews. Maybe the HPI E10 Drift or Sprint 2 Drift once I can get my hands on one, and maybe another HPI vehicle I've mentioned from time to time called the SAVAGE XS FLUX! You didn't think I'd not mention it, did you? However, I'm betting Brian may fight me for that review 🙂
We're still in the hunt for some new team members here at Big Squid RC, so make sure you check out Brian's open call post and my column last week to see if you fit the bill. If you think you do, make sure you send us and e-mail and tell us why!
Now to recap a couple significant events of the week… First, Cubby did a kick @$# review of the Electrix Boost Buggy. If you're looking for a crazy durable, fun buggy for under $140, the Boost is it. Aquacraft gave us a serious tease showing us a video of their new Minimono Brushless Boat. This thing looks really cool and absolutely perfect for someone who doesn't have a ton of water but still wants to get their boat on. A little web research returned some hints of a "Early September" ship date, and a $140 price tag. That's pretty awesome if you ask me. Speaking of pretty awesome be sure to check out the latest wallpaper submission from our pal Paul Jarvis.
That's it for this week peeps! Got something to say? Don't hesitate to e-mail at evan(at)bigsquidrc.com. Next week's 5:00 will come at you LIVE from our RCX setup just hours before the show opens on Saturday! We'll see you there, and as always, BASH HEAVY!