Evan's 5 Minutes…on BASH-A-PALOOZA 2011 Recap & More!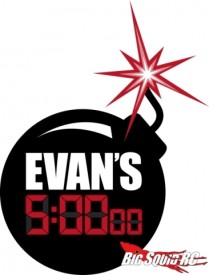 Yo yo Squiddys?! It's Friday which means it's time for another five minutes with yours truly… I for one am ready for the weekend. Last weekend was a complete blur and this week has been murder. It's time to get out of the office and get to bashin'!
Speaking of last weekend, RCX Chicago 2011 BASH-A-PALOOZA 2011 went off in a big way! Cubby did a great job recapping the show in this week's Cub Report, so I won't go through all of that again. I will say that for my first big RC show, it was a blast to hang out with the crew, see the demos, the booths, and kick it with all of you that were able to make it out. I'd like to thank Tim for taking all of the awesome photos we posted, Bill (Wrench) for helping with setup and for keeping the jokes rolling, and Brian for inviting me up, keeping me sane, and talking off the ledge a time or two 🙂 Let's just say the show was at times…frantic. With that being said, we need more guys on the team!
I'd have to say that one of my favorite booths at BASH-A-PALOOZA 2011 was Kershaw Designs. I go through RC phases like Victoria Beckham does hair styles and right now 5th scale stuff just blows me away. Kershaw's custom 5th scale brushless stuff was just rockin'! Like, rip your arms off performance. Dan Fischer is the owner/operator and he is a stand-up guy. He is extremely knowledgeable about his products, and has a passion for what he does. If you're looking for some crazy 5th scale custom kits, or any number of custom parts and conversion stuff, hit the link above and check it out. Just remember to tell 'em Big Squid sent ya.
Brian and I had an interesting conversation on Friday night after the RCX Chicago 2011 BASH-A-PALOOZA 2011 setup. It basically boiled down to two big questions… What will be the next big "game changer" in RC and who will make it? It seems like the entire industry has been growing, but without a ton of new inovations. Well, just as we talk about it, HPI drops a nuke! A 1/8th Scale GAS vehicle!? What the what?! This could be the game changer we're looking for!
Sure, a lot comes into play here… What will the weight to power/speed ratio be? Will it be as reliable and easy to maintain as the 5th scale gas stuff we've seen? What will the price point be? These are just three of the things that will factor into just how big this annoucement could be. The other thing to point out is that now the cat is out of the bag. "Coming in 2012" is a pretty wide time frame. You can bet your bottom dollar other companies are going to be looking into this now as well. If there are a ton of production delays, which seem to be commonplace in RC these days, HPI could end up annoucing this first and releasing it second or third. I guess time will tell. At the risk of sounding like a total fanboy, I for one am completely psyched about this announcement! If only they would have made it in Chicago!
I have one final remark about RCX 2011 Chicago BASH-A-PALOOZA 2011. I personally had a lot of mixed feelings about the show. This was my first time on the other side of the booth, so to speak. The biggest thing I took away from the show is that the casual hobbiest doesn't see all of the "business" stuff that goes on behind the scenes. The RC industry is full of feuds, strife, and politics just like every other industry out there. In just one day I found myself having to really concentrate on staying neutral, positive, and keeping up my anti-Cubby demenor. It's a lot easier to see where Cubby gets it from once you see RC from the other side.
My observations from RCX Chicago 2011 BASH-A-PALOOZA 2011 don't completely change my overall feelings about the industry. It is still a truly awesome time to be a part of this hobby, and there are plenty of people out there that really make RC great. My experiences just reminded me that I need to stay on my toes, keep my eyes open, and be ready hit the political battlefield because it may just come to that.
That's it for this week Squiddys… Get out to your LHS this weekend, get something sweet, and BASH HEAVY!