Evan's 5 Minutes…on being part of the BSRC Crew…and other stuff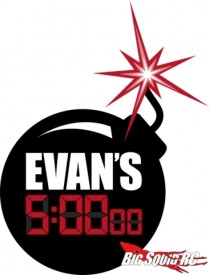 Two weeks ago, Brian issued an open call for new BSRC writers/team members. Just as he stated, things have gotten insanely busy around here, and things will only get…more insane. We're less than a month from RCX, where we've got some killer things lined up (Bash-A-Palooza, the BSRC booth, and of course booth babes!). We're just 3 months away from iHobby where there will be even more BSRC awesomeness in store. All of this will mean tons more news, reviews, and other RC stuff going on, which is why we need your help!
Earlier this year, I e-mailed Brian after one of his BSRC Crew open calls. I submitted a writing sample along with what I thought I could bring to the team. We talked, went through a probationary period, and…here we are today. I'm still here, so I guess that says something! Being a part of the BSRC team has been an awesome opportunity for me. You get to talk/work with a bunch of guys who just plain love RC. They love to talk RC, drive RC, race RC, bash RC, heck we even dream RC. It's an absolute blast every single day. If you think you've got something that can help, make sure you submit something to Brian following his open call post. Decent spelling and grammar help, too 🙂
Just remember that it isn't all fun, games, and free RC stuff. We've got competitors. They won't exactly be your friends. Every word you say will be read and sometimes criticized by RC MFGs, or rabid fanboys. Being part of the team takes a lot of work, a lot of time, a lot of effort, and not exactly a lot of free RC stuff. That isn't a complaint towards my boss, or that RC MFGs aren't sending stuff, or anything like that. It's just how it works here, or anywhere. Just because you put in some time, doesn't entitle you to things. You've got to prove yourself almost every day. In the long run, it is worth it, you can trust me on that. Just don't expect to be handed a Revo on your second day. Don't expect to be handed something…ever. Not just here, but in life. That's a good rule to live by. If you want something, earn it.
*shakes head violently from side to side* Enough soapboxing and prophesizing about life. This is a dang RC website after all.
No official word from HPI on the release of the Savage XS Flux. Tower Hobbies has it listed as "Order Pending", while several other sites show it as "Early August". Tomorrow…wouldn't be soon enough. I want it now! HPI, I'm still willing to negotiate my soul for a Savage XS Flux 🙂 If we do get a more official date, we'll be sure to let you know, but right now early August is my best guess.
Earlier this week, we broke some exclusive major news loose about Traxxas getting into the lipo battery game, adding a new Monster Jam truck (Captain's Curse), and having some upgrade parts available for their Monster Jam line. Go Traxxas! I'm glad to see them branching off into something new with the lipo batteries. Quality lipo batteries are usually expensive. If we have some more choices, the price should go down some, which is great news for us Lipo users! I'm also glad to see they will come in all shapes and sizes, so they aren't just catered to Traxxas vehicles (even though Traxxas says they will have a battery for everything they make, which is awesome too). The new charger is also an awesome addition, and the fact that it comes with a lipo bag is cool. I'm a big fan of lipo safety, and think other MFGs should jump on board with this. As for the Monster Jam truck upgrades, I have just one request… HEX HARDWARE! Phillips headed screws really bum me out. I do love how the upgrades are anodized to match Grave Digger though 😛 Very cool!
In the Ask Cubby post from earlier this week, someone asked what all we'd be up to for the rest of this summer. Cubby mentioned that I'd be tasked with hopping up the Axial Wraith. This was actually news to me just as it was to all of you. I'm looking forward to getting some wheel time behind the Wraith, as well as tweaking things a little to get some better performance out of it. Besides that, I still have plans to get into the RC Drifting scene in the backyard sense, as well as posting a few more reviews. Lastly, the expo season is upon us so being at my first RCX and iHobby are two things I'm really excited for.
Get out and bash this weekend Squiddys! I plan on leaving early today (Shh! Don't tell Brian!), hitting the LHS, and leaving with something to beat on. Hopefully that plan holds together. Lately I've had the worst landings, most oddly devastating crashes, and more trashed hardware than anyone else. Knowing my luck as of late, I'll break it taking it out of the box. *crosses fingers* Bash heavy!