Evan's 5 Minutes…on Falling WAY Behind!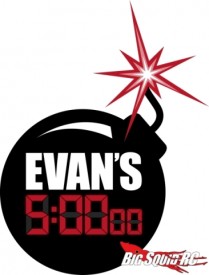 Hey Squid Fans! It's time for another five minutes with yours truly. I'm actually 2 weeks behind, so I guess this should technically be Evan's 10 Minutes…but I digress. I've had some things going on personally that have prevented me from pulling my weight here at BSRC lately, but I'm hoping that these things are wrapping up and I'll be back to my normal self. I keep dodging Brian so he can't hand me my pink slip and send me packing… Hopefully, this will fend him off for at least a little bit.
Is it just me, or am I starting to sound like a total HPI fan boy when I say that the new HPI Vorza Flux looks just awesome! I know, I know… I've been on a buggy kick lately, and a MAJOR HPI kick, but seriously, these guys are cranking out some stuff when a lot of the other MFGs have been pretty quiet as we slowly creep our way towards iHobby. Brian broke the story about the Vorza, and he mentioned buggies sometimes ending up like tacos around here. Well, he's not kidding. He tried to send me some buggy he had that honestly was bent so bad that you could have filled it with meat and cheese and made it a meal. "It just needs a little work!" he said. He failed to mention the work needed to be done with a hammer and a bearing press 😛
While I'm excited about what HPI is doing lately, I will say that we've already seen the Vorza, and the E10 Drifters, and the Firestorm Flux, and most of the other stuff HPI has shown lately 1-2 years ago. These are just redesigned, rehashed versions of stuff they've already released. I'm generally opposed to that unless the upgrades and improvements are pretty substantial, which in HPI's case, I feel like they are. I just don't want to run into the same vehicles year after year with just new body styles and small equipment changes. Innovation should be valued and should continue to be the focus, not simple redesign or sticking different tires and a body or something and calling it a new vehicle. Every MFG is guilty of this at times, so I'm not pointing fingers, I'm just pointing out that we are ready for some NEW stuff. You know, like the Savage XS FLUX!! If I have to wait much longer, I'm going to snap.
Speaking of new…ish stuff, how about Losi and their new Losi Ten SCTE RTR? We were pretty big fans of the truck back when we did our review so to see it in a ready to run is a very cool move by Losi as a way to get their bad boy 4WD SCT into the hands of the not so mechanically inclined. Not being a racer, I struggle when it comes to buying a kit. I want it ready to drop in a battery and bash, so RTR makes a lot of sense for me, regardless of my mechanical skill, which…is debatable. After all, that's why we have Wrench 🙂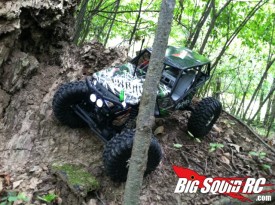 I've finally gotten some wheel time behind the Axial Wraith, which has been very cool. I'm hoping to throw together some of my thoughts and some of the changes I've made in the near future so stay tuned for that. I've had a pretty unique experience with the Wraith so far, and I'm excited to share it with you. I think my approach to the truck has been quite a bit different than Brian's approach in the review, which was expected. The terrain I have access to has altered my "style" of driving versus the terrain and "style" Brian drove in. I just want to spend a little more time behind it before I put all the thoughts down on paper. I have included a cool shot I picked up while out and about last weekend so hopefully that will tide you over 🙂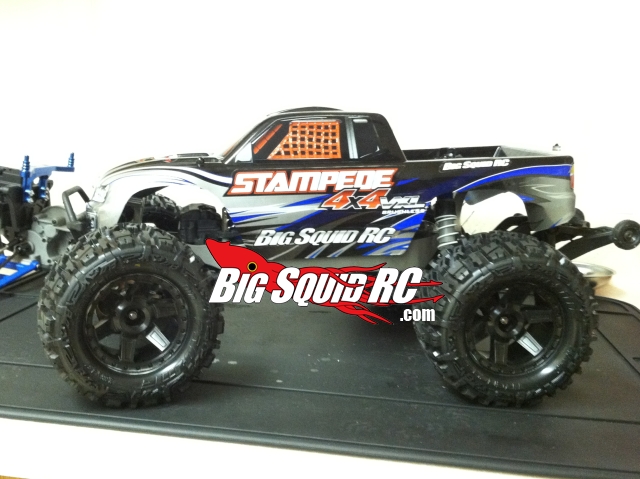 It's been awhile since I've done a mini-review, but I do have something in store today. I recently got a couple sets of Pro-Line 2.8″ Trencher tires and the new 2.8″ Traxxas Style Bead Desperado wheels for my Traxxas Stampede 4×4. As you can see from the picture, they look completely awesome, especially with the JConcepts lowered body posts installed. Beauty is only skin deep of course, so putting these out on the track was the real test. I can honestly say that these tires and wheels woke this truck up all over again for me! The tires have better traction on every surface, and the slightly larger size makes backflips even on 2S almost easy. The foam inserts help eat up a lot of rough terrain and make the truck steer and drive more predictable. I have to be completely honest when I say that while Brian drives the wheels off his Pede4, I had ran maybe 3 packs through mine since I had gotten it, which was when it shipped nearly a year ago. Since I added the new shoes, I can't keep my hands off of it. It holds a better line under power, is much more controllable on the ground or in the air, and draws plenty of attention from onlookers with the backflips and dirt roosts. After 10 or so packs on all kinds of surfaces, I see very little wear, which is also very cool. I like these tires so much I went out and got a set for my Stampede 2×4! These tires and wheels are totally tentacles! My only warning is one I issue with any basher tire… Consider a couple wrappings of duct tape or ribbed packing tape on the inside of each tire before you insert your foams and glue if you want to help minimize ballooning. On 2S this particular set of tires didn't seem to balloon too badly, but I'm betting on 3S they will turn into pizza cutters like almost every other tire.
That does it for this week Squiddys… Our thoughts go out to all those on the East Coast who are dealing with a seriously nasty blend of Mother Nature right now. For those of you who aren't in the path of Irene, get out and do some RCing this weekend. Winter is coming soon. 🙁 BASH HEAVY!