Evan's 5 Minutes…on Releases, Impressions, and Comments!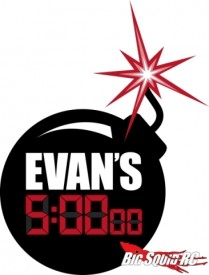 What up Squidsters?! This week has been cRaZy! We've got all kinds of stuff going on in RC this week, and if I want to cover all this madness in five minutes, I need to jump right in!
Losi?! A 1/5 scale 4WD last week, a 1/14 scale Mini 8IGHT this week! Winning! While I don't have nearly the love/hate relationship with Losi that Cubby does, I can say that most of the stuff they make doesn't particularly rev my engine, if you catch my drift. I'm not a racer, so most of it is lost on me. However, I do know the 8IGHT is a pretty dominate buggy, and looking at some of the features that will ship with the Mini 8IGHT, I can't help but get a little excited. I'm a sucker for smaller scale stuff, and the fact that winter is coming means indoor racing, on usually smaller tracks. The Mini 8IGHT will fit right in! I'm pretty sure Horizon is going to get my $250 on this one.
Traxxas made some waves ripples this week with a re-bodied Slash new F-150 Ford Raptor SVT. It looks totally awesome and I can't wait to…*sighs*…I can't do it. I can't get excited about this. It's a Slash. The same Slash we've seen over and over again. Sure, it has some new adjustable body mounts and a black chassis, both things I think will be cool, but it is still a Slash. Traxxas?! Where's the innovation and cutting edge stuff that put you on top? Trust me, it's hard to find a bigger Traxxas fanboy than I am; they practically BLEED basher! So why do I spend each week spouting off about everyone else's stuff? Because that stuff is new and exciting. It may not be half as basher friendly as stuff from the big TRX, but at least they are trying, not sticking another licensed body on an RC truck they designed a couple years ago. Now, for the sake of every basher on this earth, Traxxas, make me eat my words at iHobby and blow us away!
The HPI Racing Mini Recon?! Who saw that coming? There still isn't much of ANYTHING online about this guy (unless they borrowed the news from us). The forums are buzzing about it, and it will be interesting to see where it goes. $100 isn't much in the RC world, but the Helion Animus SC set the bar pretty high. You can bet your bottom dollar as soon as we see the Recon, we'll have one…or three. *sighs* So far, I've already spent $350 on hypothetical vehicles. The girlfriend will not be pleased.
Not to pat ourselves on the back, but we broke both of those stories first! 😀
I've started putting pen to paper in the form of a HPI E10 Drift Monster/Falken Tire Ford Mustang review. I've gotten some decent time behind the little plastic wheel, but need to burn through some more packs, grab some action shots, and…well, learn how to drift without embarrassing myself before I can finish it up. I'm not going to give too much away, but I will say that my first experiences in RC drifting have been an absolute blast!
As many of you loyal readers know, I was a little excited about the HPI Savage XS Flux, and by a little excited I mean my head practically exploded with excitement every time I talked about it 😯 I've gotten very limited time in on it (Brian works me to the bone around here) but I can honestly say that it's pretty flippin' AWESOME! We will for sure be doing a review on it as well, maybe even before the E10 Drift, but there is one thing that won't need to be reviewed. This thing is melt your face fast!! Stay tuned, because a full review will be coming soon!
Lastly, I'd like to mention that we've just recently decided to turn comments on for some of our posts! A little chitter chatter between basher enthusiasts never hurt anybody! So feel free to get a little discussion going! All we ask is that you don't abuse your newly awarded powers with a bunch of inappropriate language, trolling, or bullying. Bash your Stampede or Blitz all day long, but don't bash on people here. And yes, Cubby, I'm talking to you, too!
That's it for this week Squiddys! Bash Heavy!