Evan's 5 Minutes…on Selling My Soul for the Savage XS Flux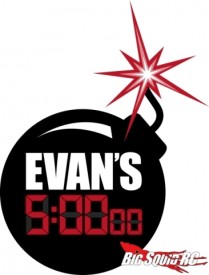 What's up Squiddys?! It's time for another edition of Evan's 5 Minutes… As the title suggests, the topic of today's mad dash will be the newly announced HPI Savage XS Flux, and what I'm willing to do for it. Before we launch into that, I just wanted to congratulate Thunder Tiger and their T4-G3 Monster Truck on becoming BASHER APPROVED! This is an awesome honor and I hope the guys over at Thunder Tiger keep up the kick @$$ work! Now to the topic at hand…
It's no secret around the BSRC office that I tend to go more than a little haywire about new RC vehicles. You should have heard the unspeakable things coming out of my mouth when I saw the Axial Wraith! I will admit that this seemingly life-threatening over excitement can end up with some "that's kind of a bummer's" (Read: Axial Wraith). However, I also have my fair share of "this is better than I ever dreamed of's" (Read: Thunder Tiger T4-G3). This, plus my passion and excitement for where this hobby is going is what keeps me amped up for every new release. Just to see where vehicles are now compared to just 2 years ago is amazing, let along 10 or 15! Sure, some of them are better than others. Some have that extra bit of something that really gets me wound up, but every new release is music to my ears. All of this leads me to the HPI Savage XS Flux.
Little is known about this monster. There have only been a couple sneak photos, a few short video clips on HPI's website, and the PR information that was released yesterday. This feels eerily similar to how Axial introduced us to the Wraith. Both HPI and Axial should be commended on doing just an awesome job in the marketing department. They have done a terrific job of building the excitement up higher and higher as these trucks came closer to a ship date.
After reading through the tech specs it is easy to say that HPI has really nailed it as far as features are concerned. The truck is brushless, waterproof, lipo ready, 2.4GHz equipped, and running on ball bearings. So far, the specs are quite similar to a certain 1/16 scale vehicle line (Read: Traxxas VXL Revo/Summit). However, the similarities seem to stop there. The XS Flux has an all-metal gear transmission, an ESC that is programmable with CastleLink, and is advertised at doing 65+ MPH! That is face meltingly fast for a monster truck that will fit in a backpack!
(DISCLAIMER: I have no interest in arguing about the XS FLUX versus the Revo VXL/Summit VXL. As Cubby says, arguing on the internet is stupid. I'm a huge fan of Traxxas, and a huge fan of HPI. If I could I'd own everything both MFGs made, trust me (although Brian would swear I already do). In other words, please don't e-mail about this topic. You won't get a reply.)
If HPI has packed the same degree of performance in the XS as it has in the full-sized Savage Flux…we may have a new king of the "minis" (Read: Revo/Summit VXL killer). Now before you go ignoring the above disclaimer and start composing an e-mail with the some subject line degrading both me and my family, keep reading. The Revo VXL is awesome. No doubt about it. I have one…and a half (short story involving a curb and 4S). I also have a Summit VXL, which I like very much. The thing about the Flux XS is that it is almost a different monster all together. Therefore, you can't really create a comparison between them, although many will certainly try.
The motor specs are the clearest separation between the VXL line and the XS. The ground clearance separates the XS from the Revo VXL, and the overall design separates the VXLs from the XS even further. So the only thing you can really do is lump the VXLs and the XS in with a bunch of other "mini" vehicles. The only thing I'm implying is that reading simply spec sheets, the XS looks to have set the new pace for those "minis". How will it perform? How will it drive? Will it end up upside-down all the time? What will the motor temps be? How will it handle rough terrain? How hard will it be to work on? Can it stand up to the level of abuse us here at BSRC deliver? That's the stuff that will really tell us who holds the top spot in the "mini" category.
Personally, I am super stoked for the XS Flux. I was since the second pictures of it showed up here at Big Squid. I like the "mini" scene in a bashing sense. I love watching people's jaws drop when they see a 1/16 scale vehicle make a 50+ MPH pass. I like being able to have them in my car without taking up a bunch of space, or needing a ton of room to run them. When I saw what was promised out of the XS Flux, I had to lay in the fetal position under my desk and collect myself! I personally don't own a full-size Savage Flux. I've only gotten the privilege of driving one once, but I can tell you right now I will never forget it. The power was just…insane. When I saw I could have one in a "mini", I lost it (Read: Life-threatening excitement levels). Until I have one, my dreams will be filled with 65 MPH passes and huge double back flips. It can't get here soon enough. If HPI called me tomorrow and offered one for my soul…I just might take that deal 🙂
As nuts as I am about getting the XS Flux…something has me even more floored. That is the simple question of "what's next?" If the XS Flux raises the bar as much as I hope it does, it leaves a mark that the other MFGs are going to want to reach, and more importantly, surpass. This is where we as RC'ers win and win BIG. I can assure you that everyone wants to be on top. If someone new takes the throne, the battle gets even more intense. This is the thing that really gets my heart racing. Advancement. Innovation. Revolution. I am ready for something other than new paint schemes, or slight design changes. I'm ready for game changers. I know I'm not the only one here at the office that scours their inbox every single day looking for that e-mail from Traxxas, Losi, Team Associated, Tamiya, Thunder Tiger, or Axial that contains a press release about a vehicle that will raise the bar. In my opinion, HPI sent us one of those e-mails today. I just hope we get a few more…very soon.
That's it for this week Squiddys. You can rest assured that the second we get a XS Flux (hopefully, sooner rather than later) that we'll have some unboxing pics, and a review to follow soon after. As always, if you have any questions, comments, or have something you want to see or hear about in 5 minutes or less (although I may have to change the name to Evan's 15 minutes… if I keep writing like this), please e-mail me at evan(at)bigsquidrc.com. Bash heavy!