Event Coverage – Axial Iron Mountain Depot RECON G6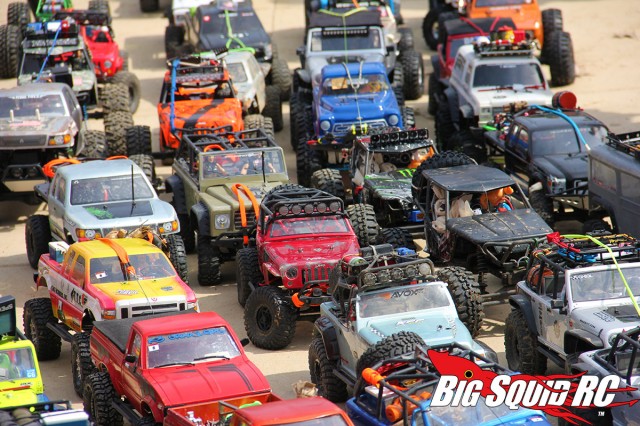 The Axial Iron Mountain Depot RECON G6 was held this past weekend in St. Louis, MO, and it was quite the event. It set the attendance record for the traveling tour (i.e. not Axialfest) with a staggering 143 day / 97 night entries, and 9 states were represented So how did the event actually go? What exactly is an "Iron Mountain Depot" anyways? Click the "Read More" below to see our full coverage.
(Note – If you are unfamiliar with what RECON G6 is you should check out this link first)
Each RECON G6 event has a special theme, and this was no different. The Iron Mountain Depot (a reference to a notorious train robbery carried out by infamous Missourian Jesse James) carried a train robbery theme and split all competitors into two different groups; the train robbers and the posse. The train robbers were released into the wild first with the goal of trying to snatch hidden treasures out on the trail (for time bonuses) and avoid being caught by any members of the posse (again, for a time bonus). It was a cool theme that awarded bonuses to vehicles that played up the theme (i.e. dynamite, lassos, and other scale train robbery items) and made for a very festive atmosphere.
With temperatures in the low 80's, the setting of Sports Center Park in St. Peters could not have been better for a scale adventure. And adventure is was! The event consisted of a day stage with 100 gates (taking a couple hours to complete) and a night stage with about half as many. Competitors saw a varied course that made use of the woodland creekside setting. There was lots of mud, sand, steep hills, bridges, and rock. There were a few notable challenging sections that saw multiple vehicles needing to hook together and "train" across them with tow cables. One of the most unique challenge sections saw drivers having to put their controllers down and do some target shooting with an Airsoft rifle. Hitting a target resulted in, of course, a time bonus. It's stuff like this that makes the series very unique.
Outside of meeting scalers from around the country, the coolest thing about the G6 is seeing the wide variety of vehicles. Nearly every rig had a very unique look and many were scratch built (either body or chassis). Knowing all the work that goes in, you really feel for a fellow competitor when their truck gets put through the meat grinder.
By around 10pm the fun finally came to an end as competitors finished the night stage and took home awards/gifts. Everyone was exhausted but had a blast. If you have any interest in scale 4×4 whatsoever, you'd be advised to make sure and not miss it when the G-train comes to a town near (or not near) you!
For more information on the Axial RECON G6 Series you can click here for their website. For more event coverage on Big Squid click here.