Event Coverage – BigSquidRC Bash and Swap Meet, Orland Park Illinois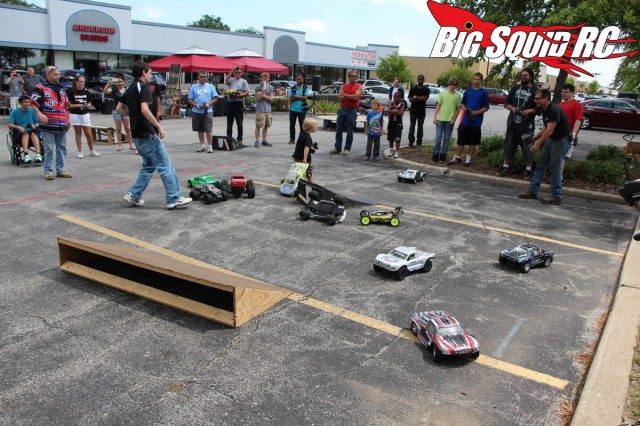 On Saturday, HobbyTown USA in Orland Park Illinois was the host for our 2013 BigSquidRC Bash and Swap Meet. In the big open parking lot on one side of the HobbyTown we put on bashing events and held an open bash session, while on the other side of the building people set up tables to sell old gear in an rc swap meet. Blessed by good weather and a very organized HobbyTown USA staff, the event went off without a hitch.
Four events were held at our bash this year- Obstacle Course, RC Sumo, Shopping Cart Slam, and Demo Derby. The events turned out to be quite challenging for the drivers, and tough on the vehicles, but everyone was having a great time. The drivers got even happier when it was door prize time. Pro-Line sent in a ton of their uber gear to give away to all the bashers, Futaba supplied some cool shirts, and the big prizes were a new HPI Blitz short course truck and Helion Invictus monster truck. We had a great time meeting and bashing with everyone, we can't wait to do it again next year.
Results-
Demo Derby- Dylan Stevens (HPI Blitz)
Shopping Cart Slam- Xerxes (ARRMA Raider)
Obstacle Course- Tim Mohr (Castle/MIP/STRC Losi SCTE)
RC Sumo- Bill Stevens (Thunder Tiger ST4 G3)
To see other event coverage, click THIS LINK right here on BigSquidRC.
Hit the "Read More" button to see four more galleries of pictures from the big event.