Nestled in the hills of Northwestern Missouri in the outskirts of Independence lies one of the best kept secrets in the world of scale crawlers. Goat Hill R/C Off Road Park is a privately owned scalers playground on the back lot of a goat farm from which the park takes it's name. Hidden from prying eyes due to dense foliage the R/C park lies on a rocky hillside that offers some of the most challenging and entertaining terrain that you will find in the region.
The Goat Hill Adventure Challenge is one of KCRCs (the hosting club) big events on the annual calendar that is aimed at newcomers to the hobby. It is also intended to be more family oriented because it is not a race but a luck based event where you make several runs of the trails recording lap times in hopes of being the closest to the preselected winning time.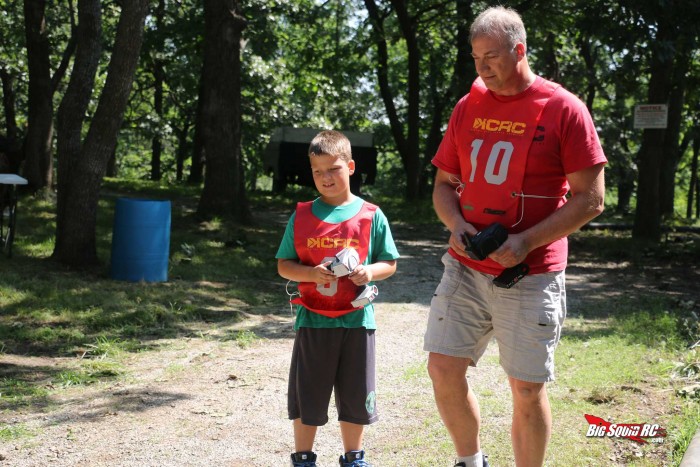 KCRC also hosts more events to cater to other styles of competitors like the King of the Goats which is a full on race around to the course to see who can record the fastest time, and Night of the Goats an event where competitors deck out their machines with crazy lighting to see who can outshine everyone else on a low speed night time crawl of the course. Event organizer, course proprietor, KCRC Grand Poobah and legendary scale tube bender Jerry Justice of Death Metal Garage (DMG) takes great pride in maintaining the grounds and making sure that everyone has a good time.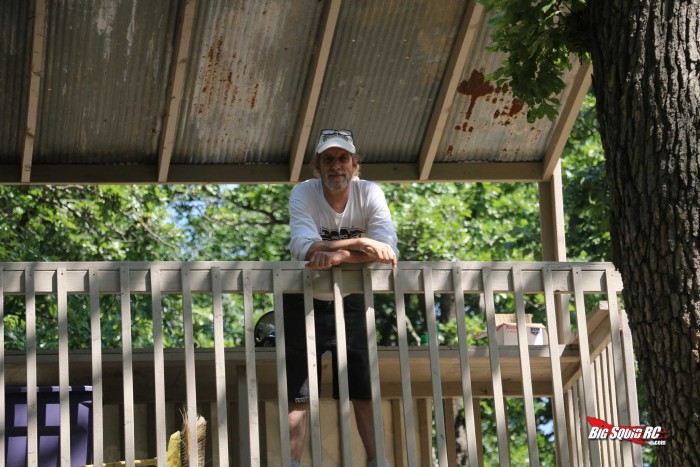 This year the Adventure Challenge took place on Saturday June 27th. Mother Nature took pity on us a gave us a break from the 100 degree temps and high humidity. At 82 degrees we had great weather and lots of sunshine to dry the trails from the prior days rain. Following a quick drivers meeting the competitors had five hours to get their laps in. Jerry bathed the trails with music from his PA system giving the event a very festive feel. This year the course had been thoroughly drenched by rain so the rocks were far more exposed than in previous years. Lap times were slower as a result and there was more attrition than I have ever seen in the past. Many competitors had to abandon laps opting to carry their rigs back to the pits being unable to repair on the trail. Some competitors offered to tow their rigs back to the pits so they did not have to DNF the lap. Sportsmanship was not in short supply. Despite all the difficulty with the trail spirits were high and there were smiles everywhere.
Around noon most drivers took a break to cook some brats or hot dogs over the fire pit. It was fun to listen to everyone trade stories about their experience out on the trails, especially the young drivers and first timers. This was when people started to break out their other RC vehicles to show off what they had been working on or to just have some fun tearing around camp. We saw some great looking military vehicles that had been aged to scale perfection. Jerry also brought out his latest creation, the "Scarab" a fully custom Wrexo. (Wraith & EXO Terra hybrid) Not much of this vehicle remained stock with its 100% hand built one off DMG custom chassis and lots of billet aluminum. A sight to behold for sure.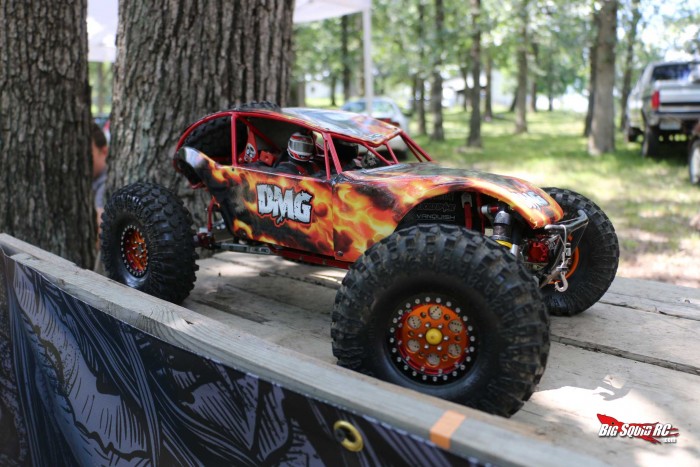 With the break over it was back to grinding laps and me back to shooting pics. I made the rounds through the pits trying to capture some of the cool rigs that had assembled that day. Most of these scalers like to build as much as they like to drive so they are more than happy to share their stories about how they built their rig. Be sure to check out the gallery below because there are a lot more pictures to be seen. At around 3:30 Jerry shut off the music and called all the trucks off course. It was time to see who had come the closest to the winning time. 21 minutes flat had been the time to hit and 1st and 2nd were only 7 and 11 seconds off with 3rd only 53 seconds away, pretty impressive! The winners in both classes all received gift certificates from HobbyTown USA in Kansas City and some great looking plaques from Freqeskinz to hang on their wall and remember the event by. The winners were not the only ones to walk away with swag though, we had tons of sponsors step up to give out door prizes. Hobby Haven in Overland Park KS handed out some gift vouchers as did CKRC Crawlers. Howler Customs gave away some great looking custom battery trays and Dinky-RC some interior kits to scale out your crawler or drifter. RC Mart sent over some Yeah Racing scale accessories and finally Keyko Fotografia gave away some prints of the winners rigs. The club and competitors wanted me to be sure and offer their thanks to the sponsors for supporting the event.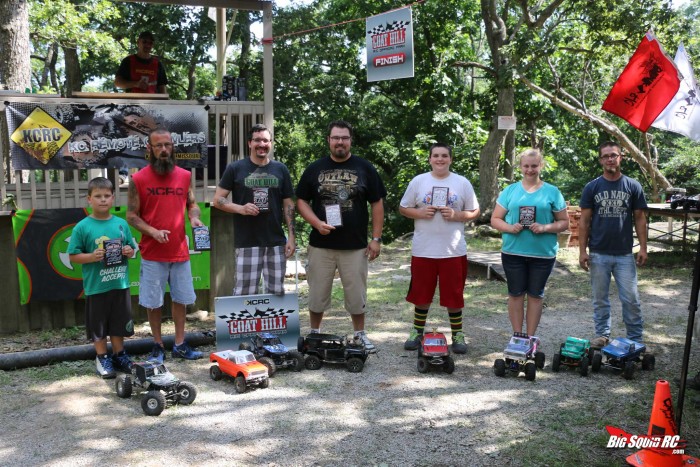 For me and my crew we had a great time. KCRC always puts on quality events this had been no exception. I think all of the drivers enjoyed themselves and the kids certainly had a great time. Many of them walked away with the door prizes which is great. I would like to thank the Goat Hill staff for having us and making everyone feel so welcome. If you happen to be in the area or maybe not in the area at all I encourage you to head out to Goat Hill the next time they are having an event and experience it for yourself.
Thanks for reading gang.
-Evol
Not enough scale goodness for you? Click here for more Scale RC news on BigSquidRC.