Event Coverage – HotSlots Bash Fest 2013, Urbana Illinois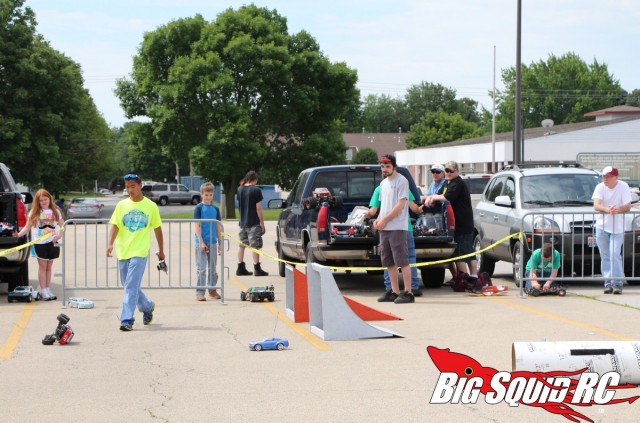 On Saturday the BigSquidRC Bash Crew attended Bash Fest 2013 put on by HotSlots Hobby in Urbana Illinois. HotSlots has been open for several years, but only in the last several months have they really started getting into the rc scene. Looking to promote both their store and the hobby, HotSlots decided to hold a good old fashioned bash.
HotSlots held all the events on the parking lot just outside of their store. They put up barricades to make it safer for people watching, rented a lift to help measure the high jump, had the County Market grocery make food for the event, and even had the local police drop by to radar the top speed contest.
The staff of HotSlots were super organized, all the events went off without a hitch and we got home before we expected. For being the first rc bash event that HotSlots had ever put on, they did a fantastic job. HotSlots got some great exposure from their event and we had a total blast. Also of note was the fact that HotSlots donated all the profits to their local middle school robotics club.
Event Results
Speed Run
1st- Craig N. (Losi Brushless Eight-T)- 78 mph
2kd- Tim M. (Losi MIP SCTE)- 68 mph
3rd- Adam M. (Traxxas E-Maxx)- 68 mph
Obstacle Course
1st- Tim M. (Vaterra Glamis Uno)
2kd- Ethan (Losi SCTE)
3rd- Brandon (Traxxxas)
High Jump
1st- Craig N. (Losi Brushless Eight-T)- 40 feet
2kd- Tim M. (Losi MIP SCTE)- 35 feet
3rd- Ethan (Losi SCTE)- 30 feet
RC Sumo Wrestling
1st- Brandon (Traxxas E-Maxx)
2kd- Abigail (Associated SC10)
3rd- Steve (ECX Ruckus)
Demo Derby
1st- Steve (ECX Ruckus)
2kd- THE Cub Reporter (Thunder Tiger TS-2e)
3rd- Gevon (Traxxas Slash 4×4)
Concours
1st- Adam M. (Vintage Traxxas Bullet)
Click on the "Read More" button for 5 more galleries of pictures from the big bash.