Event Coverage – JConcepts King of the Monster Trucks
Greetings, o ye of the monster truck faith! This weeks Monster Truck Madness is a day early and a tad different, as I have an event report for you versus the standard blog post.
The JConcepts King of the Monster Trucks event was held this past weekend at Vinyl Images in Fenton, MO (just outside St. Louis) and wow, what a blast it was! We will talk about the actual event in a moment here, but let's start with some news, first.
JConcepts has a habit of showing off brand new monster truck products at large solid-axle events, and this one was no different. A brand new 2005 Ford F-250 body (seen on the beautiful BIGFOOT replica at the top of this page) not only made its public debut, but was also given out as a door prize to the first fifty entrants! Very cool!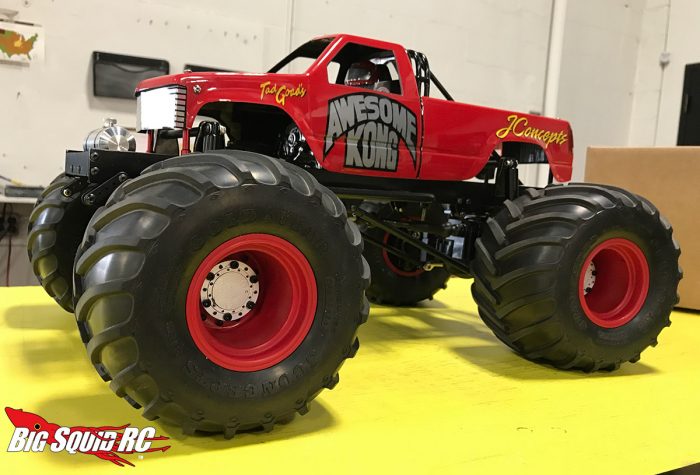 Next up on the new products list was the Gold Year tire, which is designed to replicate a classic 66″ Goodyear Terra. Several factory drivers were sporting these on various competition rigs, but check 'em out on this amazing Awesome Kong retro build. This truck won the show-n-shine competition that took place.
And finally, there was one last teaser. The Zombie truck was sporting a set of unnamed prototype tires that look like recreations of the BKT tire that full-sized Monster Jam trucks are equipped with. They are still a couple months out from release, but you can check out a pic of them below.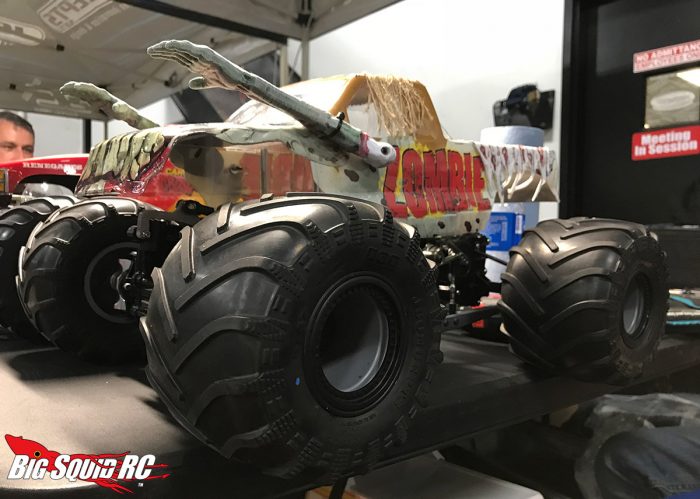 Ok, so let's talk about the actual event. Over 150 monster trucks battled it out across six different classes in heads-up, elimination racing on Saturday. Drivers qualified first by making a run in each lane, which then seeded an elimination bracket. The main event was the high speed, high tech Pro-Modified class that had over 50 rigs engaged in a battle royale.
Sunday saw the Vinyl Images Arena get turned into a stadium-style freestyle course. The Sport Modified and Pro Modified monsters then took part in a judged freestyle competition where trucks had either 60 seconds (Sport Mod) or 90 seconds (Pro Mod) to tear it down. After the dust settled and the winners were crowned, JConcept's Fred Reep brought out his Max D for a final carnage-filled encore!
Speaking on behalf of the entire Trigger King R/C crew, I would like to thank JConcepts for their support of the event (seriously, Jason and Fred are monster truck lunatics to the core), Vinyl Images for opening their doors to us, Team BIGFOOT for displaying BIGFOOT #1, Michael Arndt Design, J.B. Scale Graphics and the Scott family for helping with the awards, Busted Axle R/C, Freestyle RC, RH Designs, ACRC, Sutton Motorsports, the folks here at Big Squid RC and everyone else who helped put this on!
Event Winners: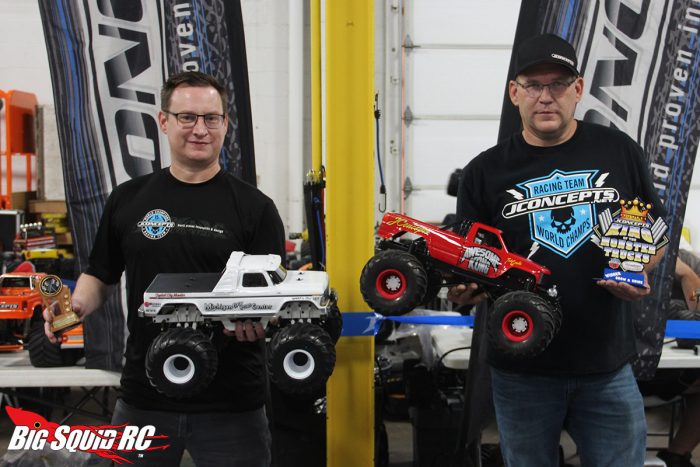 Show-N-Shine
Winner: Awesome Kong / Tad Goad
Runner-up: Capital City Monster / Jason Ruona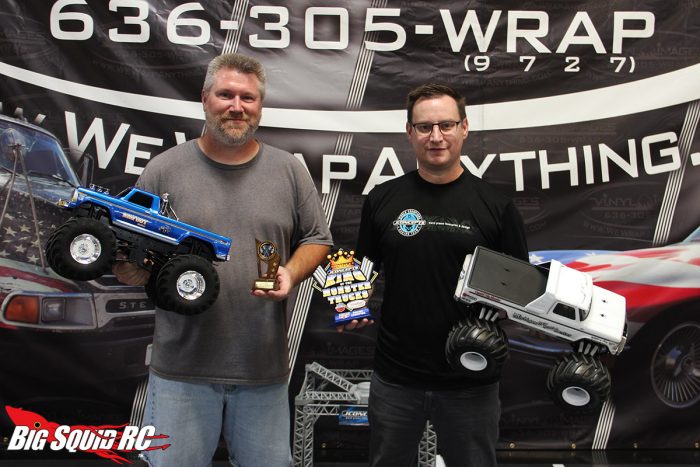 Classic Retro Monster Truck
Racing Champion: Capital City Monster / Jason Ruona
Racing Runner-up: BIGFOOT #1 / Chris Blank
Outlaw Retro Monster Truck
Top Qualifer: Trouble Maker / Matt Stoltz
Racing Champion: BIGFOOT #4 / Jason Ruona
Racing Runner-up: Trouble Maker / Matt Stoltz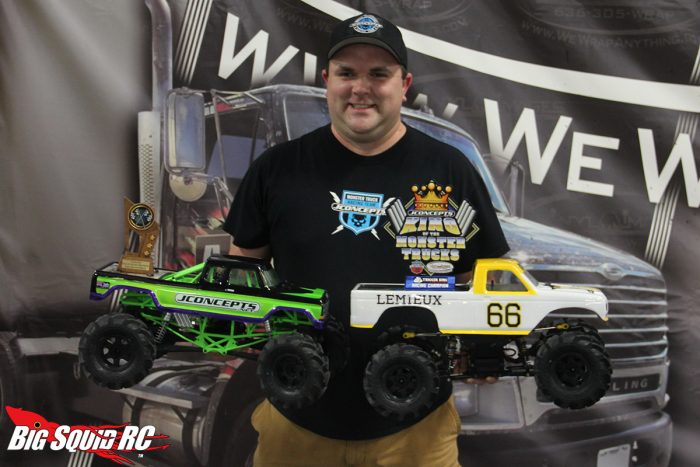 Mega Truck
Racing Champion: Le Magnifique / Matt Stoltz
Racing Runner-up: JConcepts Racer / Matt Stoltz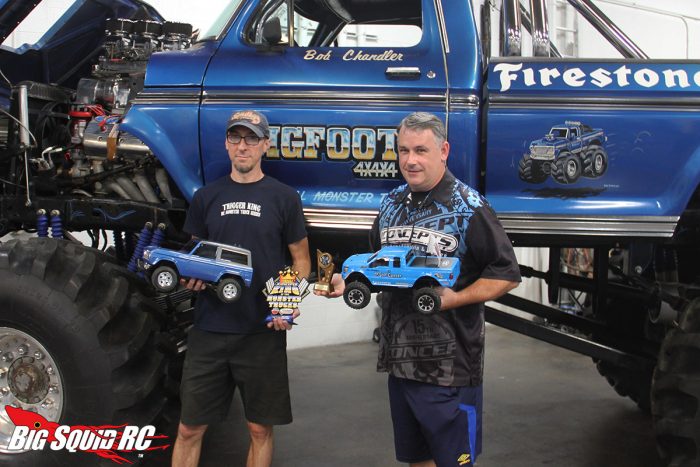 Tuff Truck
Racing Champion: Blue Bronco / Bob C.
Racing Runner-Up: Fast Freddy / Fred Reep
Sport Modified Monster Truck
Top Qualifier: Purple Nurple / Brandon Scott
Racing Champion: Wildflower / Brandon Scott
Racing Runner-Up: NWO / Jason Ruona
Freestyle Champion: BIGFOOT Racer / Bob C.
Freestyle Runner-up: Chromalusion BIGFOOT Racer / Chris Tolbert
Freestyle Third Place: American Flag BIGFOOT / Josh Rhodes
Pro-Modified Monster Truck
Top Qualifier: Superman / Matt Stoltz
Racing Champion: Superman / Matt Stoltz
Racing Runner-Up: BIGFOOT #19 / Matt Stoltz
Freestyle Champion: Chromalusion Racer BIGFOOT / Bob C.
Freestyle Runner-up: Super Duty BIGFOOT / Bob C.
Freestyle Third Place: BIGFOOT Cruiser / Chris Tolbert