Event Coverage – Mega Truck Mud Race @ Axial Iron Mountain Depot RECON G6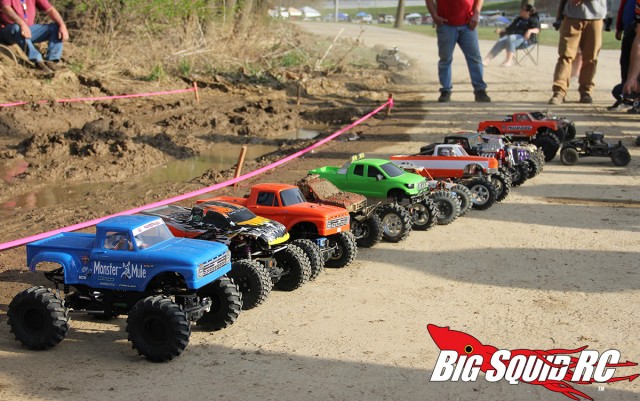 Ever since I held a scale mud bog last year, the wheels have been turning in my head to do a mud racing series with purpose built trucks. Once I started building a Mega Truck I knew it was going to be "when" versus "if". When I found out that the Axial RECON G6 series was descending upon my hometown (St. Louis, MO) I figured it would be the perfect time to get something together. Last weekend the event finally took place and it was a blast! Well, until I had to clean up that is. Click the Read More below to see some sweet rigs get VERY dirty.
Due to flooding at our original spot we wound up having to change locations last minute. This meant a mud track would have to be built the day of the event with no available running water, and with all of us actually competing in the G6 it meant we would only have an hour or two to do it. So with two shovels, a five gallon bucket, a nearby creek and some help from friends we got the track in as good a shape as we could and prepared for the trucks to rumble. Since we had limited space (and time) we came up with a modified "S" track.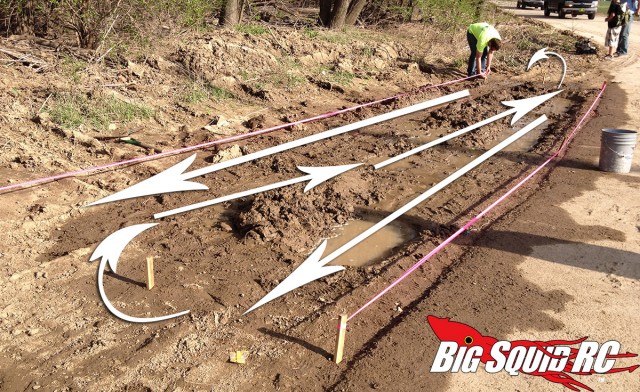 For simplicity we wound up running all the classes together (Mega Trucks, NMRO style paddle tire machines, and stock scalers). The format was each driver got to make 3 three timed runs with the fastest being recorded. Marshalling was not allowed; rolling the truck or going out of bounds resulted in a DQ for that run. After racing was over, each vehicle hit the track for a 1:30 freestyle. It was a blast!
When the mud settled, the paddle tired Lamborghini (don't see many of those around!) of Brad Trout took home the win. Here is a list of the top 10 (we had 19 entries in total):
1st – 15:61, Brad Trout, Lamborghini Unlimited Paddle Tire
2nd – 17.96, Danny Maass, "Clustertruck" Mega Truck
3rd – 18:10, Ken Kalb, Twin Hammers Unlimited Paddle Tire
4th – 20:93, Harley, Orange/White Chevy Mega Truck
5th – 22:56, Danny Johnson, SCX10 1.9 Scaler
6th – 22:44, Jason McIntosh, SCX10 2.2 Scaler
7th – 25:44, Brian Hood, Green Ford F350 Mega Truck
8th – 25:33, Mike Tilley, Green Ford Bronco 2.2 Scaler
9th – 27:06, MacCray, Ford Bronco 2.2 Scaler
10th – 32:18, Geno Hendricks, "Mud Dog" Mega Truck
Here is video from the racing portion of the event, courtesy of my friend Josh "Harley Designs" Thiede.
Big thanks to Brian Parker and RECON G6 for allowing me to hold the event during the intermission,  my friends for scrambling to help build the track, all the drivers who showed up and raced, and to BIGFOOT 4×4 for donating the trophy. I'm very happy to report that I will be opening a permanent mud race park early summer. This was the perfect "beta test" I needed. The mud will be thicker, the jumps higher, the straightaways longer/wider, and action crazier. Until then, it's time to tear em' down and clean em' up.
For more event coverage here on Big Squid you can click here.