Did you miss the bash event of the year? Well this time we will show you what you missed, but next time we expect to see you there! Of course I'm talking about the Pro-Line Racing / Big Squid RC Monster Truck A-Palooza! The big highlight of course was the live reveal of the Pro-MT 4×4 truck. We can't thank the folks at Pro-Line enough for doing the reveal at our event, it made the whole weekend just that much more special! While I'm at it, the Pro-Line Racing folks are unbelievable! These guys all work so hard, and so efficient, it's an incredible sight to see. Paul did a ton of the coordinating, but every single employee was out there helping on the track and making sure things ran smoothly. We couldn't of done it without them. Todd and Tim have assembled a truly amazing team! THANK YOU ALL!
As long as we are thanking people, I'd like to thank all of the amazing sponsors who donated prizes and many of them even came out to the event! How many bash events can you say you got to hang out with and chat to the manufactures who actually produced the vehicle you are driving? In no particular order we'd like to thank the sponsors.. make sure to give them a visit if you have time to show your support.
Horizon Hobby, Hobbico, Losi, ECX, Vaterra, Spektrum, Hobbywing, and A-Main have all joined in to help make this the biggest and best bash of its kind.
Pro-Line Racing
Hobbico – Futaba, ARRMA, Axial,
Horizon Hobby – ECX, Vaterra, Spektrum, Losi
A-Main Hobbies
Hobby Wing
Buck's Unique Customs
B/B Racing Designs
SoCal Monster Trucks SCMT
Tamiya
Rugspin Graphix Photography (That Awesome Cover Photo!)
Whew.. I'm pretty sure that's everyone, but if I missed someone, I'm sorry!! Drop me a email!
Now.. I want to say hello and thanks to a few SUPER FANS! Tom and Max came all the way from Germany for the event! You read that right, GERMANY! As in Europe and stuff! WOW! It was awesome meeting you guys, thanks so much for making the crazy long flight! We have had fans drive 7+ hours to make an event before, but never have to take a couple of planes then drive! Looking forward to bashing with you guys again in the future!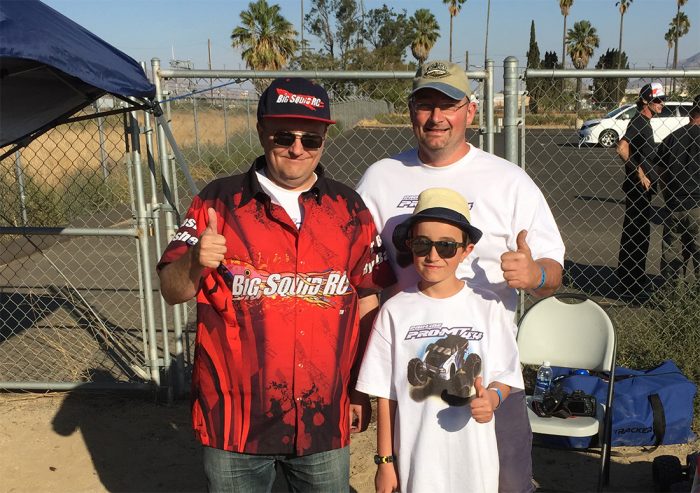 I also got to meet and hang out with Aaron and his son. Aaron showed the SoCal drivers how it's done when it comes to bashing and freestyle. In true fashion, Aaron was hard on the throttle the entire time, hitting all the huge jumps, throwing in backflips, front flips, and ending his free style run by launching his truck OUT of the Pro-Line track, over the fence and barbwire to the rail-road tracks in the back! It was awesome. One of the Pro-Line guys looked over at me and asked why anyone would do that, and if that was legal in freestyle.. I said THAT is bashing Big Squid Style!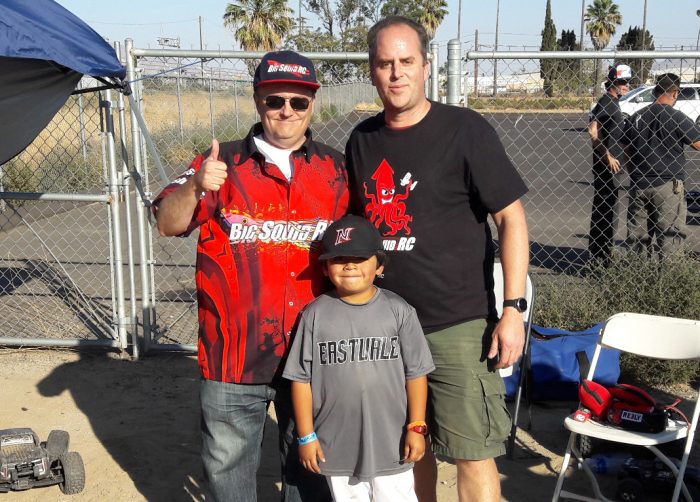 The day started off with the concourse. Tons of amazing looking trucks were on hand to show off their looks, and WOW was this a tough one to judge!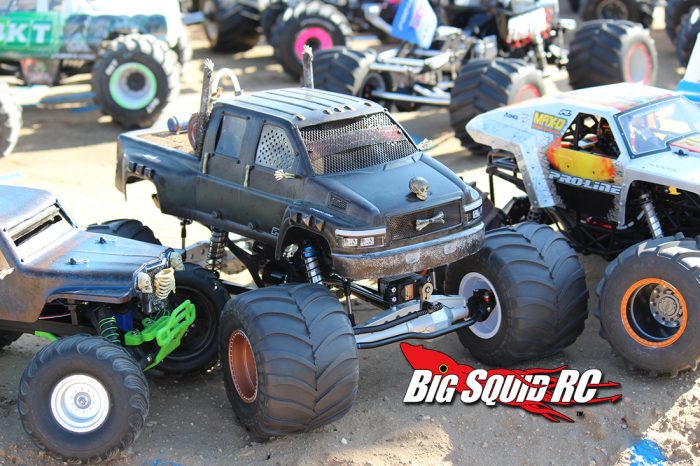 There were tons of awesome runs on the VS speed course, and the winners were separated by 10ths of a second! It was cool to see these guys pushing the trucks to the limits over the whoops and going all out after the turn to make the run back.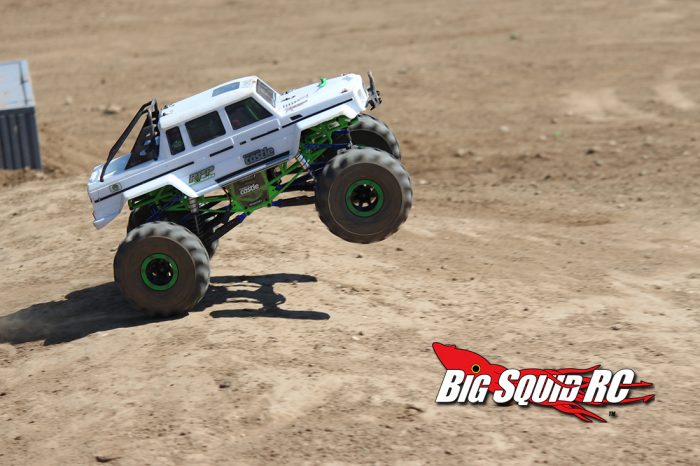 The SUMO war was a fan favorite as trucks went head to head playing king of the mountain. I was happy to see lots of people willing to put their trucks and skills to the test as they battled for supremacy. Many racers opted for the calmer nose to nose starts, but it brought a smile to my face to see a few true bashers out there want to battle the 'anything goes' route not letting off that throttle till their opponent was well off the battle zone.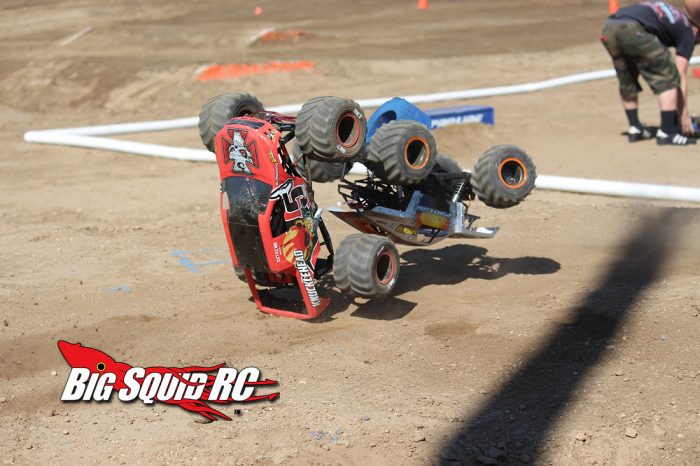 The day ended with a lawndart/bullseye/closest to the pin type event. Drivers launched their trucks way into the air trying to land as close as possible to a stake in the ground about 50 feet away. Everyone was getting some HUGE air, but there were a few drivers that had some incredible control and were landing within just inches of the pin.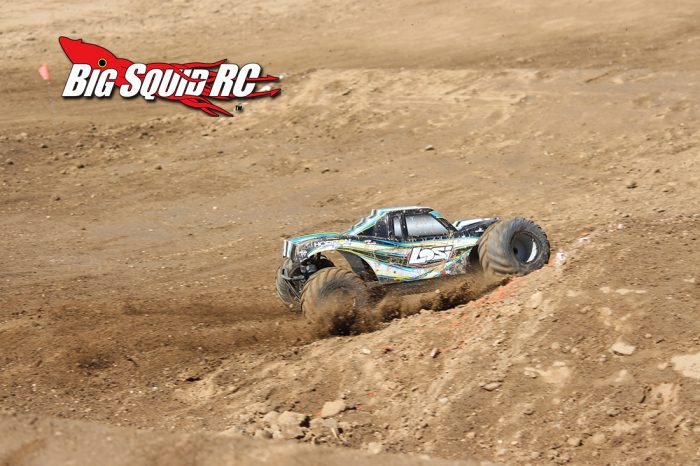 That about wraps it up. Congratulations to all the event and prize winners! There were a lot of people going away with some incredible prizes.
Enjoy a bunch more pics from the event, and we hope to see you guys at the next one! Did you miss this event? What's it take to get you at the next one? Did you attend the event? What was your favorite part? What could we do to make it better?
Lastly, this pic. Maybe he's never seen a girl bash?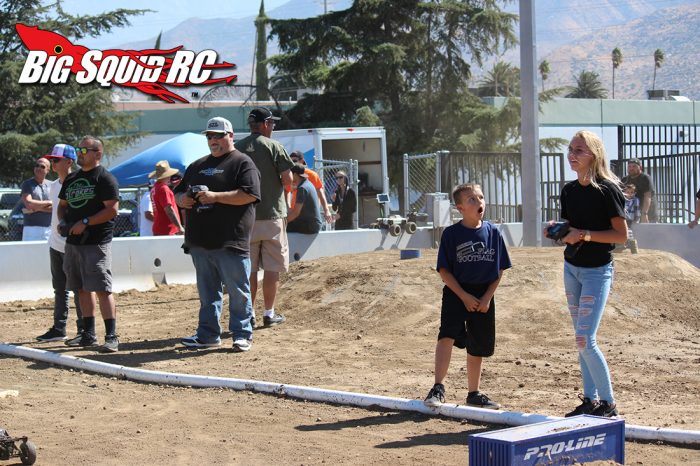 Enjoy the video below of some of the action.