Event Coverage – RC Fest 2014 Tolono IL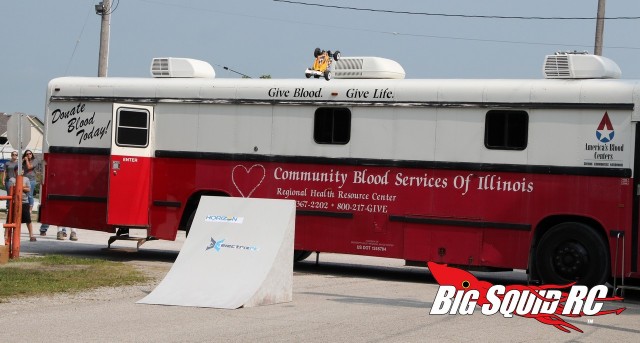 For several years RC Fest has been held to raise awareness for blood donation and blood transfusions. The organizers of the event, the Munds family, work year around to make the event bigger and better than the year before. Last weekend was the 2014 edition of RC Fest, so Brian, Hawaiian Chris, Craig "The Uber Ramp Guy", and myself, loaded up and went to the quaint town of Tolono Illinois for a day of bashing for a good cause.
The events were a bit different this year, the high speed run and high jump were gone, but new events were added to take their place. This year the events included California style side-by-side racing, figure 8 racing, tug-of-war, and freestyle. RC Fest also included demonstrations for drifting, rock crawling, and airplane/heli/quads.
Our BigSquidRC Bash Crew had a great time at the event, especially the figure 8 racing. The figure 8 was held on a loamy baseball diamond with a jump across the center lane. It might not sound too crazy when written out, but once you put 10 drivers on the course it was pure bedlam, which of course we love. Drivers were jumping, drivers were crashing, drivers were smashing into each other head on, to boil it down, it was pure bashing fun.
Want to learn more about blood donation? Check out This Link to visit the official BloodCenter.org website.
Click Here to check out our coverage of RC Fest last year.
Click the "Read More" button for five more photo galleries after the jump->