Event Coverage – RC Freaks Speed Challenge 2014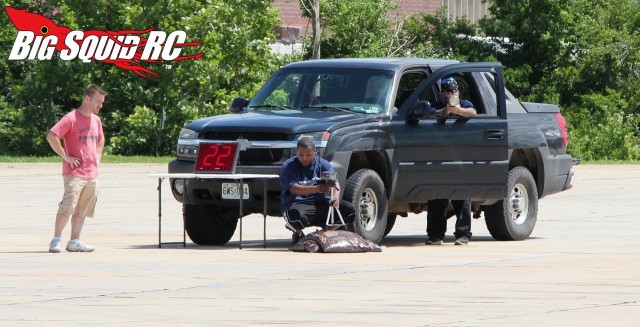 Everybody likes to go fast and last weekend we had the pleasure of attending a High Speed and Drag Event put on the RC Freaks. The RC Freaks are a Facebook Group that are very active on-line, and they also like to put on various rc events. Last weekend they invited anyone and everyone out to have some fun going really, really fast.
The RC Freaks are based out of St Louis Missouri, so they found a big empty parking lot in Fenton Missouri (a suburb of St Louis) to host the event. There were two different style events held, a 300 foot high speed run where the winner was decided by top speed on a radar gun, and 100 foot side-by-side drag racing.
In the unlimited 300 foot speed run there were all sorts of different entries. From 5th scale buggies to 2wd stadium trucks, you name it and it was going really fast. In the end it was Roderick and his 96 mph XRay NT1 (converted to electric) that posted the fastest speed. Second place went to Chad (one of the event organizers) with a run of 89 mph by his Ofna DM-One. Third place went to Franklin at 85 mph with his XRay 8th scale off-road buggy.
The 100 foot drag event was up after the high speed run. Drivers could call out other drivers and race the best 2 out of 3 to determine a winner. Roderick, Phoenix, Jamie, and even our own Hawaiian Chris got in some wins during the drag racing. Once again a wide variety of vehicles were used, some were nitro, some were electric, and everyone had a good time seeing if they could beat the person in the lane next to them.
Special thanks to RC Freaks for organizing the event and to all the guys from the STL Drag Racing Club for coming out and supporting the event. The RC Freaks event had a solid turn-out (my guess was around 40 drivers) so hopefully we'll see more events like this one in the near future.
Click Here for more coverage of bashing type events right here on BigSquidRC.
Hit the "Read More" button for 4 more photo galleries after the jump…