EVERYBODY'S SCALIN' – 1:10 ROD SHOP CEN RACING DUALLY MODS
The CEN Racing Ford F-450 Dually is an extremely popular rig that is for sure, a first of its kind and looks stunning to boot. 1:10 Rod Shop has taken that extra step in making the CEN Racing Dually even better looking with their mods for the rig. From custom grills to marker lights and even painted door handles, 1:10 Rod Shop has become a one stop shop for the CEN Dually. There are a couple ways you can have the work done on the rig, first and most obvious is buying the parts and doing it yourself, or you can send the rig to 1:10 Rod Shop and he will do the work and send you back a tricked-out rig. In total our Cen Dually came back from 1:10 Rod Shop with bed liner, 41 lights, servo driven retractable step bars, new grill, plate lights, side mirrors with lights and painted door handles. For this kind of set up it will run you about 400 bucks uninstalled and can take a few weeks but well worth the wait!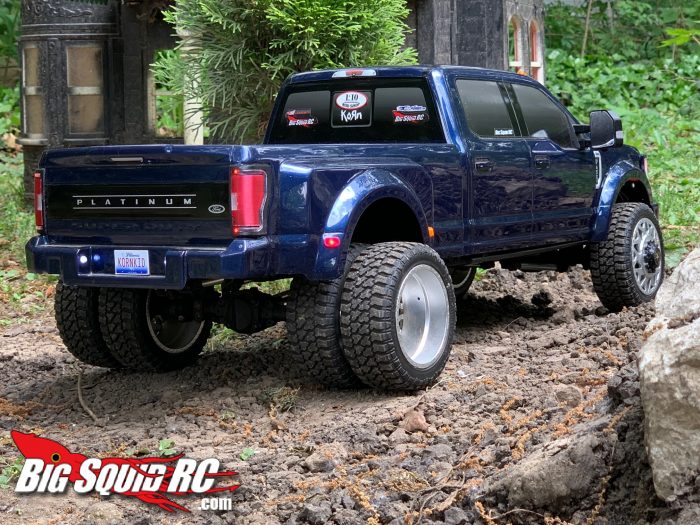 1:10 Rod Shop has made a name for themselves with the CEN Dually mod kits, and this is the tip of the iceberg, I talk to Dustin the Owner of 1:10 Rod Shop a lot, from what I hear some wicked stuff is around the corner and not just for the CEN Dually. If you are looking to get some quality mods for the CEN Dually then I suggest checking out 1:10 Rod Shop on Facebook or @110rodshop on Instagram, tell them Big Squid send you!
Would like to thank 1:10 Rod Shop for taking care of our Cen Dually and giving it care and respect as if it were their own and I look forward to the next adventure with them. Make it a great week and get out and do some RC fun, till next time Keep Scalin!
Click on over if you need more Scalin' News on Big Squid RC.