Everybody's Scalin' – 2.4 ghz Radios Made Modern Scaling Possible
I was recently at a local racing facility bumming around when I happened to see a relic of a bygone era hanging on the wall- a Frequency Board.
That really brought back memories!
For those unaware of what a frequency board is/was, it's a big piece of wood that has clothespins hanging on it. Each section is labeled with a specific frequency of the FM/AM spectrum. Most, if not all tracks had them. A driver would pull off a pin with the channel they were running and keep it on their radio while operating a vehicle. As soon as they were finished, they'd put it back on the board for the next guy to use. If you didn't have a pin, you were not allowed to turn on your radio or truck.
Having an FM frequency wasn't too bad, but good freakin' luck ever being able to run if you had a RTR radio that used the standard AM color system.
This was the best way to control the chaos when a lot of hobbyists were in a close space with limited radio signal options. Of course, the system was never perfect. People would either forget to return pins or just forget to use them all together causing signal interference and runaways. Looking back now, this is downright archaic.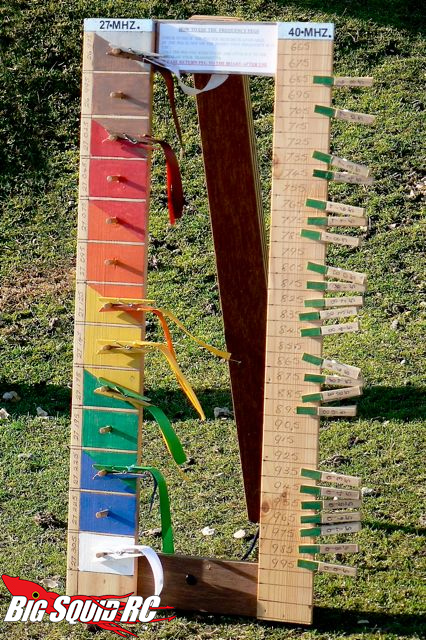 I remember crawling a few times as well during the tail end of the AM/FM days and it was just as much a pain in the ass as the aforementioned racing described above. The only thing that we had better versus the race car guys was at least the runaways were slower!
When people discuss the popularity of scaling, 2.4 ghz radio systems seem to be the most overlooked thing that contributed to it. Without the radio technology, many of the big trail runs and events you see nowadays would not be possible.
The biggest run I've ever been on would be the RECON G6 event I attended that had 143 drivers doing the day stage at the same time. There is no way something like that would ever have been possible back in the old days, at least not without a massive amount of hassle- specially when the majority of vehicles participating were RTR's using stock 2.4 radios. Just a few years ago that would've meant about 80 SCX10's using brown, red, yellow, green and blue radio crystals most likely.
Can you imagine trying to manage that? It would've been next to impossible.
If Hell exists, there is surely an old frequency board hanging on the wall with "AM 27 RED" lost in the nether.