EVERYBODY'S SCALIN' – AXIAL RACING SCX10 III EARLY FORD BRONCO MODS!
The Axial Racing SCX10 III Early Ford Bronco was my favorite releases from Axial last year. For a RTR rig it has a ton of scale features including, straight axels instead of the portals, front and rear lights, an interior that has depth to it, and a scale motor. Ever since Axial came out with the SCX10 III I have been wanting to modify the hoods so they will open. You have a nice engine bay with a scale motor that goes unseen. It's a shame to let that much scale go unrecognized, until now.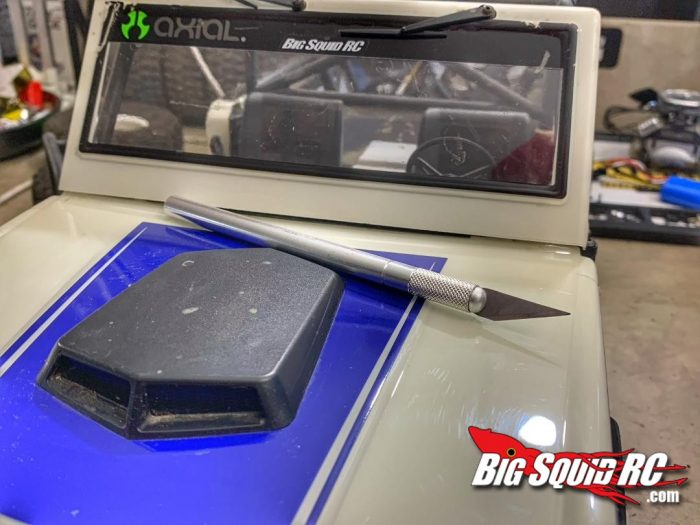 While I was at RC Fun Park and Hobbies at the Tower in Granger IN testing and filming the new Arrma FireTeam, Pilot Ryan Media had his Axial Early Ford Bronco with him so we could all check out the crawler course they have on site as well. Pilot Ryan showed us his rig and the easy FREE shock mod you can do on the Axial Early Bronco to get the rid height and center of gravity lower. Not to mention a more scale appearance as well. Move the bottom of the shock down to the where the link mounts, you will need to replace the screw that goes into the link with a longer one to make up the difference. Simple as that and the rig becomes even better. I can't Pilot Ryan Media enough for sharing this info with me. But that's why our hobby is so great. The passing on of tricks and tips is the easiest thing you can do in this hobby, even if you're a seasoned RC Master or You are as Green as they come, don't be afraid to learn and listen.
Once I had the Shock mod finished it was time to cut open the hood. As much as I wanted to us my Dremel I stuck with my hobby knife. I took some styrene and made pieces for the hood to lay on the fenders, so it won't flop around. Then I used some doll house door hinges and attached them to the hood and the cowl. If you are going to do this, I would use bigger hinges then I did. I had some trouble with the smaller ones. It's still a little rough but now our Axial Racing Early Ford Bronco looks wicked! Now you can see the scale engine bay and the next step is to do some painting under the hood.
Looking forward to taking the Axial Bronco down to the ULTIMATE SCALE TRUCK EXPO and running it on the best scale trails in the country! Till next time, Keep Scalin'!