EVERYBODY'S SCALIN' – BEAT THE CREEK!
Beat The Creek is held in the charming southern town of Maysville, Kentucky. The town is filled with beautiful landscapes, farmland, and of course the property of Joe and Sue Hauke. Joe and his family open up their private property to host Beat The Creek.  If that doesn't say Southern Hospitality, then I don't know what will. I can deal with about 10 people at my home, after that I turn into a gremlin.
With this year's attendance reaching just about 1,200 there seems to be no limit for the Hauke family. Not once through the event did the BTC staff not have time to help or assist anyone in need and doing it all with a smile. That kind of attitude sets a tone for an event. I'm willing to bet if I asked Joe or Chris Lindgren for some Biscuits and Gravy they would have found me some. Not saying that's something you sound be asking for at BTC, but it sums up what a great group of people the BTC staff is. Chris Lindgren is the events "All Around Guy", if he wasn't helping get the side events started, he was making sure everyone felt at home or walking around giving kids the prestige's Beat the Creek foam hats.
Vendor Row was filled with vendors and sponsors from all over the country. If someone didn't have what you wanted on vendor row, then it probably doesn't exist. I personally love seeing Crawler Cult RC, their style and love for the hobby is wicked! You could spend a full day just in vendor row shopping, and still have a blast.
The trails at Beat The Creek are well groomed and leave you with good walking patch for the most part. Trail 4 leads you down a path into the woods, where you see more majestic topography of the property. The Trail opens up into a clearing where a big barn sits with obstacles weaving in and out of it, like a knitted blanket. Beat The Barn as its properly called will test your driving skills. Driving on chicken wire 20ft above your head will make you disoriented at times, if you French fry when you should pizza, you're going to have a bad time. The barn also has a few slides and rails for the rigs to ride on. Those obstacle's will test your throttle response skills, to soon or too late, could mean a far fall for your rig. Normally I don't like crawling on Wookie villages. By that I mean, man made structures that you would never see a full-size rig do. With everyone at BTC telling me I should try the barn I had to see what it was all about, and I can tell you this, I'm happy I did!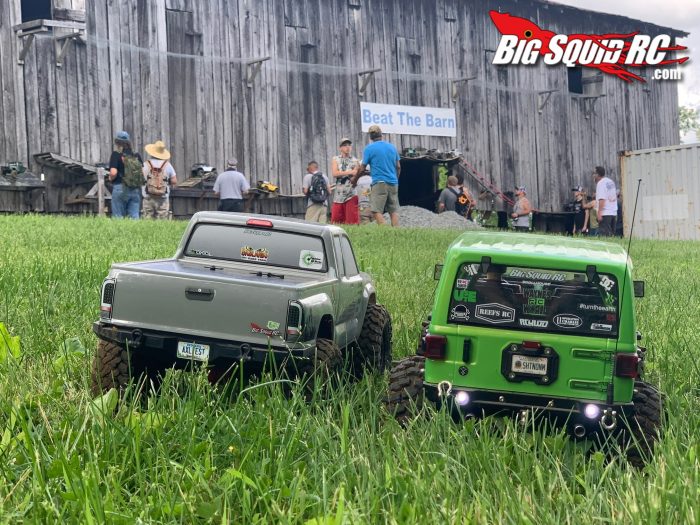 Trail 1 is the trail that leads down to the creek. Much like trial 4, you have nice manicured paths with obstacles peppered thought the trial, leading you to the famous "BEAT THE CREEK" part of the trail. The Creek starts off relatively easy and work its way up to extreme by the end of it. No matter how hard the creek seemed to get, there was always a line you could find no matter what rig you have.
Now, I would have done more than two trails if I didn't spend a lot of time in the 1:14 construction barn. Joe Hauke and Nick Barbar both have an impressive collection of construction RC's. Some of those construction rigs go for 3,000 bucks and up. But for Joe and Nick it was like handing over the controller of a RTR, and not a RC that's worth more than my real truck. You can easily get lost in time with those rigs, you get so focused on what you're doing that time seems to disappear. At one point we all had our assigned jobs, each one helping out another and even a foreman to stand around barking orders. Its gestures like that, that grow the hobby and are key factor into why the Crawler events are getting so big.
Big Squid RC would like to thank everyone who made this event possible. It was our first year and WON'T be our last! And a massive bro hug to our good friend RC Everyday for letting us crash at his booth for the event. Make sure to check out our event coverage videos and Mark down on your calendar for next year's Beat The Creek if you haven't already!
Check out both awesome videos below to see trail and barn footage.