EVERYBODY'S SCALIN' – BIG FUN WITH THE FMS MODEL 1:18 TOYOTA LC80 VIDEO
The FMS Model 1:18 Toyota Land Cruiser LC80 packs a big punch in the tiny truck world.  Maxing out on all the scale fronts, the LC80 even gives the larger rigs a run for their money.  Starting with the licensed Toyota hard body and a full interior the LC80 looks stunning and can mimic its 1:1 version with the right photo or video. Now the opening hood is great, but how FMS Model hid the electronics is the real magic. Utilizing the empty space in the "engine bay" and putting the electronics and battery in said spot works well and would be great to see larger scale rigs follow suit.
The lights on the FMS Model LC80 are period accurate, cars and trucks didn't have LEDs in the 90s, so FMS kept it super scale down to the little details and used a dimmer light. The brake lights, turn signals, and hazards are all functional and lots of fun to play with if I may add.
If FMS Model can keep this up, they will be a household name very soon. The quality of the rig is just as good as the appearance. Even though we are still in the midst of testing the little rig, it has already won me over. So, stay tuned for more FMS Model news in the coming weeks along with some more videos!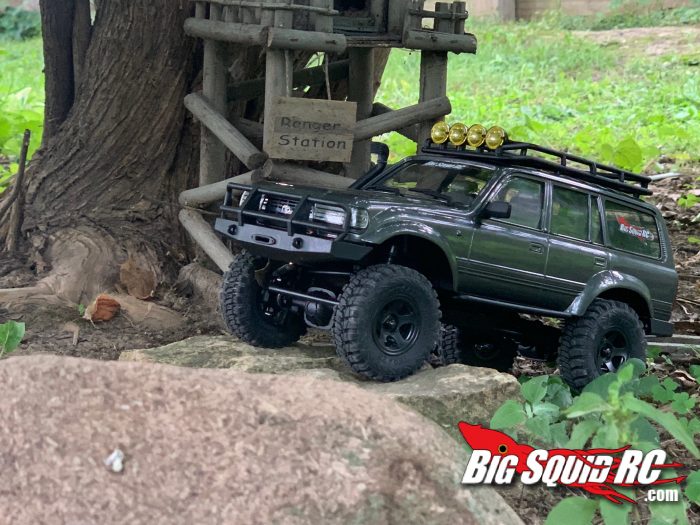 I hope you all have a great weekend enjoying this wonderful hobby. Till next time, Keep Scalin'!
Enjoy the video below
The FMS Model Toyota is shipping soon for a street price of $179. At that price you may want to get your order in soon. You can pre-order over on the Horizon Hobby FMS Toyota page.
Click Right Here to read more FMS news on BigSquidRC.