The Element RC Knightrunner is back in the shop for its next round of BowHouse RC mods. This time around we installed the N2R Steering Rack for Element Enduro IFS v2, along with N2R Aluminum Steering Bell Cranks for Element Enduro IFS, and Bump Stops for Element Enduro IFS. If you are interested in doing the steering rack, I would suggest installing the bell cranks and bump stops as well. All those parts will be exposed during the rack install so better to get it all done at once.
There are a few things you will have to adjust while doing the mods. You will need to change out the stock threaded rod for the smaller ones that come with the NR2 steering rack. The NR2 Steering rack changes the geometry of the IFS, calling for the stock tie rods to be made smaller and relocated. The V2 comes with bump stops to prevent the knuckles from snagging up into a oversteer position. I could see how not having the bump stops could give you a bad time. Lastly, you will need to reset the servo horn along with centering it out before reinstalling the servo horn into its new proper position.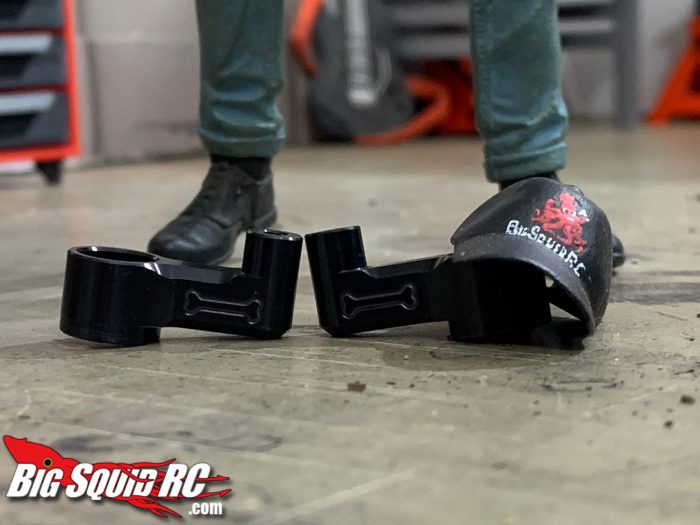 The install took me about 2hrs and everything went together great. Well, let me take that back, when installing the new BowHouse bell cranks I installed them backwards, 100% my fault. I did have a hiccup or two, lol. That is ok, nobody is perfect. So, if you're just getting into the hobby, don't let those issues bother you, we all have and still make mistakes.
From the start of the Knightrunner's first run in JuiceBox Off-Road Park with the new BowHouse RC mods I noticed the steering was dramatically improved. But once the rig got on some rocky terrain, that's when the mods went to work. The rigs tires are now getting more surface traction and no longer going into a negative when the suspension is in travel.
All around the Knightrunner is handle very well and is becoming one of the top performers in my fleet of RC. Yeah, it's a great rig out of the box, but with the help from BowHouse RC, the Element RC Knightrunner can go from great, to phenomenal.
Next on the list of BowHouse RC Mods for the Knightrunner is the SVT Low CG Multipurpose Skid for Element and SCX10. Until then, I am going to be putting some miles on the Knightrunner in-between packing. Till next time Keep Scalin!
For more news on BowHouse RC click the link!