EVERYBODY'S SCALIN' – CEN RACING FORD F-450 KG1 WHEEL EDITION!
Looks like the CEN Racing Ford F-450 Dually has gotten a wicked make over. The Updated F-450 KG1 Wheel Edition has a few more goodies that the last one. starting with the obvious, the two new color options you will be able to pick from are Red Candy Apple and Silver Mercury. The Red Candy Apple truck comes with the Gold KG1 Forged Trident-D Wheels, and the silver rig has the same wheels just in black. Personally, I love the Silver with Black wheels, but it seems to be a 50-50 Split around the Squid Office.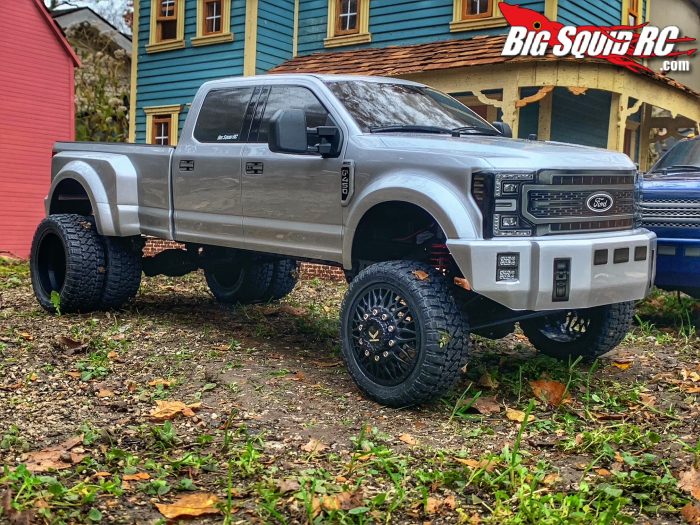 SPECS:
* KG1 FORGED Trident-D wheels.  Front 35mm, Rear 31mm per wheel
* REALISTIC textured bed linear coating
* 90mm Aluminum pewter anodized shock housing
* Black Anodized lower and upper links
ESC-40A WP-1040-Brushed (Powered by HobbyWing):
Water-proof and dust-proof for all weather
Built-In Capacitor Module
Automatic throttle range calibration
Low voltage cut-off protection for Li-Po (lithium polymer) and NiMH battery
Over-Heat protection and throttle signal loss protection
Easily programmed with jumpers
Motor-RS-550 high Torque Motor – Power By Mabuchi Motor
Servo -12Kg Servo O.E.M. by Savox:
4.8V 0.26 sec/60deg 10.0 kg-cm
6.0V 0.23 sec/60deg 12.0 kg-cm
25T Horn Gear Spline
Radio System:
Pistol-Grip AMP 30 3 Channel Transmitter
Digital Trimming
Steering Dual-Rate (ST D/R) Adjustment
End Point Adjustment (EPA)
Built in Failsafe
Chassis:
– Steel Frame Rails
– CMS (Chassis Mounted Servo) Chassis Design
– Stamped Steel Shock Hoops
– Steel Skid Plate
– Full Precision Ball Bearing Support
– Adjustable Turnbuckles
– High Torque Servo Horn Safer
Suspension:
– 3 Links Suspension with Panhard Bar Design
– Aluminum shock housing
– Big Bore Oil Filled Adjustable Coil Over Shocks
– Harden Steel Steering Drag Link
– 6mm Aluminum Linkage

– 90mm shock housing
Drivetrain:
Sway bar included
4 Wheel Drive
Center Shaft Drive Train for more power transferred to the wheels
Highly Efficient Transmission System
Wide Range Easy Changeable Gear Box Design
Sealed transmission eliminates dirt and dust
Sealed Axle housing
5mm Hardened Steel Axle shaft
Differential Center Locker Front/Rear Planetary Gear Type
Metal Transmission Gears
Planetary Gear type Differential
Length: 26.70inch (678.18mm)
Width: 11.41inch (290mm)
Wheelbase: 17.60inch (447mm)
Ground Clearance: 2.52inch (64mm)
Weight: 2.51 lb. 2.5kg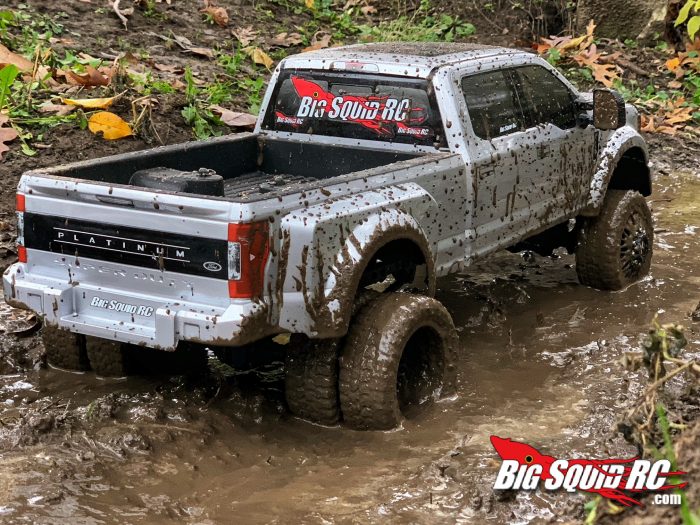 The new Dually's have 90mm Aluminum Pewter anodized shock housings, the bigger shocks make the rig sit up higher and look more off-road. I also love the grill on these rigs this time around, more so than the last ones. The new bed liners are also a nice touch, not only for a scale visual but the bed liner helps strengthen the bed, you can watch our running video for a demonstration. Big Squid RC did receive booth new CEN Racing F-450 KG1 wheel editions, and we are currently holding a CONTEST to GIVEAWAY for FREE the Red Candy Apple Ford F450!
Now since our Blue F-450 has been decked out with mods from 1:10 Rod Shop, I'm not really looking to take it off-roading to much. Some light trail driving, and towing is what Old Blue is used for. Now having the Silver KG1 Edition we can make it off-road worthy with all the KAOS Advanced Upgrades we already have in the shop! Other then the KAOS upgrades I have a different bed being 3D printed by my buddy Joe for the new Cen Dually. I would love to see Cen Racing do a set of off-road wheels and tires for the DL-Series trucks, because I know they would be wicked!
Cen Racing has become a household name in a short amount of time with the help of the Dually and a few other rigs. Cen Racing has been around the hobby for around 15 years and has always made decent rigs, yeah part support back in the day wasn't the best for them but fast forward to today, my local Hobby shops and online has plenty of support. Cen Racings success is a true story of 'if you work hard and NEVER give up on what you love doing", amazing things will happen.
Hope you all have a great weekend filled with lots of RC fun! Till next time Keep Scalin'…