EVERYBODY'S SCALIN' COUNTING DOWN TO AXIALFEST
AxialFest Badlands is a week away and the Big Squid RC Bash Crew is hard at work getting ready for the event. As for me I have been going through all our Axial rigs one by one and giving them some TLC. Now for most of the Events Big Squid attends there are no rules on what kind of rigs you can bring, and we are Big Squid RC so we tend to bring a wide variety of vehicles to beat on. But Axialfest is not like other events, your rigs must be Axial based to participate in the event. All non-Axial rigs will be smashed on site! Ok so that is not going to happen, but you get the picture. For the newer people in the hobby this may seem a little extreme, but you must remember Axialfest is a celebration of Axial and the brand. If you do not happen to have an Axial rig but are planning on attending there is not better place to pick up your first one, then at Axialfest.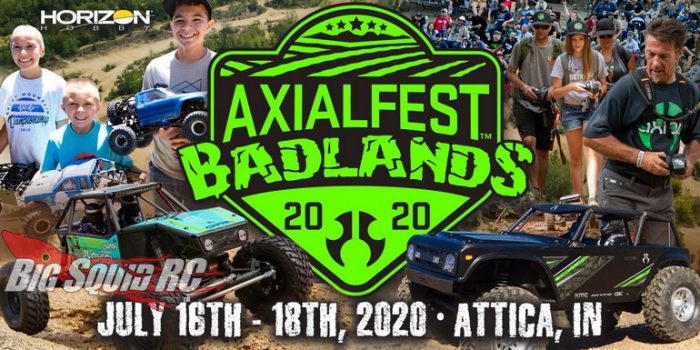 As for our stars at Axialfest we will have on display both RTR and Kit versions of the SCX10 III. Make sure to really check out the RC4WD Accessories on our SCX10 III kit. The SCX10 II with the Proline Dodge Ramcharger body, another one to give a good look see at the interior. our Axial Can-Am will be running before the event but probably not after if Brian finds the remote. Unlike last years Horizon fest our UMG10 is fully functional, so be on the look out for it on the trails. we originally put the RC4WD scx10 II leaf spring conversion kit on the Ramcharger, after a quick body swap the Axial 1955 Ford is now the proud owner of the RC4WD leaf springs.  Unlike the Ramcharger we can set the 1955 Ford body lower adding to the scale appearance of the rig, let us know what you think when you see it at the booth.
Last but for good reasoning is the Capra, both RTR and Kit. the Axial Capra is a wicked rig with huge amounts of crawling capability along with some scale features. We think the Capra is a rig you should have in your collection so we will be giving away our Axial Capra RTR at Axialfest! Details will be announced some time next week on how you could win our Axial Capra. This is a pre bashed rig, meaning it has been used in our testing and videos so there is some wear on the rig. Aside from that its still ready to hit the trails and I cannot wait to see who ends up with the Capra!
That folks is this weeks Everybody's Scalin', if you are able to make it to Axialfest have fun for those of us that cant be there. Have a great weekend and Keep Scalin'!