EVERYBODY'S SCALIN' – DID YOU BRING THE TRAILER?
Hey everyone, Jeremy here. Last week you may have noticed that there was no Everybody's Scalin'. I have to apologize for that, the last few weeks have been crazy in the Big Squid RC office. Getting the Redcat Gen8 review and video finished took up all of my time but that was last week and as you can see I am back on track!
After months of talking about getting a scale trailer for my rigs I have finally got my hands on one! There are about four local hobby shops I stop in from time to time. All of them are really good and have excellent customer service, it really just comes down to which one I am closer to at that moment. This time it was HobbyTown USA Northbrook IL. Within five minutes of me checking out what they had I found the gem I have been looking for! They had the Xtra Speed 1:10 Car Trailer and for $149.00 bucks', I snagged it right up! With the Ultimate Scale Truck Expo right around the corner the timing couldn't have been better.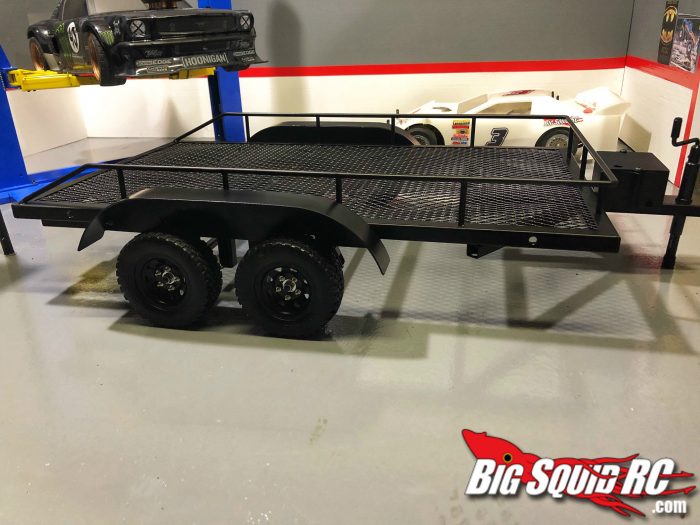 When it comes to scale car trailers your opinions are kind of limited. Only a hand full of companies make them or they are custom built. I tried to make a homemade car trailer once before and let's just say it didn't turn out so well. But in my defense, my wife's little patio table was a perfect size. Anyway, the Xtra Speed Car Trailer comes as a kit basically. But I was able to slap it together in about a hour and all the pieces were accounted for. One little complaint I would have to say is the instructions are lacking a bit. The more experienced builder might not notice but for the beginner the instructions are not really clear in explaining the step by step process. But it is a small trailer and not a full rig build so I get it.
The ideal rig to use for pulling the Xtra Speed Trailer is the Farm Truck. The only problem I am having is the stock RC4WD Gelande II Long Wheel base does not have a hitch mount on the rear bumper. I did some digging and the only option I could find was to basically buy a whole new bumper, and the way the scale shop crew has been spending money, that's really not an opinion lol. So after some consulting with the Wrench I think we have a game plan. If you are thinking about getting a scale car trailer for your rigs I definitely suggest the Xtra Speed 1:10 Car Trailer, it even comes with a LED light kit and a set of ramps. I personally can't wait to take this with me to the Ultimate Scale Truck Expo in February!
Well it's that time I better wrap up this weeks edition of Everybody's Scalin'. Stay warm everyone when hitting the trails this weekend and if you live in those few parts of the world that don't know what cold weather is like just know we are all jealous. Don't take it for granted and get out there and hit the trails. Have a great weekend everyone and keep scalin'!