EVERYBODY'S SCALIN' – DODGE RAMCHARGER
For what seemed like years of searching I've finally got my hands on the Proline 1983 Dodge Ramcharger body! This would have never happened if it wasn't for my buddy. He as about 3 Proline Ramcharger bodies, mainly because he is a huge fan of the old Dodges. And I think he finally got sick of me bugging him for one. It came with some stipulations but well worth it!
I think there is a serious lack in Mopar bodies. We can easily get Jeeps, Fords, Chevys and Toyota's all day long. But when comes to Dodge there is not a whole lot of options; what's up with that! It seems every time a company comes out with teaser pictures you will see 5 or more people saying they hope it's a Ramcharger or older Dodge pickup. I understand getting the whole license thing can be tricky. But if there's a will, there's a way; ok, rant over, lol.
This build is going to be a special one. I will be doing my best to recreate my buddies Ramcharger he had in high school. Even down to the stickers he had on it. If I wanted to I could even make the key marks from when his crazy ex-girlfriend keyed it, but that might open up some old wounds. The Proline Ramcharger is a very short wheel base. It was meant for a Traxxas T-Maxx and monster trucks like that. At first I was going to go with the ECX Barrage chassis. I have done it before with the Traxxas Bigfoot body and it worked really well. But then I saw something else that got me thinking. A RC4WD Gelande short wheelbase just sitting on my shelf… all lonely. I set the Ramcharger body on it and it was a perfect fit. After seeing how well the Farm Truck did at USTE with a RC4WD Gelande LWB chassis I was thrilled to say the least.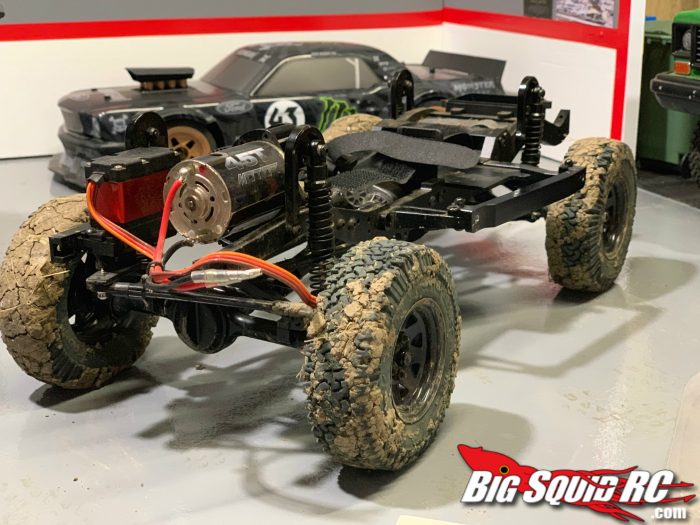 I want the Ramcharger to be as scale as I can make it. Tire size is going to have to be 1.55 or 1.7 max. And I will possibly also need a deep offset for the rims so they don't stick out side the body. Just a few minutes of going on RC4WD's web site and I think I know what I'm going to use. Mounting the body will be a whole challenge in itself. There is NO WAY I will drill holes for body mounts on the body, just not happening. I will have to make some custom brackets and use Velcro or magnets to hold the Ramcharger on the chassis. I am still in the thinking process of how to do the interior. My styrene skills are not the best so it's a good thing there are so many people that can 3D print.
For all the Mopar fans out there maybe one day we will finally get what we want. But until then we do the best with what we can get. I have watched HeadQuake's Ramcharger video about 200 times and just drool over his build. Hopefully by the start of summer there will be one more Ramcharger on the trails.
Till next time, have an awesome weekend, and keep Scalin'!