Everybody's Scalin' – Dodongo Dislikes Smoke
Happy Zelda launch day to all my fellow gaming nerds! I'm actually writing this post from my Nintendo Switch….ok, that's a lie. The Nintendo Switch has no internet browser currently. Hey, I did plan on it at least! Get with it, Nintendo.
Anyways, it's been awhile since I've done a scatter-shots type look at recent scaling news, and lately there has been news-a-plenty.
I've taken a little bit of heat for not discussing anything Redcat in the column, particularly as of late with their recently teased serious foray into the 1.9″ scene. In the past I would've just said "too bad, not interested" but that's changed of late as the brand has been working hard to improve their status in the pecking order with more of an emphasis on quality. Our crew has really enjoyed some of their latest offerings in the bash market, so I'd really like to try this new scale crawler once it gets released. At the very least you can look for some discussion of the vehicle once we can see an actual completed product versus the renderings that have been shown off.
Castle getting involved in sensored brushless motors lately is a huge deal. We have not reviewed one of their systems in a crawler yet, but a very close friend of mine has has spent a good amount of time with one in his scaler (you may remember him, our old contributor Evol) and he says they are freakin' sweet. This is a great thing. Sensored motors really are where it's at, and if you ever use a good system in your scaler it's hard to go back. You can get all the speed and torque of running a brushed motor on 3S with the predictability, smoothness and lower temperatures of 2S. Look for us to put one in a crawler sometime soon.
Pro-Line Racing made a bunch of waves last week when they announced their Pro-Forge 1.9″ wheels. They look incredible, particularly the bronze, which, to my eyes, are probably the best looking scale wheel on the market. Bronze is a color I never thought I'd dig, but apparently that's just because I haven't been exposed to it much in the past as the first time I laid eyes on these, I had a Wayne's World "Schwiiiiing" moment.
Most agree they look amazing. The kerfluffle was about the price. You are looking at about $250 out the door for four with hubs. That's definitely a chunk of change.
Here's the thing folks – You can bet these things are expensive to machine here in the USA, and on top of that are almost certainly done in a small run. They are premium items and as such are priced accordingly. I'd bet dollars to donuts they have priced them as low as they possibly can while still being able to make money on them. While I do understand some frustration, their are plenty of companies, including Pro-Line themselves, that make very affordable quality wheels. If they or anyone else want to build uber, crème de la crème product for the gnar-core then I'm all for it. I have a borderline fetish for trick CNC work (blame it on my Dad who owns a machine shop) and these things are off the hook. Nice job PL!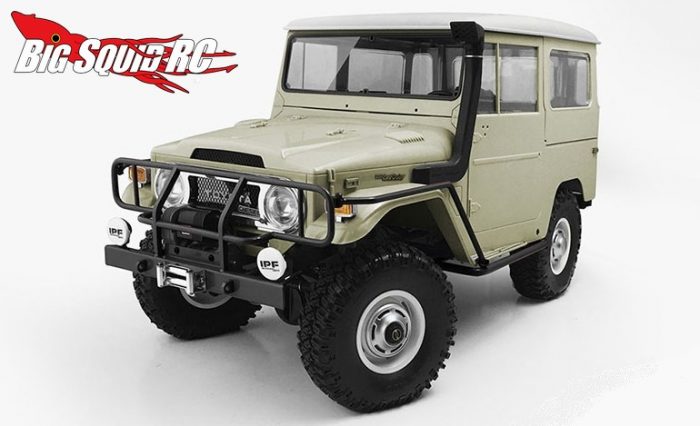 Our friends at RC4WD have been pumping out a steady stream of amazing looking accessories and hop-ups. I was going to talk about a couple specific ones, but seemingly every day they announce something else making it hard. I'll stick with the Cruiser, pictured above. Egads does that look phenomenal. I talk about it from time to time, but without a doubt the hardest thing I've ever had to do while working for Big Squid was when I lovingly built one of their G2 Cruiser kits and then proceeded to grind it into the ground during one of our reviews. That was a rough one.
I'll end on this, and it may not be "scale" news at all- at least not on the surface. Just yesterday Traxxas announced they were re-upping their sponsorship package with the NHRA. This hits home particularly close to me since I'm an avid drag racing fan and have enjoyed seeing the way the big-T is a huge part of their live events and television broadcasts. It helps expose the hobby to the casual fan, and I've seen first hand how important that is. Ok, so what's that have to do with scaling? Well, as basically everyone knows now, Traxxas has a scaler that's about to be released. When it does come out, you can probably expect a huge marketing push. Thanks to the association with the NHRA, scaling is most likely going to be put on display to a much broader audience and I think that's really cool.
Ok, I'm headed back to Hyrule. Have a great weekend everyone and remember – it's dangerous to go alone!