EVERYBODY'S SCALIN' – FAN SPOTLIGHT MRcommaD's JEEP BRUTE BUILD.
This next Fan Spotlight is a prime example of, if you want something bad enough and you put your mind to it you can build anything. The Jeep Brute that Dion Jay Rosser A.K.A MrCommaD has built has all the field of dream factors. MrCommaD had always wanted a Jeep Brute but given the hefty price tag he hadn't had the chance to snag one up yet. So, like a lot of us do in the scale world, he builds a scale version of the rig. Even though MrCommaD has a slight advantage, being the owner of Scale Design by MrCommaD, a web site full of sick 3D printed motors and accessories, this Jeep Brute build was not just plug and play. This beautiful rig took two years to complete and the attention to detail is like no other, from scale dust on the valve cover to the dash that lights up, MrCommaD put his heart and soul into this build and it shows.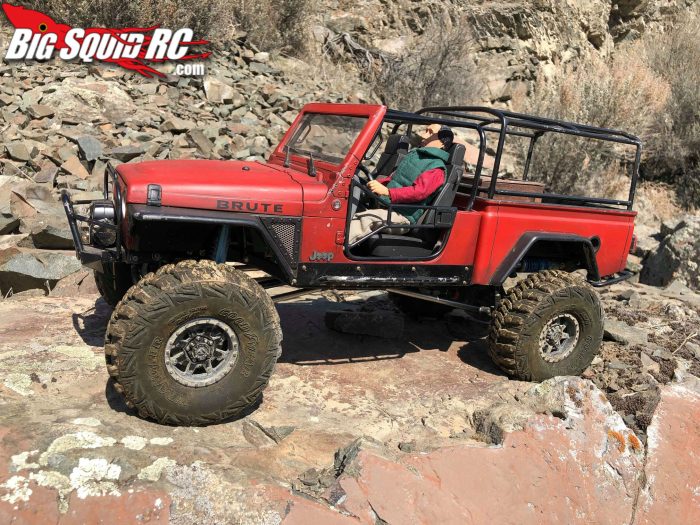 When you start a build of this caliber there are a lot of variables you must consider. Such as body, wheelbase, mounting positions, trans and motor placement and so on. Luckily you can find just about whatever you are looking for nowadays from companies like RC4WD, SSD and GCM Racing. If your going for that super scale build, then those will be the places to start your blueprints. After that it's a lot of hand made and elbow grease that will put a build over the top. For the parts of MrCommaD's Jeep Brute build that he couldn't find or print he scratch built with styrene. He even got some help from his buddy, Wrencher from Scale Builders Guild, for the metal cage, bumpers, and sliders. A lot of the great builds you see on Instagram or Facebook have more hands in the build then you would think. There is a real sense of teamwork in the scale RC world, almost everyone is willing to lend a hand or give some much need advice. Just recently I was looking to lower the RC4WD 4Runner body and just so happened to scroll by Turksandjerps A.k.a Pardonmyn00b post on Instagram. I see he had made a body mount to do just that so, now there is another hand in the 4Runner build.
This Fan Spotlight has been two years in the making believe or not. I first hit up MrCommaD 2 years ago wanting to show case his build but on both our ends we just seemed to have gotten caught up with life and the daily rat race. Thank you MrCommaD for letting Big Squid RC Show off your amazing artwork to the world and I'm looking forward to seeing what you come up with next. For anyone else that is reading this if you have a build that you would want to see on Big Squid RC feel free to send me a email Jeremy@bigsquidrc or message me on Instagram @everybodysscalin and you could end up in the next Fan Spotlight.
As we close out this week's Everybody's Scalin' the RC world has lost a great man, Nick Chwalek. Nick was the owner of Helios RC and will forever be remembered. I only got to meet Nick once but that's all it took to see how great of a person he was. This weekend hit the trails for Nick and everyone else who can't; till next week, Keep Scalin.