EVERYBODY'S SCALIN' – FMS MODEL CHEVY K10 WEATHERING!
Hello everyone, and welcome to this week's Everybody's Scalin'. With only a week until the Ultimate Scale Truck Expo we have been wrapping up our builds and getting ready to hit the road. While I was weathering the bed for Farm Truck 2, I looked over at the FMS Models Chevy K10 and figured it could use some aging. Now the rig looks beautiful out of the box, but with some weathering these little rigs standout much more.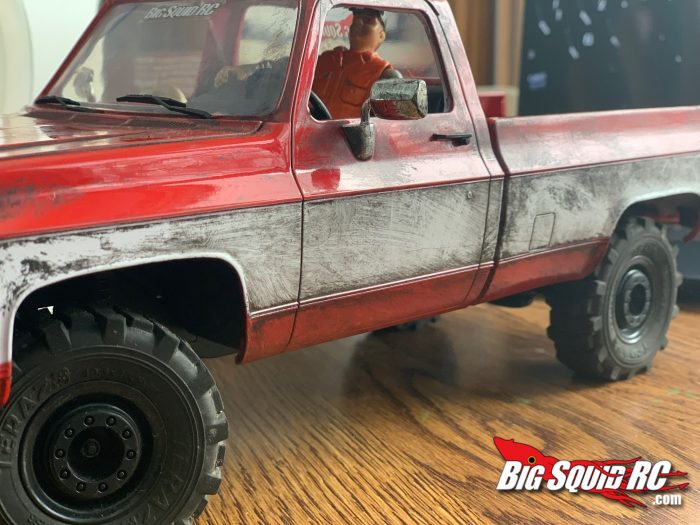 Starting off I had to get the shine off the rig, using a black acrylic paint I dry brushed the body a few times. Acrylic paint rubs off easy with hot water and a rag, so if you don't like it, you can go back and fix it to your liking. After the paint dried, I took a dry rag and rubbed some spots on the body to get a faded look. For the rust I use Modern Masters Metal Effects "Rust". It is a 3 step prosses that includes a primer, oxidizing Iron paint, and a rust activator solution. On a few spots I would water down the primer and iron paint. Doing that lets the paint drip down the body freely, leaving a rusted water trail that you would see on a tarnished rig in the 1.1 world. The more activator solution you use the rusty the spots will be, so keep that in mind if you are going to use the Modern Masters Metal Effects paint.
If you have a weathered rig you would like to see on BIG SQUID RC, email me @ Jeremy at bigsquidrc.com. As of now I have sent some measurements to Scale Rat for the FMS Models Chevy K10. Looking forward to seeing what they can come up with for this wicked rig!  Now its time for me to get back to preparing for USTE 2022. we hope to see you there, and if not, we will have tons of coverage for you to ingest once we get back! Till next time, KEEP SCALIN,!