FMS Model is hitting the mainstream sizes with their first 1:24 scale rig. The new Power Wagon has the looks, but will it amount to the scale wickedness that FMS Model has become popular for? Find out here, because the Big Squid RC FMS Model 1:24 Power Wagon review starts now!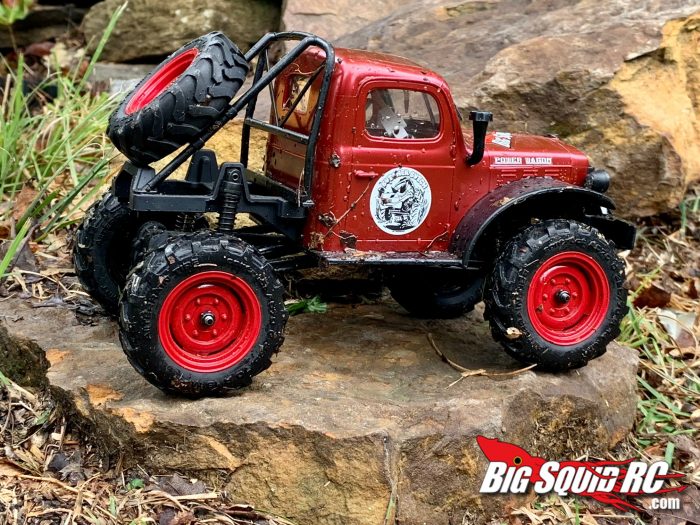 From: FMS Model
Direct link: FMS Model 1:24 Power Wagon
Unboxing video:

Running video:

Review By: Jeremy Griffith
Photography By: Jeremy Griffith
Test Drivers: Jeremy Griffith

Specs:
RTR or Kit: RTR
Ages: 14+
2wd or 4wd: 4WD
Shaft or Belt: Shaft
Electric or Gas:  Electric
Waterproof: Water Resistant
Scale: 1:24
Length: 210mm
Width: 124mm
Wheelbase: 138mm
Hight: 132mm
Ground Clearance: 26mm
Motor: 130 Brushed Motor
Speed Controller: FMS FS-R4A1
Low voltage cut off: yes
Radio: 1/24 Power Wagon MG41 + R4A1 Transmitter
Differential: Locked
Transmission: 2 Speed 1/24 Power Wagon Transmission Gear Box Assembly
Shocks: 1/24 Power Wagon Oil Shock Absorbers Assembly
Servo Saver: No
Screws: Hex
Chassis: High Strength Nylon Chassis 1/24 Power Wagon Girder
Bearings:  yes
Tires: 1:24 Mud Tires
Battery: 7.4V 380mAh 2s Lipo
Part Number: FMM12401BL
Street Price: $149.99
Axles: Portal Axles
Run Time (measured by BSRC) 15 mins
Top Speed: 7MPH
Primary Competition: Axial Adventure, Element RC, RC4WD.
Build Quality: All the Power Wagons parts were installed correctly and ready to rock.
Set up notes: You will have to build the rear cage, but that only takes a few minutes.
Test Venues: Big Squid RC Kentucky Office, "Juicebox Holler".
Radio: The FMS Power Wagon comes with a 4-channel radio. Where you can switch between high and low gear, along with cycling through the lights on channel 3. On the top of the radio, you will find all the trim adjustments, as well as the power on and off switch. If you have owned one of the FMS Small scale rigs than you will recognize the radio.
Turning: The 1:24 FMS surprised us a few times, and its smooth turning was one of them. Most 1:24 rigs have weak, if not downright junky servos. But the Power Wagon has an all-metal gear servo that is super responsive and smooth from side to side.
Crawling: The Power Wagon is FMS's first 1:24 scale rig, and they knocked it out of the park! The rig handles well on the rocks and soaks up the bumpy terrain. The 2-speed transmission is key with this little rig. Drop it into low and watch it creep over the obstacles or, go full Squid and neutral drop it into high and watch the dirt or mud fly. The portal axels allow the Power Wagon to get over larger terrain and limit diff snags on obstacles. Box Stock the Power Wagon is a little top heavy, and prone to rollovers as well as tipping back on inclines. Adding a little weight to the rig will easily fix those issues, we personally like to throttle out and see what happens, but hey, that's just us lol.
Broken parts: With all the abuse we dished out on the FMS 1:24 Power Wagon we only broke one part. While brappin' it up in some mud, the Power Wagon (we thought) threw the front driveshaft leaving it in 2wd. Upon further inspection the sleeve of the shaft slipped off, and turned out to be an easy fix by popping it back on.
Best Mod: Adding some weight to the FMS 1:24 Power Wagon would be the first thing we would recommend.
Summary:
Time to bash: If you don't want to put the rear cage on than you hit the trails relatively quick. If you choose to put the cage on than it will take you a little longer to get rocking but it's nothing crazy.
Workability: Even with its small size, the Power Wagon is laid out nice and easy to locate all the parts.
Car Show Rating: FMS has made a reputation of releasing some wicked scale rigs. The 1:24 Power Wagon falls in line with the other FMS rigs rocking working lights, window wipers, and a hard body.
Handling: For a 1:24 scale rig the Power Wagon handles very well and has giving me faith for the 1:24 size again. It's a fun rig to drive and even do a little bashing with.
Value: Now days getting any rig no matter what size it seems for under 200 bucks is a deal. The FMS Power Wagon has a street price of $149.99 and is worth every penny.
Parts Availability: While parts are still online for the most part, it's still going to be tough to find them at your local hobby shop. But have no fear, because as I wright this, companies are working on aftermarket parts.
Big Squid Rating: FMS had a stellar 2021 with a mountain of releases. But the size has been all over the board with 1:18, 1:12, and 1:6th, all the odd ball sizes. With the release of the 1:24 Power Wagon we can hope to see more mainstream sizes in the future. If you are looking for a new 1:24 rig, then we would suggest picking up one of the new FMS Model 1:24 Power Wagons!