EVERYBODY'S SCALIN' – FMSTIVAL!
Hello everyone, and welcome to this week's Everybody's Scalin'! Over the last few weeks, I have been working on multiple projects. Between the CrossRC WT4, Axial scx10 iii build, testing the new RC4WD Rock Racer, I made a scale diorama for the upcoming FMSTIVAL in Oxnard CA, at the Murphy Auto Museum, OCT 7th and OCT 8th.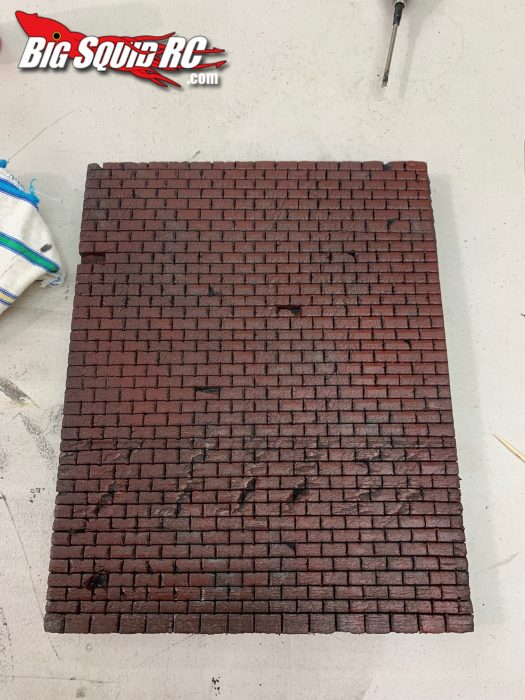 FMS Model hit us up asking if we could make a scale obstacle or diorama for their first ever event. Let me start by saying, that FMS contacted us about 4 months ago, and like I tend to do, I waited to the last minute to start. I just wanted to let you all know that they gave us a ton of time. What can I say, I like working under pressure. So, knowing I was going to have to ship it, we decided on doing a scale diorama that people can drive through and get some wicked scale pics.
Using the Foam board insulation, I measured out the building and base. With it being 1/18 scale, I didn't have to use a lot of material. The downside was it was 1/18 scale, and I had to carve out a LOT of small-scale bricks. RC Everyday happened to be at the Big Squid Farm and got to witness what it takes to carve out bricks. That might be why he's using real scale bricks for his new shop.
After the brick work the build was a lot easier. I wanted to have "FMS" in Graffiti on one of the walls. I'm not good at it, like, at all, but I was happy how it came out. Even though I had the building and layout all finished, the name of the building came last. I tossed around ideas for the buildings name, for most of the build. I didn't want it to be a garage and thinking about all the stuff Big Squid RC owns, having a supply building would be awesome.
This build was a lot of fun and I can't wait to see it set up at the FMSTIVAL! If you are going, make sure to get some scale pics and have some fun. Till next time, have a great day and keep scalin'!